KTM ETS Padang Besar to Kuala Lumpur (KL Sentral) Train Times and Fares
Travel on the new KTM high-speed ETS trains from Padang Besar to Kuala Lumpur's KL Sentral, cuts the journey time from the Thai border to the Malaysian capital in half, with speeds of up to 160kmh.

ETS Timetable Padang Besar to KL Sentral 2017

*****
Please Note : There is a new KTM ETS timetable from the 1st February 2017.
Click here to see the full new ETS schedules >>>>>

If you wish to view the KL to Padang Besar ETS train schedule click here>>>

New ETS Schedule from 1st February 2017 :

| Station | Departs P. Besar | Arrives KL Sentral | Operating Days |
| --- | --- | --- | --- |
| EG 9021 | 06.45 | 12.18 | All |
| EG 9401 | 09.13 | 14.38 | All |
| EP 9501 | 12.55 | 18.08 | All |
| EP 9007 | 13.58 | 19.13 | Fr/Sa/Su only |
| EG 9019 | 15.43 | 21.16 | All |
| EP 9009 | 16.55 | 22.10 | All |
| EG 9525 | 19.40 | 01.12 | All |
| | | | |
Train numbers starting with EG are ETS Gold Services.
Train numbers starting with EP are ETS Platinum Services.
To see the full ETS Timetable for these ETS trains from Padang Besar click here>>>

8% OFF KTM Train Tickets in April 2017
Special discount on train tickets booked through Busonlineticket using this website.
Book until 30/4/2017.
To get your special discount.
Look for the discount code on our booking pages.

---
For information about Padang Besar Railway Station click here>>>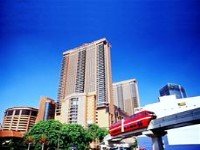 KL Hotels
Ticket Prices for the ETS Padang Besar to Kuala Lumpur Train

ETS Gold Service train tickets from Pdg Besar to Kuala Lumpur cost :
Adults 76 MYR
Children 42 MYR
Platinum services cost:
Adults 102 MYR
Children 55 MYR
For all the other fares on this ETS Train route click here>>>

Buying your ETS Tickets :
Tickets can be purchased from any Malaysian mainline station in advance, or you can book your tickets on the day at your departure station (if there are any seats left).
We would however not recommend you go to Pdg. Besar without first buying your tickets.

The best way to book train tickets in advance in Malaysia is to book them online.
You can either book them through an online ticketing agent (usually the cheapest and most easiest way to book) or direct from the KTMB website.
---
Alternative Trains :
If you want to use the older and cheaper Intercity trains on this route, the Senandung Langkawi Express train is an overnight sleeper service that operates between the southern Thai city of Hat Yai, crosses the border at Padang Besar, then travels all the way down to Kuala Lumpur.

This train is no longer operating from 19th May 2016.

---
Other new ETS trains that are now in operation on this route are :
Padang Besar to Gemas ETS Trains
Gemas to Padang Besar ETS Trains
These new ETS service also connect with the older ETS trains between Kuala Lumpur and Ipoh :
Kuala Lumpur to Ipoh ETS Trains
Ipoh to Kuala Lumpur ETS Trains

---
---
Related Pages :
Shuttle Train Service from Hat Yai to Padang Besar

Hotels near KL Sentral Railway Station

Kuala Lumpur Trains main page>>>
Padang Besar ETS Trains main page>>>