Train Chumphon Butterworth Penang
Times and Fares
The International Express Train that travels overnight between Butterworth in Penang state Malaysia, to Bangkok in Thailand, stops at Chumphon.
From here you can then connect with ferries to the islands of Koh Tao and Koh Phangan.
---
---
Travelling by train between Chumphon and Penang is the easiest way to go.
The only other option would be to catch a bus or train between Chumphon and Hat Yai, then transfer to a minibus to take you down to George Town on the island of Penang.
Train from Chumphon to Butterworth Penang Malaysia
| Train | Depart | Arrive | Type |
| --- | --- | --- | --- |
| 35 | 22.45 | **** | Special Express |
****Please Note : This service now terminates at the border station of Padang Besar.
The train is scheduled to arrive here at 08.55 (Malaysian time).
From the border you will now have to take a new KTM Komuter Train to Butterworth.
Malaysian Time (one hour ahead of Time in Thailand).

Click here to see the full timetable for train number 35>>>
Arriving at Butterworth Railway Station, the ferry over to George Town on Penang Island is just a couple of minutes walk away. The ferry over to Penang island takes just 15 minutes and goes every 15- 30 minutes at this time of day.

For more about the ferry to Penang click here>>>

---
---
---
---
---
Train from Butterworth Penang to Chumphon Thailand

| Train | Depart | Arrive | Type |
| --- | --- | --- | --- |
| 36 | **** | 02.23 | Special Express |
****Please Note : This service no longer departs from Butterworth and you will now have to take one of the regular KTM Komuter Trains or an ETS Train to the border.
The International Express is scheduled to depart Padang Besar at 17.40 - Thai Time (18.40 Malaysian Time).
Click here to see the full timetable for train number 36>>>
Arriving at Chumphon, you will have a few hours to wait for the first ferry out to the islands.
The train station is located close to the centre of town, but many miles away from the ferry ports, so buses are provided for transportation out to the boats.
Transport out to the port is included in the price of the ferry tickets.

For information of arrival at Chumphon Railway Station and ferry tickets to Koh Tao / Phangan click here>>>

Fares for the Train Chumphon Butterworth

For this service, you can only purchase Second Class Sleeper Seats / Berths as these are the only two carriages that travel all the way (between Butterworth and Hat Yai).

Ticket Prices :

Air-conditioned Second Class Sleeper Berths
Adult Fare : Upper berth 957 Baht - Lower berth 1047 Baht
Child Fare (aged 3-11) : Upper 637 Baht - Lower 727 Baht
If you are travelling in the opposite direction from Malaysia into Thailand, just divide the above fares by 10 and that will give you the rough equivalent you have to pay in Malaysian Ringgit.

---
Fares for the Chumphon Padang Besar Train are :
Adult :
Lower 797 THB
Upper 607 THB

Child :
Lower 699 THB
Upper 609 THB
If you wish to make an advance booking online for this train click here >>>

A Komuter Train between Padang Besar and Butterworth costs :
11.40 MYR
---
---
---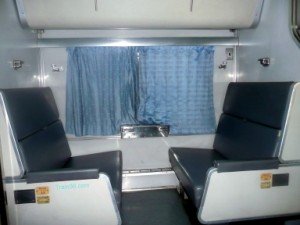 2nd Class Seats on the International Express Train convert into beds.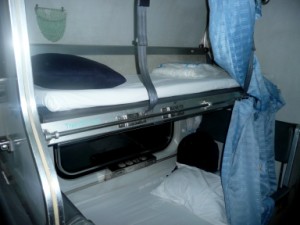 Sleeping Berths on trains 35 / 36
---
If you would like to know more about this train journey, please see one of the following pages on our site, depending on which direction you are travelling in :
Bangkok to Butterworth International Express Train page>>>
Butterworth to Bangkok International Express Train page>>>
---
Related Links :
---