Train from Bangkok to Cha Am
The train from Bangkok to Cha Am beach may not be the fastest way to travel from the city, but I much prefer it to the bus or the minibuses that speed along the highway from Bangkok.
Once you leave the concrete jungle of the sprawling city, the train journey to Cha Am also offers you some nice views of the Thai countryside, travelling through rice fields, with the odd limestone mountain popping up out of the landscape.
---
---
Trains from Hua Lamphong Station Bangkok to Cha Am

| Train | Depart | Arrive | Type |
| --- | --- | --- | --- |
| 261 | 09.20 | 13.10 | Ordinary |
---
---
To view the full timetables click on the train number below :

For information on Hua Lamphong station in Bangkok click here>>>

Trains from Thonburi Station Bangkok to Cha Am

| Train | Depart | Arrive | Type |
| --- | --- | --- | --- |
| 255 | 07.30 | 11.18 | Ordinary |
| 251 | 12.45 (from Bang Sue Junction) | 17.23 | Ordinary |
| 177 | 19.30 | 22.46 | Rapid |
****Please Note: Train 251 now starts from Bang Sue Junction Station and not Thon Buri.
Full Timetables :

For information on Thonburi station in Bangkok click here>>>
---
For departure times of trains from Cha Am to Bangkok please see one of our timetables pages :
Although Cha Am is a very popular beach resort, not that many trains actually stop here and none of the fastest express trains stop here at all. The trains that do stop at Cha Am are the slower rapid and ordinary services which are sometimes delayed.
However, if you have plenty of time or just want the cheapest way to travel from Bangkok to Cha Am, taking the train is a far more interesting way to arrive.

The distance to Cha Am from Bangkok by rail is 203 Km from Hua Lamphong station and 186 km from Thonburi station.
---
If you want to travel to the South of Thailand or into Malaysia by train from Cha Am, it is often better to catch a bus from the main road to Hua Hin, around 25km South. 
All trains heading South stop at Hua Hin railway station, so there is a much wider choice of services, including all the faster Express services and sleeper trains.
For more information on trains from Hua Hin click here>>>

Ticket Prices for the Train from Bangkok to Cha Am

The Rapid Trains that stop in Cha Am cost 143 Baht for 2nd class fan seats and 90 Baht for 3rd class fan seats from Hua Lamphong and 137/88 from Thonburi.

Ordinary Trains are the slowest and are comprised of all third class seats, except for train 255/254 which also has second class fan seats.
They are also extremely cheap with 3rd class tickets costing just 40 Baht from Hua Lamphong, 38 Baht from Thonburi.
If you would like to travel in 2nd class on the 255/254, seats cost 87 Baht.

Cha Am Railway Station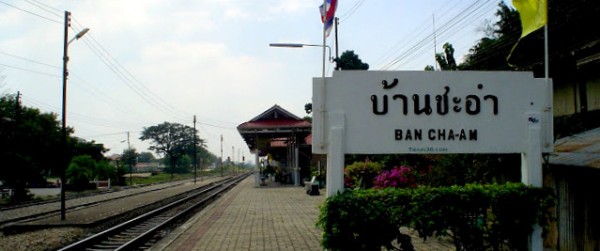 Cha Am Railway Station
The train station in Cha Am is located in the older part of town and is about two kilometres from the beach where you will find all the hotels and accommodation.
Coming from Bangkok you will need to get off the train on the left hand side and cross the rail tracks, rather than on the main station platform where the station buildings are. There is a big concrete sign in the middle of the road saying "Welcome to Cha Am," and this is the direction to the beach.

If you want to walk to the beach, it is easy to find from here. Just walk straight ahead!
Motorbike taxi's will be waiting for you when you arrive to take you off to the beach for roughly 30 Baht upwards, depending on where you want to stay, as the beach road is around 5 km long.
You can also get pick-up trucks taxi's if you have a lot of luggage. There is usually one or two hanging around the bus stops on the main road, but one of the motorbike taxi riders will happily call one up for you.

---
---
---
---