Hotels in Penang Town Area -
The Old City (George Town)
---
---
If you are looking for hotels in Penang Town area - The Old City (Georgetown), there is a huge choice of accommodation available to you, from luxury 5 star hotels, a great range of old heritage hotels and plenty of cheap budget accommodation for backpackers.
We recommend you stay in the old part of George Town, as this is where the majority of the tourist attractions are and you can easily walk to the tourist sights or the many shops along Penang Road or KOMTAR.
Below is our list of the best places to stay in George Town, all of which are in the old part of town.
Starting with the best luxury hotels and ending with some of the best cheap hostels, guest houses and budget hotels.

Our List of the Top 10 Best Hotels in Penang Town (George Town)

---
Seven Terraces George Town Penang

Consistently voted as the best hotel in Penang Island, this 4 star Heritage hotel in George Town is located right in the heart of the old city, but tucked away down a small quiet lane, overlooking the old St George's Church.

Check Prices and Read Reviews >>>

---
---
Eastern & Oriental Hotel George Town Penang

George Town's original and most famous luxury hotel, the 5 star E & O is located right by the sea, just opposite the popular nightlife area of upper Penang Road.

Check Prices and Read Reviews >>>

---
---
Muntri Grove Hotel George Town Penang

Tucked away down a small lane towards the end of Muntri Street, this 4 star luxury heritage hotel offers a peaceful location, but right in the heart of the old city.

Check Prices and Read Reviews >>>

---
---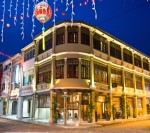 Campbell House George Town Penang

This beautifully restored heritage boutique hotel sits in the centre of Chinatown along Campbell Street and is just a short walk to Penang Road or the many tourist attractions.

Check Prices and Read Reviews >>>

---
---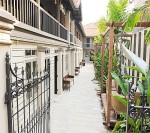 Muntri Mews George Town Penang

Another lovely small heritage hotel, this 3 star accommodation is located along Muntri Street in Chinatown, close to the popular tourist area of Penang Road with its many bars, shops and restaurants, as well as being a short walk to most of the cities sights.

Check Prices and Read Reviews >>>

---
---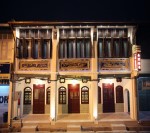 Nam Keng Hotel George Town Penang

This 3 star heritage hotel offers a good location, down a fairly quiet street in the centre of Chinatown and is made up of some fully restored old Chinese shophouses.

Check Prices and Read Reviews >>>

---
---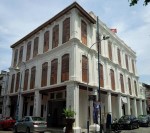 Ren i Tang Hotel George Town Penang

Enjoy some vintage charm at this restored heritage hotel, right in the heart of the Little India area of the old part of town, within walking distance of all the sights and a stones throw away from some great Indian food.

Check Prices and Read Reviews >>>

---
---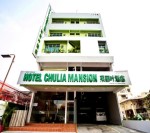 Chulia Mansion George Town Penang

A relatively new (opened in mid 2014) budget hotel in George Town's popular Chulia Street offering good value rooms in a great location - if you want to be in the centre of everything.

Check Prices and Read Reviews >>>

---
---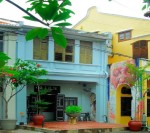 Ryokan Muntri Boutique Hostel George Town Penang

A good quality budget accommodation in George Town, located along the central Chinatown area of Muntri Street, offering clean comfortable rooms and 4 bed dormitories.

Check Prices and Read Reviews >>>

---
---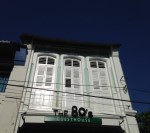 The 80's Guesthouse George Town Penang

A good quality backpackers accommodation located on Love Lane in the centre of Chinatown, between Chulia Street and Muntri Street.

Check Prices and Read Reviews >>>

---
---
For many more hotels in Penang Town click here>>>

For accommodation at Penang's Batu Ferringhi beach area click here>>>

---
---
If you are travelling to Penang Island by train :
Click here to visit our Butterworth Penang trains page >>>

---
---
---