Train 262 Hua Hin to Bangkok Ticket Price

Train 262 from Hua Hin to Bangkok (Hua Lamphong Station) is and afternoon, Ordinary service, with just 3rd class seating available. If you want the cheapest way to get to Bangkok from Hua Hin, this is it.

Fares for Train 262 from Hua Hin to Bangkok
3rd Class seats in a fan cooled carriage:

To view the full timetable for train 262, with all the stops, click here >

Back to the Hua Hin to Bangkok timetable page >

---
Seating on Train 262
These Ordinary / Local train services offer only 3rd class seating, often in a range of old rolling stock / carriages.
All carriages have ceiling fans (if they are working) to keep you cool when the train has stopped, and the open windows give you a nice breeze when the train is on the move.

Seats can come in different varieties, from hard wooden seats coaches, to more comfortable padded seats, either arranged down the side of the carriage or in rows.

The carriages can get crowded at times and there is always something to buy (drinks and food) from the vendors who work this route.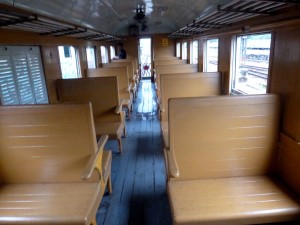 Third class Ordinary train wooden seat carriage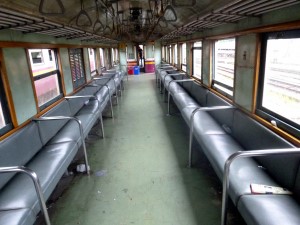 Third class Ordinary train padded seat carriage
Booking Tickets on Train 262 Hua Hin to Bangkok

Tickets for Ordinary trains in Thailand are only sold on the day of travel.
So if you want to take this train to Bangkok, just turn up at Hua Hin station around half an hour before the departure time, and buy your tickets then.
Don't worry about the train being sold out, there is always standing room available when it is busy.
Also, don't expect this service to run on time - If you are lucky it will leave on time as this service originates from Hua Hin, but it will be sure to pick up delays along the route to Hua Lamphong

Station Information
Hua Hin Railway Station page >
Hua Lamphong Railway Station, Bangkok, page >
How to get to/from Hua Lamphong Station page >
Places to stay near Hua Lamphong Station page >

---