Train 40 Hua Hin to Bangkok Ticket Price

Train 40 from Hua Hin to Bangkok (Hua Lamphong Railway Station) is an air-condition Special Express Diesel Railcar - Sprinter Train, and the fastest of all services on this line.

Ticket Prices

Tickets from Hua Hin to Hua Lamphong in Bangkok cost:

2nd Class seats.

Included in the price of your ticket is an airline style meal and soft drinks, served by the onboard steward or stewardess.

If you want to see the full timetable for train number 40, with all the stops, click here >

To book your train tickets online (extra booking fees apply) click here >

Back to Hua Hin to Bangkok timetable page >

---
Seating on Train 40

Seating on this train is available in 2nd Class, air-conditioned coaches only.
They are quite comfortable, but can get a little cold so you may want to bring along something warm to wear or cover yourselves with.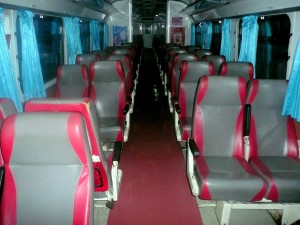 2nd Class seating on a DRC Sprinter train
Booking Seats on Train 40 Hua Hin to Bangkok

As these are the fastest trains to Bangkok, they are also popular and can get fully booked during busy periods of the year.
As this journey is fairly short, advance ticket booking is only available 30 days in advance.
To book seats you can:
Visit any State Railway of Thailand railway station advance booking office or ticket counter.
---
For information on Hua Hin Railway Station click here >

Arriving at Hua Lamphong Railway Station
If it's your first time visiting Bangkok's main railway station, take a look at our Hua Lamphong Station page here for more information >
If you want to know the best ways to travel from the station to popular destinations in the city click here >

If you are planning an onward journey from Hua Lamphong and need somewhere to stay nearby for the night:
Take a look at our hotels near Hua Lamphong page here >

---