Chumphon Railway Station
Chumphon railway station is a major stop on Thailand's Southern Line and is the gateway for those travelling to the islands of Koh Tao and Koh Phangan just a couple of hours by ferry off the coast in the Gulf of Thailand.
For information on ferries from Chumphon to Koh Tao see below.
Location
The train station is located right in the centre of the city and there are many places to stay within a five to ten minute walk.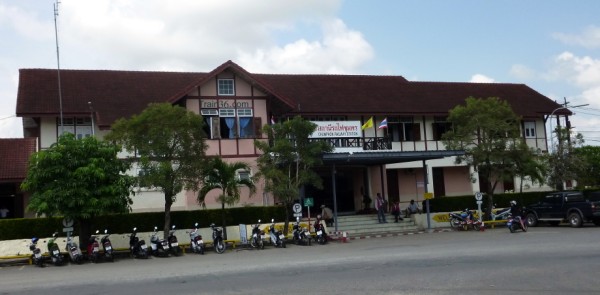 Buying Tickets

The ticket office is located on your right, just inside the entrance to the station. There is no advance ticket office, so you can use these ticket counters for all purchases.
Contact Telephone Number for Chumphon Railway Station is: 077-511103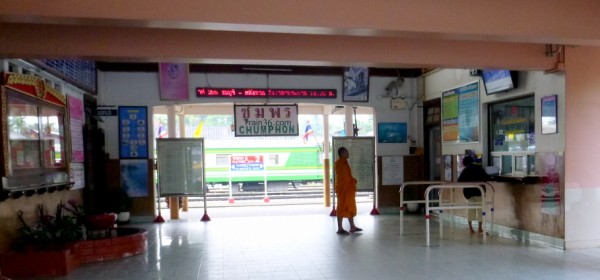 Ticket counters
Left Luggage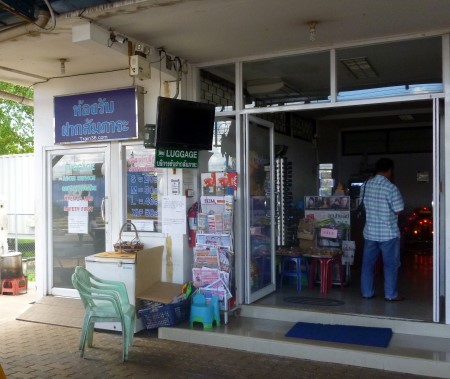 Luggage storage room (on the left) at Chumphon Train Station
There is a luggage storage facility on the northern end of the platform next to the shop.
The office is open 24 hours a day and the price for storing your bags for the day is :
Small 20 Baht
Medium 30 Baht
Large 40 Baht
Extra Large 50 Baht

Trains to and from Chumphon

For train times and ticket prices please see some of the following pages on our site:
From Chumphon Railway Station to the Koh Tao Ferry Pier
Boats leave Chumphon to Koh Tao from piers that are not within walking distance of the town (over 10 kms), so all ferry companies provide transfers by bus / van from the train station to the piers (usually included in the price of your ferry ticket).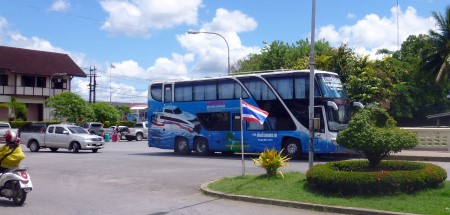 Lomprayah coach outside Chumphon station
Ferry from Chumphon to Koh Tao
See our Thailand bus booking page for times and prices >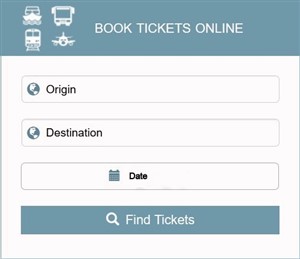 Book Transport Online >
---
There are currently two ferry companies that operate services from Chumphon railway station to Koh Tao.
If you are travelling by train from Bangkok to Koh Tao or Koh Phangan, you can buy combo train and ferry tickets from agents in the city, but this service is no longer available at Hualamphong railway station from the State Railways of Thailand.
If you arrive in Chumphon without a ferry ticket, don't worry!
Every train is met by numerous Thai ladies who will be all to willing to sell you a ticket or fix you up with cheap accommodation for the night.
There is also a Lomprayah Ferry ticket office just behind the pond on platform 1.

Alternatively, you can walk straight out of the station for a couple of hundred metres to the traffic lights, then turn right where you will find Fame Guest House (on you left after around 100 metres), where you can also book your ferry tickets.

The fastest and most popular boats are operated by Lomprayah.
They have two departures a day at 07:00 and 13:00.
The boat trip takes just two hours.
You can book ferry tickets online with this company.
You can also book a bus and ferry combination ticket that leaves from the Koh San Road area of Bangkok to Koh Tao.

Another option is the Songserm Express boat which has just one departure a day at 07:00, taking two and a half hours to do the crossing.
This boat then travels on to Koh Phangan arriving there at 11:30.
So if you want to travel from Chumphon to Koh Phangan by boat, this is the service you will need to take.

For more details visit their website here >

---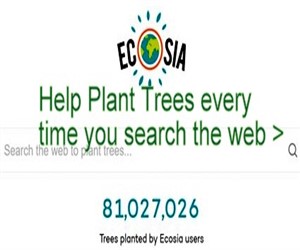 Ecosia - Search the Web - Plant Trees >