ETS Train Malaysia KTMB (KTM Berhad) 2018

Travel by train is now a whole lot faster with the introduction of the KTMB high-speed ETS Train in Malaysia (Electric Train Services) that are now operating the routes in the Peninsular, up from Kuala Lumpur's KL Sentral, then from Gemas.
Capable of speeds of up to 160kmh (although they only travel up to 140kmh in service), these new train services have cut travel time in half, compared to the older Intercity Trains that KTM used to operate.

The ETS services from Kuala Lumpur to Ipoh have been running for a few years now, but from the 10th of July 2015, new ETS routes started to be opened up and now many more services are available from the border with Thailand to the north, to Gemas in the south (the last section to JB Sentral in Johor Bahru is due for completion in around 2020).

---
To see the latest ETS schedules for the new routes, see our ETS Timetable pages:

If you want to see the Malaysian train timetables on the official KTM website click here >>>

ETS Gold, Silver or Platinum?

There are three types of ETS Train services :

ETS Platinum Services have the least amount of stop, calling at only the main stations along the route and are the quickest way to get you to your destination, so the most expensive.

ETS Gold Services are limited stopping trains and have the most frequent departures of all the services.

ETS Silver Services stop at all stations along their route and are the cheapest of the three options, but currently only operate a few services on the KL - Ipoh - KL route.

ETS Train Routes in Malaysia now Operating

---
Please Note :
From the 19th May 2016, all the long distance old diesel Intercity Trains on the N-S Line have been cancelled.
From this date, only ETS Trains are operating long distance services between Padang Besar and Gemas.

---
So far the ETS Services in Malaysia that you can travel on are (to see the timetables and fares just click on a link) :

The older Routes :
Travel from KL Sentral Station to Ipoh on one of the many ETS Trains a day on this route.
You could also take the new limited stop Gold and Platinum Service trains from KL to Padang Besar or Kl to Butterworth (see below).
---
New ETS Routes in 2015 - 2018: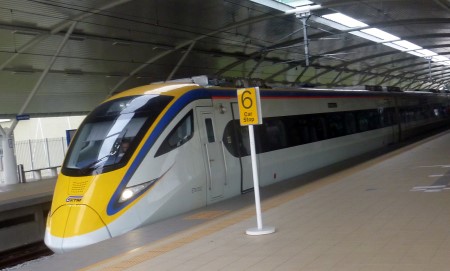 Photo of one of the new ETS Trains
Starting from 1st September 2015, there is a new ETS service between KL Sentral to Butterworth.
For the latest timetables of these ETS Services, please see :
ETS from Butterworth to KL Sentral >>>

ETS from KL Sentral to Butterworth >>>

---
Butterworth to Padang Besar (now replaced with regular and cheap KTM Komuter Trains)

Padang Besar to Butterworth (now replaced with regular KTM Komuter Trains)
Travel to the border with Thailand from Butterworth Penang.

Please Note : All ETS services to Padang Besar no longer be taking the branch line to Bukit Mertajam or Butterworth and travel direct from Gemas / Kuala Lumpur to the border.
There are now regular KTM Komuter Trains (commuter) operating two routes between :
Butterworth and Padang Besar >>>

Butterworth / Bukit Mertajam and Padang Rengas in Perak >>>
So you can now travel all the way from Perlis to Perak by cheap commuter services (changing at Bukit Mertajam).

---
New Routes from July 2015 :
Padang Besar to Kuala Lumpur >>>
Kuala Lumpur to Padang Besar >>>
This new ETS Gold and Platinum service speeds its way up to the Thai - Malaysian border railway station of Padang Besar, stopping at only the main stations on route.
You can use this train to get to Ipoh or Langkawi Island (via Alor Setar or Arau) and many more places.

---
ETS Trains from Gemas, Negeri Sembilan
From the 10th October 2015, the ETS Trains started operating to and from Gemas Railway station in Negeri Sembilan.
There are ETS Trains from Gemas to Padang Besar and another from Gemas to Butterworth.

For the new times for these services to / from Gemas click here>>>

---
With all these new routes now in operation, KTM is constantly changing the train timetable and this looks likely to happen for a few years to come, as more trains are purchased and put online and the final part of the N - S route is completed (dual electrified tracks) to Johor Bahru.

To see the latest full timetables for all the new ETS Services please see :
ETS Train Malaysia Ticket Prices

Ticket prices for the new ETS services are relatively low, but more expensive than most bus fares.

To check fares:
Please see our ETS fares page here >>>

ETS Ticket Booking

Tickets for trains in Malaysia can and should be purchased in advance.
Booking periods vary throughout the year due to all the timetable changes, so you will have to check to see up until what date tickets are on sale for - sometimes its just a week or two - sometimes two months or more.

You can buy your tickets from any mainline Railway Station or you can book online, which not only saves you the time and expense of travelling to the station, it can even work out cheaper (sometime when an agent has a sale on).
There are two ways you can book your ETS Train tickets online.
You can book direct with the KTMB website - This however, is not the easiest solution as the booking system is not the easiest to use.

The other option is to book through an online ticket agent, who, as mentioned before, are sometimes cheaper than KTMB and their booking process is a lot simpler and quiker to use.

Please note: when booking online, you can now choose your seats whoever you book through (agent or KTM).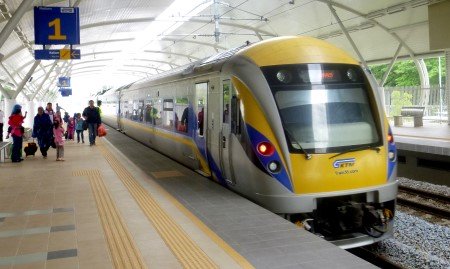 Photo of a one of the older high-speed ETS Train Malaysia
---
Related Pages :