KTM Alor Setar Train Schedules (Jadual 2020)

The KTM Alor Setar Railway Station is located a short 10 - 15 minute walk away from the centre of the city and is a much more convenient point of arrival in the city compared to the bus station, which is located quite a few kilometres away from the centre.

Although Alor Setar has a number of tourist attractions, many people just pass through the city and travel out to the Kuala Kedah Jetty to catch one of the high-speed boats to the island of Langkawi (Pulau Langkawi).

Alor Setar KTM railway station >
KTM Alor Setar Trains

(Keretapi KTM Alor Setar)
From May 2016 and the introduction of a new KTMB Train Timetable, KTM Intercity Express Trains that previously stopped at Alor Setar have now all been cancelled.
From this date all long distance trains will be operated by the new high-speed ETS Trains between Gemas and Padang Besar.
Alor Setar ETS Trains

(Kereta Api ETS Alor Setar)
KTM ETS train
To view the new ETS high-speed train timetables, please see:
---
For the ETS timetable northbound from Gemas / Kuala Lumpur to Alor Setar to Padang Besar:

---
For the ETS timetable southbound from Padang Besar to Alor Setar to Kuala Lumpur  / Gemas:

For a full list of ETS fares for all destinations from/to Alor Setar click here >

Popular ETS Routes:

ETS Timetable from Alor Setar to Kuala Lumpur >
ETS Schedule from Alor Setar to Ipoh >
Other ETS Routes:

Alor Setar to TBS (Terminal Bersepadu Selatan) / Bandar Tasik Selatan >

---
Alor Setar Komuter Trains

(Keretapi Komuter Alor Setar)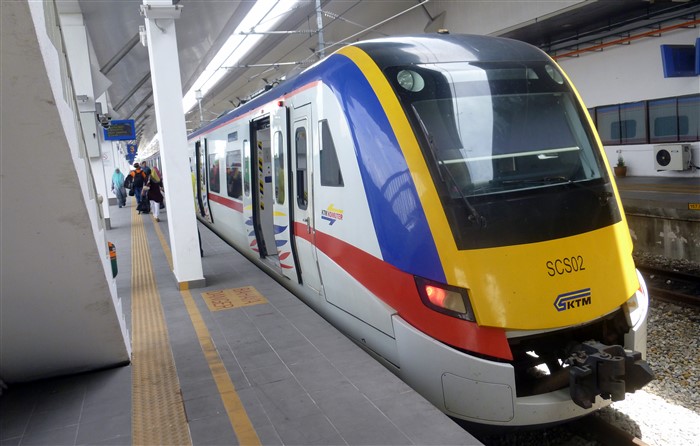 KTM Komuter train
From January 2016, a new northern commuter train service (KTM Komuter) will be stopping in Alor Setar Station many of times a day.
These cheap commuter (Komuter) Trains operate between Butterworth in Penang and Padang Besar in Perlis (located right on the Malaysia - Thailand border).
---
For the Komuter timetable southbound from PB to Alor Setar to Butterworth:
For the timetable for Komuter service northbound from Butterworth to Alor Setar to Padang Besar:
Popular KTM Komuter routes from Alor Setar:

Alor Setar to Arau (for Kuala Perlis Jetty and the ferry to Langkawi) >

Alor Setar to Butterworth (Penang Sentral) >

Alor Setar to Bukit Mertajam (Interchange Station) >

The Padang Besar to Butterworth KTM Komuter route will take you cheaply from the KTM Alor Setar Railway Station to:
Anak Bukit, Arau, Bukit Ketri and Kodiang to the north.
Bukit Mertajam, Bukit Tengah, Gurun, Kobah, Sungai Petani and Tasek Gelugor to the south.

---
You can also connect to another KTM Komuter route that takes you into Perak state.
Take the Butterworth bound commuter train to Bukit Mertajam and change there.
To see the timetable for this Komuter service click here >

These commuter trains operate from BM and terminate at Padang Rengas, stopping at:
Bagan Serai, Kamunting, Nibong Tebal, Parit Buntar, Simpang Ampat, Taiping and Tasek Gelugor.

Alor Setar Train Station to Langkawi Ferry Jetty at Kuala Kedah

(Stesen Keretapi Alor Setar ke Jeti Feri Langkawi di Kuala Kedah)
The ferry terminal of Kuala Kedah is around 13 Kilometres (8 miles) from the railway station and can be reached by taxi or by a cheap local bus from the city centre.
For more information and where to catch the bus to Kuala Kedah Jetty click here >

Fast boats leave for Langkawi from 7am in the morning until 7pm in the evening and depart every 60 minutes or so, depending on the time of day.
For more information on this ferry service, please visit:
Our Kuala Kedah to Langkawi ferry page by clicking here >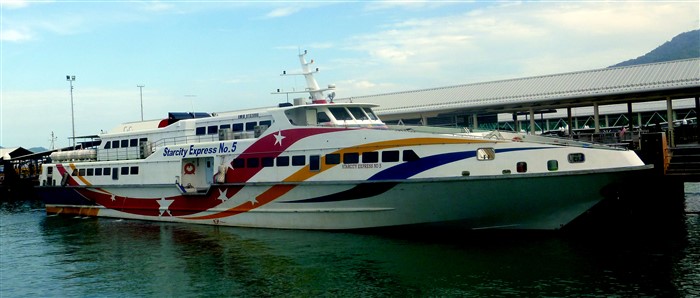 Langkawi ferry from Kuala Kedah >
Alor Setar Intercity Express Trains

All the old Intercity Diesel Trains are now Cancelled in this part of Malaysia.

The State Railways of Thailand train between Bangkok and Butterworth no longer stops in Alor Setar and you will now have to take a Komuter Train to Padang Besar where the International Express now originates from.
For the timetable from Padang Besar to Bangkok click here >

The International Express Train is an all second class sleeper train, so if you are travelling by train from Alor Setar to Thailand, you will have to buy a bed for any destination past Hat Yai (booking in advance highly recommended).
You can use this train to travel from Alor Setar to places like Surat Thani (for boats to Koh Samui and Koh Phangan or bus transfers to Phuket), Chumphon (for boats to Koh Tao) and Hua Hin.

Travelling in the other direction from Thailand to Alor Setar, the train now terminates at Padang Besar Railway Station.

From here, it is best to take a Komuter Train to Alor Setar.

You can book tickets for this Thai train here >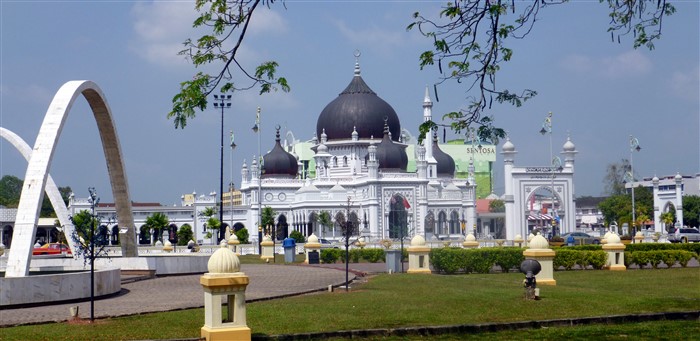 Alor Setar
Where to Next?