Mo Chit Bus Terminal Bangkok Thailand
- The Northern Bus Station

The Mo Chit Bus Terminal in Bangkok, or to use the official name, Northern Bus Terminal (Chatuchak) - สถานีขนส่ง (จตุจักร) - is by far the biggest bus station in the city.
---
For real time schedules and ticket prices from Mo Chit :
---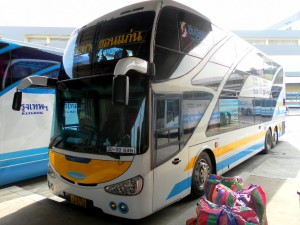 Mo Chit (สถานีขนส่งหมอชิต) also known as Morchit 2, serves the Northern, Central, Eastern and North-Eastern (Isaan) provinces, as well as many destinations in the Southern provinces and a few destinations in Cambodia and Laos.

It is located in the north of the city on Kamphaeng Phet 2 Road (ถนนกำแพงเพชร 2) in Chatuchak district.

---
Layout of Mo Chit Bus Station
Many different private bus companies operate from Mo Chit, as well as the government company known as The Transport Company (บริษัทขนส่ง) and referred to by Thai people just by its initial letters บขส "Baaw-Khaaw-Saaw".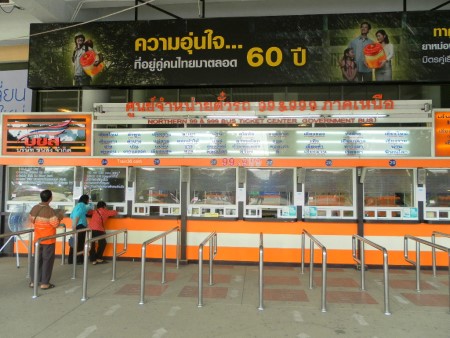 Transport Company counters outside 1st floor
1st Floor (Ground Floor) Outside :
There are 59 different counters which all sell tickets for the Central and Northern provinces such as Phitsanulok, Sukhothai, Uttaradit, Kamphaeng Phet, Lampang, Chiang Mai, Nan, Chiang Rai, Chiang Khong, Mae Hong Son...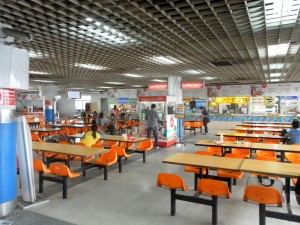 The food court
Ticket counters for the Northern provinces (1st floor outside)
1st Floor (Ground Floor) Inside :
There are 58 counters selling tickets for the Eastern provinces such as Chachoengsao, Chonburi, Pattaya, Sriracha, Rayong, Trat, Aranyaprathet - Rong Kluea market as well as for the Central provinces (near Bangkok) such as Pathumthani, Angthong, Singburi, Lopburi, Supanburi…

Waiting area on the ground floor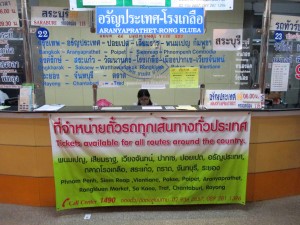 The Transport Company counters on the 1st Floor
The Transport Company which stand spreads over 5 counters (#20 to #24) sells tickets for all destinations in Thailand as well as for Laos and Cambodia.

Contrary to the private bus companies which operate from Mo Chit bus terminal, the government company also offers bus services to the South of Thailand: Surat Thani, Puket, Krabi, Patthalung, Trang, Satun, Songkhla, Hat Yai…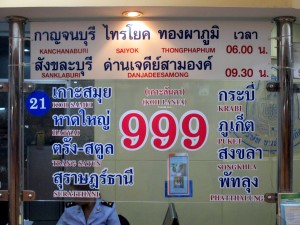 The Transport Company selling tickets to South Thailand
It even operates a few international routes :

-          To Siem Reap in Cambodia

-          To Phnom Penh in Cambodia

-          To Pakse in Laos

-          To Poipet in Laos

2nd Floor:
This floor is the office floor and is not accessible by the public.

3rd Floor:
On this floor there are as many as 112 counters and all of them sell tickets to the North-Eastern provinces (Isaan).

It is however not so surprising to find so many counters, as there are so many Isaan people working in the Thai capital.

From here you can buy bus ticket for virtually all places in Isaan : Udon Thani, Sakhon Nakhon, Nakhon Ratchasima (Korat), Ubon Ratchathani, Nongkhai, Surin, Buriram, Mukdahan...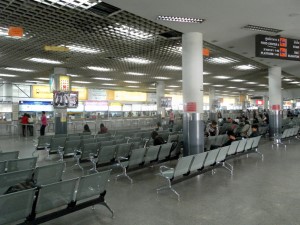 The 3rd floor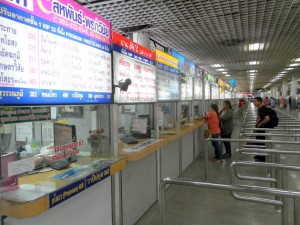 Ticket counters for Isaan
There are also a few international routes:

-          To Vientiane in Laos via Nakhon Ratchasima or via Udon Thani – Nongkhai

-          To Savannakhet in Laos via Mukdahan

-          To Vang Vieng in Laos via Udon thani

-          To Khammouan in Laos via Nakhonphanon

From the 3rd Floor you can directly access the departure platforms by a covered foot bridge.

Departure platforms: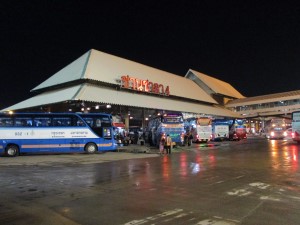 Departure platforms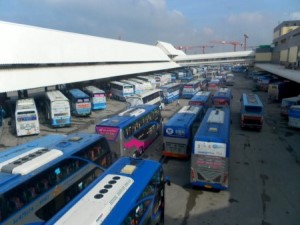 View of the departure platforms from the 3rd floor foot bridge
The Departure platforms are located outside at the back of the station.
As mentioned above, if you are on the 3rd Floor it is directly accessible by a covered foot bridge.

Minibus station and Arrival Platforms
South of the Departure Platforms is a Minibus station which operates routes to many destinations: Kanchanaburi, Ratchaburi, Pranburi, Supanburi, Pa Mok, Ayutthaya, Kamphaeng Phet, Nakhon Sawan, Chonburi, Sriracha, Pattaya, Chanthaburi, Rayong...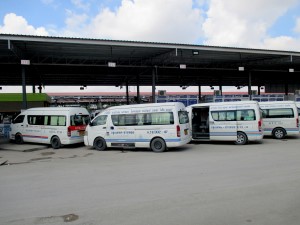 Minibus station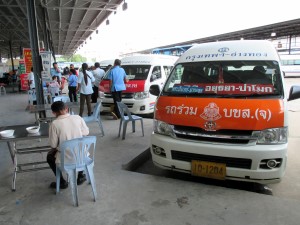 Minibus to Ayutthaya
To get there you will have to walk for a few minutes through a covered market (selling clothes, tablets, phones...)

The platforms by the Minibus station are used as the Arrival Platforms for all the buses arriving at Mo Chit Bus Terminal.

How to get to / from Mo Chit Bus Terminal?
You can get here by either city bus, MRT, BTS or a motorbike taxi or normal taxi. It all depends on your budget!

Related Pages :
Bangkok Bus Stations main page >>>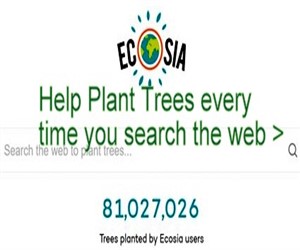 Ecosia - Search the Web - Plant Trees >