How to get to Mo Chit Bus Station in Bangkok
On this page, you will find how to get to Mo Chit Bus Station, the largest bus station in Bangkok.
From here you can catch buses to all the areas in the North, North-East and Central Thailand, as well as to neighbouring countries such as Laos and Cambodia.
There are also a few departures to Southern Thailand, although the main bus station for departure to the south is Sa Tai Mai Southern Bus Terminal.

How to get to Mo Chit By Subway (MRT) or Sky Train (BTS)
To go to the Northern bus station in Bangkok, you can either travel by Subway (MRT) up to Chatuchak Park Station or take the Sky Train (BTS) up to Mo Chit BTS Station.

Exit on Phahonyothin Road (ถนนพหลโยธีน) and from there either board a Taxi or one of the many city buses which go to the nearby Northern bus terminal:  Buses 3, 26, 77, 96, 104, 509...

To know more and see a map for the Subway in Bangkok, go to www.bts.co.th .
For more information about the Sky Train in Bangkok, go to www.bemplc.co.th

By Taxi
If you are starting your bus trip from Mo Chit and take a Taxi to get there, you will be let off at the parking area right in front of the main building where the ticket selling counters are located.

Sign for the metered Taxis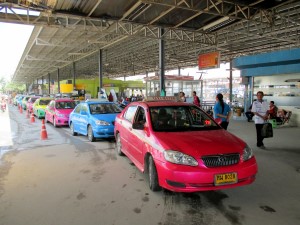 Metered Taxi lane by the arrivals platforms
If you are ending your bus trip at the Northern Bus Terminal and want to take a taxi to Bangkok city centre, note that there is a metered taxi lane by the arrival platforms.
If you need a taxi, use this place as metered taxis are relatively cheap in Bangkok and avoid any touts or other taxi drivers who want to take you for a fixed fee, as they will overcharge you!

By Motorbike Taxi
Beside the Metered Taxi lane you will find a Motorbike Taxi stand as well as a Tuk-Tuk stand.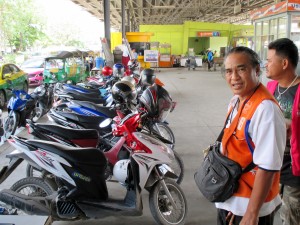 Motorbike Taxi lane
Tuk Tuk stand
At the Motorbike Taxi stand you will find a fare table for many destinations in Bangkok (in Thai language only):

---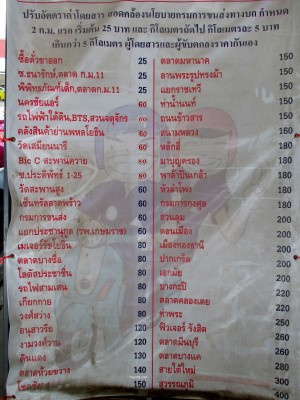 Fare table
-  To Nakhonchai Air Bus Station, Mo Chit BTS, Chatuchak Park Subway, Central Ladprao, Kasemrat Hospital = 60THB
-  To Big C Saphankhwai, Wat Samian Nari, Major Ratchayothin, Bang Sue Market, Lotus Prachachuen, Sam Sen Railway Station, Wongsawang = 80THB
-  To Victory Monument = 120THB
-  To Din Daeng = 130THB
-  To Huaykhwang Market = 140THB
-  To Khaosan Road, Ratchathewi Intersection, Mahanak Market, Nam Non Pier = 150THB
-  To Sanam Luang = 160THB
-  To MBK Shopping Centre, Siam Square, Hua Lamphong Train Station, Pinklao, Laksi = 180THB
-  To Lumpini Park, Don Muang, Ekkamai, Muang Thong Thani, Pak Kret = 200THB
-  To Klongtoey Market, Bangkapi = 220THB
-  To Future Park Rangsit, Minburi Market = 260THB
-  To Bangkae Market = 280THB
-  To Sai Tai Mai Southern Bus Terminal = 300THB
-  To Suvarnabhumi International Airport = 400THB

---
If you have never been on a motor bike taxi in Bangkok, be prepared for a hair raising experience!

Regarding boarding a Tuk-Tuk, you just need to know one thing: good bargaining skills and patience are required!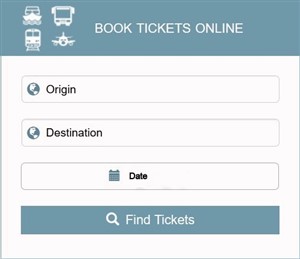 Book Transport Online >
---
How to get to Mo Chit Bus Station By City Bus
There is a city bus station beside the Mo Chit Bus Terminal. It is just a few minutes walk south of the main bus terminal by the Minibus Station and Arrival Platforms.

You will have to walk through a covered market to get there.

The city bus station is served by many lines that connect Bangkok to Mo Chit.

---
Following is a list of the different city buses with their respective routes that operate from Mo Chit :

| Bangkok City Bus | Route to Mo Chit Northern Bus Terminal (NBT in table below) |
| --- | --- |
| City Bus #3 | Klongsarn - Sanam Luang - Khaosan Road area (Phra Athit Road and Sam Sen Road) – Thewet – Pradipat - Saphankhwai - Mo Chit BTS (MC BTS) – Chinnawat 3 – NBT |
| City Bus #16 | Surawong – Siam – Kingphet – Nangleng – Thewet – Banpho - Wongsawang – Prachanukun - NBT |
| City Bus #26 | Minburi - Ram Inthra – Wat Prasri - Kasert – Major – Central - MC BTS – Chatuchak - NBT |
| City Bus #49 | Hua Lamphong Train Station - Wongwian 22 – Worachak – Wisutkasat – Thewet – Bangpho – Wongsawang – Prachanukun - NBT |
| City Bus #77 | Sathupradit - Phra Ram 3 - Bangrak - Lumpini Park – Pratunam - Victory Monument – Saphankhwai - MC BTS - NBT |
| City Bus #96 | Minburi – Nawamin - Bangkapi – Latphrao – Central – MC BTS - Chatuchak - NBT |
| City Bus #104 | Phakket – Kaerai – The Mall – Kasert – Central - MC BTS – Chatuchak - NBT |
| City Bus #134 | Bangbuathong – Bangyai – Kaerai - The Mall - MC BTS – Chatuchak - NBT |
| City Bus #136 | Klongtoey – Asok – Huaykwang – Suttisan - Criminal Court – Ratchadaphisek - MC BTS – Chatuchak - NBT |
| City Bus #138 | Phrapradaeng – Watson – Din Daeng – Suttisan – Saint John - MC BTS – Chatuchak - NBT |
| City Bus #145 | Paknam – Srinakarin – Lamsali – Bangkapi – Central – MC BTS – Chatuchak - NBT |
| City Bus #170 | Omnoi – Phet Kasem – Phutthamonthon soi 4 – Sai Tai Mai Bus station – Pinklao - Wongsawang - Prachanukun - NBT |
| City Bus #509 | Phutthamonthon Soi 2 – Thapra – Pinklao – Ratchadamnoen Road (Khaosan Road) – Democracy Monument – Ram Hospital – Victory Monument – Saphankhwai – MC BTS - NBT |
| City Bus #517 | Lakrabang – Khlongtan - Huaykhwang – Suttisan – Ratchadaphisek – Central - Chatuchak Park - NBT |
| City Bus #529 | Samaedam - Rama 2 - Yaowarat (Chinatown) - Hua Lamphong Train Station - MBK Centre - Victory Monument - Ratchada - NBT |
| City Bus #536 | Paknam – Samrong – Bangna – Pratunam – Victory Monument – Hospital Pramonkutklao – Tuek Chai - Samsen School - NBT |
Bus Stations in Bangkok main page >
---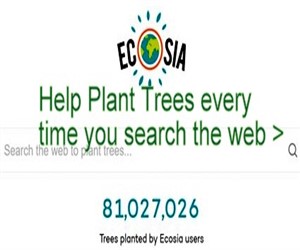 Ecosia - Search the Web - Plant Trees >