MRT Kajang to Bukit Bintang / Pavilion Schedule (Jadual) & Price (Harga Tiket)
The MRT Kajang to Bukit Bintang / Pavilion train takes you quickly and cheaply to one of Kuala Lumpur's most popular tourist areas in the city centre of KL.

The duration of the journey from MRT Kajang to MRT Bukit Bintang is 33 minutes.
For travel in the opposite direction from Bukit Bintang to Kajang click here >

The MRT station in Kajang is built above the KTM Komuter / ETS station so you can easily get connections to Bukit Bintang from KTM Komuter trains and long-distance ETS trains.

---
When travelling to Bukit Bintang (also known as Pavilion Kuala Lumpur or Bukit Bintang Sentral station) from Kajang there is a direct service on the MRT Sungai Buloh - Kajang (SBK) Line (route number 9 - dark green coloured on the KL Transit map).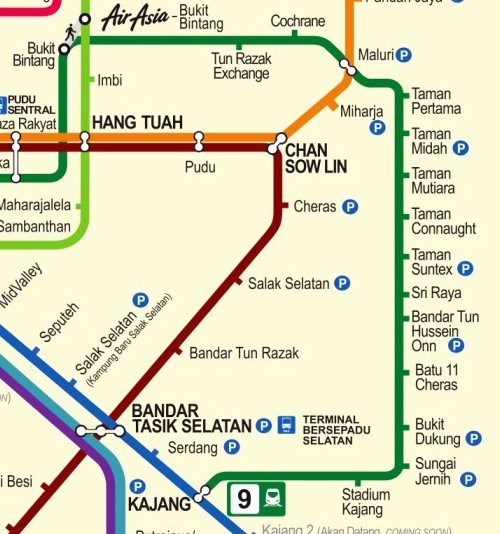 MRT Kajang to Bukit Bintang route map (click to view larger / full KL Transit map) >
Along the MRT route to Bukit Bintang from Kajang, MRT trains stop at the following stations:

Kajang
Stadium Kajang
Sungai Jernih
Bukit Dukung
Batu 11 Cheras
Bandar Tun Hussein Onn
Sri Raya
Taman Suntex
Taman Connaught
Taman Mutiara
Taman Midah
Taman Pertama
Maluri
Cochrane
Tun Razak Exchange (TRX)
Bukit Bintang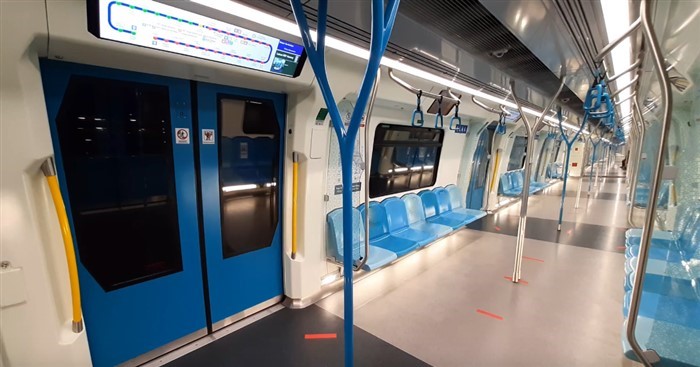 Carriage of an MRT train on the Kajang - Bukit Bintang route
MRT Kajang to Bukit Bintang Fare / Ticket Price

(Tambang / Harga Ticket MRT Kajang ke Bukit Bintang)

The MRT fare to Bukit Bintang from Kajang is 4.30 MYR (Cash Price / Harga Tunai).

Ticket are available in the form of tokens from vending machines located at Kajang MRT station.

The "Cash Price" fare is for passengers who pay for their tickets on the day they travel.

You can get cheaper fares by going  "Cashless" and purchasing one of RapidKL / MyRapid Touch N' Go cards which are valid for travel on all their MRT, LRT, Monorail and Rapid Bus services.

For more information, click on the link to the MyRapid official website below.

Kajang to Bukit Bintang MRT Operating Hours / Times
(Jadual / Waktu Operasi MRT Kajang ke Bukit Bintang)
You never have to wait long for the next MRT train to depart from Kajang station.

MRT Train Frequency:

MRT departures from Kajang station vary between every 4 minutes (during the morning and afternoon peak hours) to every 7 to 10 minutes at other times of the day, then every 15 minutes late in the evening.

First / Last MRT Trains from Kajang:

The first MRT train to Bukit Bintang from Kajang is at 06:00 (6 am in the morning).

The last MRT train from Kajang to Bukit Bintang departs at 23:30 on Monday to Saturday and at 23:00 on Sunday and public holidays.
---
Times and fares on this page were correct at the time of publication and may change without notice. Before travelling, we recommend you visit the official website for MRT services in Kuala Lumpur by clicking on the link below:

---
Related Pages:

MRT from Kajang to TBS bus station >

---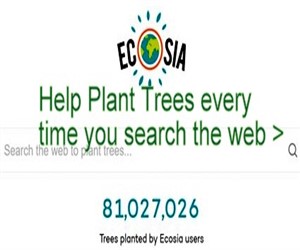 Ecosia - Search the Web - Plant Trees >