Train 43 Timetable Thailand
Bangkok to Surat Thani

Train 43 is one of Thai Railways fastest services using a Diesel Railcar and is often known as a Sprinter Service.
This train consists of just two or three coaches which are all second class seats only.
If you want to get somewhere quickly by train in Thailand, these trains are your best option.

Train 43 Timetable

Times shown are departure times only.
Arrivals are usually just a couple of minutes earlier.
Train 43 operates Daily from Bangkok's Hua Lamphong Railway Station.
Seat Classes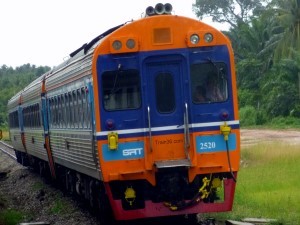 A Diesel Railcar Train in Thailand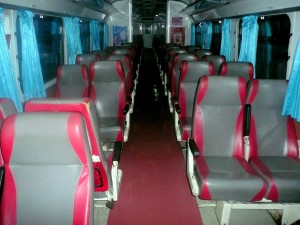 Seats on the Special Express Diesel Railcar Trains in Thailand
All carriages are 2nd class seats only and are all air-conditioned.
During your journey, you will also be served with an airline style meal and soft drinks.
To be honest, this is not going to be the best food you ever taste in Thailand by a long shot.
It comes in a white plastic container and usually consists of rice, with some rather dry meat and vegetables.
You would be wise to take along some snacks of your own!

Station Information :

For arrivals and departure information and ticket booking, please see the following main stations on this route :

Fares :

For ticket prices from Bangkok, please see the following pages :
Departure times for this service are published for information only.
Please confirm times before travelling by either :
Visiting your nearest Thai railway station.
Calling 1690 - the 24 hour Thai Railways Call Centre.
---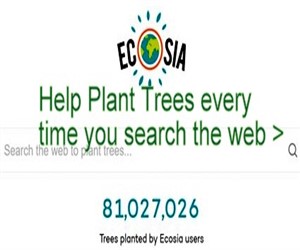 Ecosia - Search the Web - Plant Trees >