Bangkok Ayutthaya Train Schedule from Hua Lamphong

The train from Bangkok to Ayutthaya departs many times daily from Hualamphong station, taking between 1.5 hours to 2 hours to cover the 71 km distance with tickets costing from 15 Baht for a 3rd Class seat on an Ordinary train.

Taking the train is a good way to visit the ruins of the ancient capital of Ayutthaya and you could decide to spend the night in the old capital or just make a day trip out of it and return back to Bangkok by train or minivan.

The train can be the cheapest way to travel from Bangkok to Ayutthaya - it may be slower than the many minibus and buses on this route, but this way you miss all the traffic jams and get a view out of the window on the journey, so we would recommend you take the train for at least one way of your trip, just for the experience.

Train Timetable from Bangkok to Ayutthaya

Please note: From January 2023 only Ordinary / Commuter trains depart from Hua Lamphong railway station for Ayutthaya. All other services now originate from the new Bangkok railway terminal at Bang Sue Grand station.

If you want to see the train timetable for the faster trains from the new Bang Sue Grand station to Ayutthaya click here >

Hua Lamphong to Ayutthaya train schedule:
| Train Number | Departs | Arrives | Type |
| --- | --- | --- | --- |
| 303 | 04:15 | 05:48 | Ordinary |
| 339 | 05:05 | 06:44 | Ordinary |
| 201 | 09:30 | 11.27 | Ordinary |
| 209 | 11:15 | 13:01 | Ordinary |
| 233 | 11:30 | 13:06 | Ordinary |
| 211 | 12:55 | 14:31 | Ordinary |
| 207 | 14:10 | 15:57 | Ordinary |
| 301 | 16:30 | 18:23 | Ordinary |
| 341 | 17:00 | 18:52 | Ordinary |
| 317 | 17:30 | 19:12 | Ordinary |
| 313 | 18:20 | 20:08 | Ordinary |
If you want to check the departure times shown above:
You can visit the SRT (State Railways of Thailand) timetables page here >

---
A 3rd Class carriage on a train to Ayutthaya from Bangkok
Ticket Prices for the Bangkok Ayutthaya Train

Train tickets to Ayutthaya vary quite considerably depending on the type of train you choose to travel on.
Ordinary trains are the cheapest, as they are the slowest and cost just 15 Baht (THB) for a 3rd class seat (no air-conditionng, just fan cooled).
(All other trains now depart from Bang Sue Grand) Rapid trains are the next step up in speed and cost 45 THB for 3rd class and 65 THB for 2nd class (fan cooled).
Express trains come with air-conditioning and a 2nd class seat costs 245 THB - a 3rd class fan cooled seat is 165 THB

Special Express DRC (Diesel Railcars) are the fastest and most expensive and a seat in a 2nd class air-conditioned carriage will cost you 345 THB.
Some of the other Special Express trains are all night trains and only sell sleeping berths.

Another popular way to travel from Bangkok to Ayutthaya is to take one of the frequent and relatively fast minivans / minibuses.
With various departure points around the city, it is often easier to use this transport option if your accommodation is located nearby.
Buying Tickets

There is usually no need to make an advance booking for tickets for most of these services, so just turn up at the station and buy a ticket for the next train to Ayutthaya.
If however, you want to use one of the faster Express / Special Express trains, you may want to book in advance to make sure you can get a seat.
For more information on how to book train tickets to Ayutthaya from Bangkok:
Visit our train booking page here >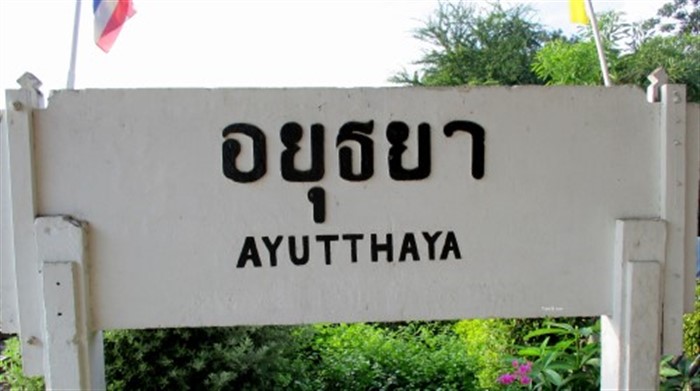 Ayutthaya Station sign
Arriving at Ayuttaya Railway Station

The railway station is just off "the island" where most of the the ruins of the old capital are located.
All you have to do is walk straight ahead as you come out of the station and after a few minutes walk there is a small boat that will take you across the Klong (canal) to the old city area for just 5 Baht.
Once on the island, you will find plenty of places to stay, with the main backpacking area just 5 - 10 minutes walk away (Turn right, then left down the main road).
Here, you will also find plenty of places that rent bicycles out and this is a great way to travel around all the old city ruins.
Alternatively, if you are not staying long, hire a Tuk Tuk to take you around.
You will have to negotiate hard to get a good price, but they are a good way of seeing most of the sights in a short space of time.

For more information about the railway station in Ayutthaya, click on the picture link below: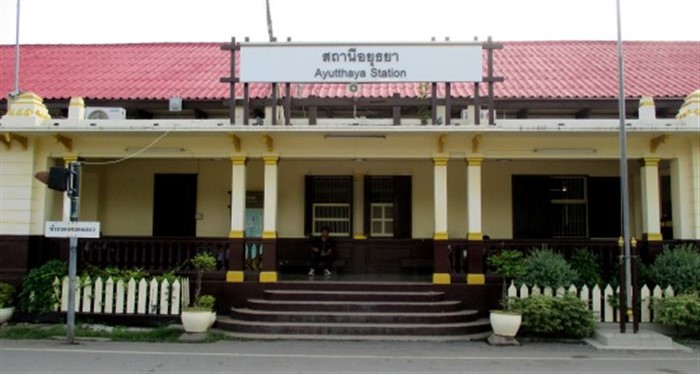 Ayutthaya Train Station >
For information about the Hua Lamphong train station in Bangkok, click on the picture link below: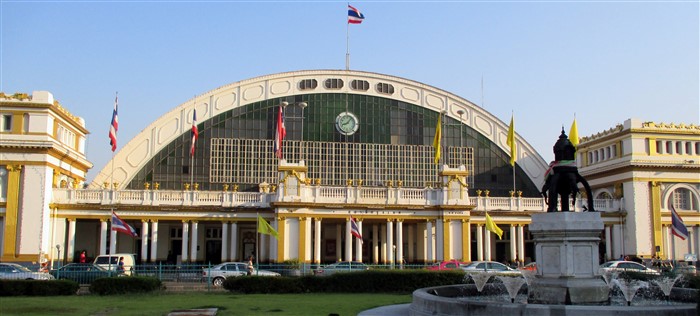 Bangkok Hua Lamphong railway station >
For information on how to get to and from the train station in Bangkok click here >

Related Pages:
Bus and Minibus from Bangkok to Ayutthaya >
Ayutthaya to Chiang Mai by Train >
Train from Ayutthaya to Phitsanulok >
Find places to Stay in Ayutthaya >
---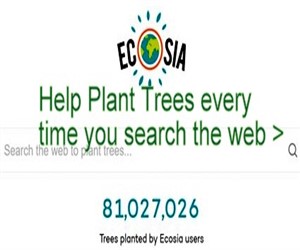 Ecosia - Search the Web - Plant Trees >