Bangkok to Ayutthaya by Bus, Minibus or Train

Travelling from Bangkok to Ayutthaya is easy to do and makes a popular day trip from the city.
You can choose to go by bus, minibus and train on your own, or take a much more expensive organised tour which often involves travelling to the ancient city by boat along the canals in one direction, then taking a minibus in the other.
Travelling by Bus or Minibus

There are different places in Bangkok from where you can board a minibus or a bus to Ayutthaya.
Here are the most popular and convenient places to travel from :

Minibus from Khao San Road to Ayutthaya
There are a number of agents that operate minibuses to Ayutthaya from this popular tourist area.
To see the timetable / fares visit our bus booking page here >

Minibus from Victory Monument to Ayutthaya

Victory Monument in Bangkok
Located in the heart of the city centre, Victory Monument roundabout is a major minibus transportation centre and is easily accessible by the BTS Sky Train (get off at Victory Monument Station on the Sukhumvit Line / www.bts.co.th).
For most people this is the easiest place to start your journey from Bangkok to Ayutthaya by minibus.

All around the huge roundabout behind the city bus stops, you will find many small minibus stations which operate routes to many different destinations.
Please Note : from November 2016 minibuses are no longer leaving from Victory Monument - now you will have to go to Mo Chit bus station (see below).

---
Minibus for Ayutthaya at Victory Monument
Minibus ticket selling counters
Most of them offer minibus services to Ayutthaya from around 06.00 to 21.00 with departures every 15-30 minutes.
The journey takes 1 hour and costs only 60 THB.

From Mo Chit Northern Bus Terminal to Ayutthaya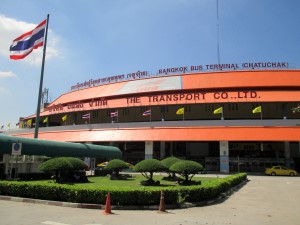 Mo Chit Northern Bus Terminal
From Mo Chit you can either take a minibus or a bus to Ayutthaya.
The minibus station is located south of the bus departure platforms.
From there you can board all day long minibuses to Ayutthaya (from around 05.00 to 19.00) for around 60 - 70 THB.
---
Minibus centre at Mo Chit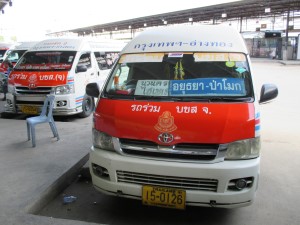 Minibus from Mo Chit to Ayutthaya
You can also choose to travel by bus with The Transport Company (บริษัทขนส่ง) which is the state company that operate under the Ministry of Transport.
The bus trip takes around 1 hour 30 minutes to 2 hours depending on the number of stopovers.

The Transport Company offers three daily departures for Ayutthaya at 05.30, 09.00 and 17.00. The bus fare costs 56 THB.

---
Please Note : When travelling by minibus or bus you should be careful not to get off at the bus station outside Ayutthaya old city, instead get off at the very last stop along Naresuan Road on Ayutthaya Island.
---
---
---
---
Bus / Minibus from Ayutthaya to Bangkok

In Ayutthaya minibus and bus companies operate from Naresuan Road (ถนนนเรศวร) which is close to where most guest-houses and hotels are located and where most tourists choose to stay.

To find accommodation in Ayutthaya click here >

Ayutthaya to Victory Monument
You can catch a minibus for Victory Monument from the station located at the corner of Naresuan Road and Soi Naresuan 2 (near the Ayutthaya Hotel) or at the station located further west along Naresuan Road after the Naresuan Bridge.

Ayutthaya Victory Monument minibus sign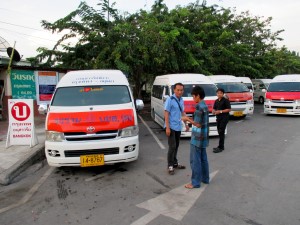 Minibus station on Naresuan-Road
The ticket price is 60THB.

Ayutthaya to Rangsit – Future Park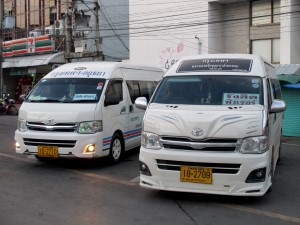 Minibuses from Ayutthaya to Rangsit Future Park
There is a minibus service to Rangsit – Future Park in Bangkok (not far from Don Muang Airport).

The station is located at the corner of Naresuan Road and Soi Bangian 2 (ซอยบางเอียน2), opposite Soi Naresuan 2 and Ayutthaya Hotel (see above).

Tickets cost 40 THB.

---
Ayutthaya to Sai Tai Mai Southern Bus Terminal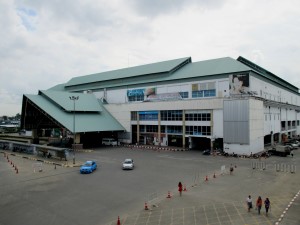 Sai Tai Mai Southern Bus Terminal in Bangkok
Still on Naresuan Road, further west after the Naresuan Bridge and the minibus station for Victory Monument, you will find another minibus station to Sai Tai Mai in Bangkok.

The minibuses also serve Bang Yai and Bang Bua Thong.

---
Minibus station for Sai Tai Mai
Sign for the minibus service to Sai Tai-Mai, Bang Yai and Bang Bua Thong
Tickets cost 70 THB.

Sai Tai Mai bus terminal is the major bus station for buses to the beaches and islands in Southern Thailand.
Ayutthaya to Mo Chit Northern Bus Terminal
Near Chao Phrom Market (เจ้าพรหม) on Naresuan Road you will find the small central bus station from where the state owned bus company (The Transport Company) operates.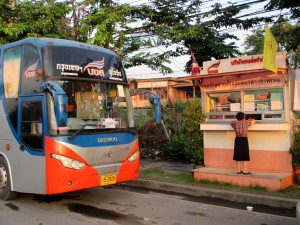 The small central bus station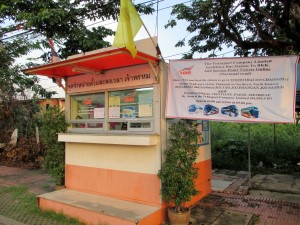 Ticket selling cabin
The station is just a small cabin that serves as a ticket selling counter and is open from 06.00 to 17.00.

| Timetable Bus Route Ayutthaya - Bangkok | Departure Times |
| --- | --- |
| From Monday to Friday | 05.00 / 07.00 / 16.30 |
| On Saturday and Sunday | 07.00 / 10.00 / 16.30 |
---
| Destinations in Bangkok | Ticket Fares |
| --- | --- |
| To Mo Chit Northern Bus Terminal | 56 THB |
| To Don Muang Airport | 43 THB |
| To Rangsit | 34 THB |
---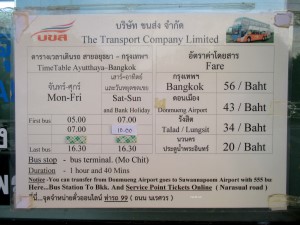 Timetable and fare table
Bangkok to Ayutthaya by Train

There are many of trains every day that leave the city from Hua Lamphong Railway Station to Ayutthaya or from January 2023, the new raiilway terminal at Bang Sue Grand Station.
If you are looking for the cheapest way to travel from Bangkok to Ayutthaya, this is it!
Tickets cost from just 15 THB for the slower Ordinary / Commuter trains.
---
Related Links:
---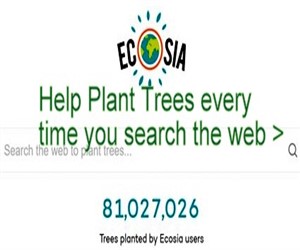 Ecosia - Search the Web - Plant Trees >