Hat Yai Train Station
(Stesen Keretapi Hat Yai)
Hat Yai train station is a major junction on the Southern Line of the State Railways of Thailand rail system and is
located right in the centre of the city, making it the best place to arrive if you are intending to stay here, as the
long distance bus station is around 5 km away from the city centre.

At Hat Yai Junction, the railway line splits in two, one heading south into Malaysia at Padang Besar and on to Butterworth Penang, or further south to Kuala Lumpur and connections to Singapore.
The other heads south-east through the troubled areas of Yala and Pattani, to the border with Malaysia at Sungai Kolok, where the railway line ends.
Once you cross the border here into Malaysia, you can pick up a train again on the scenic "jungle line" that leads all the way down to Johor Bahru and Singapore.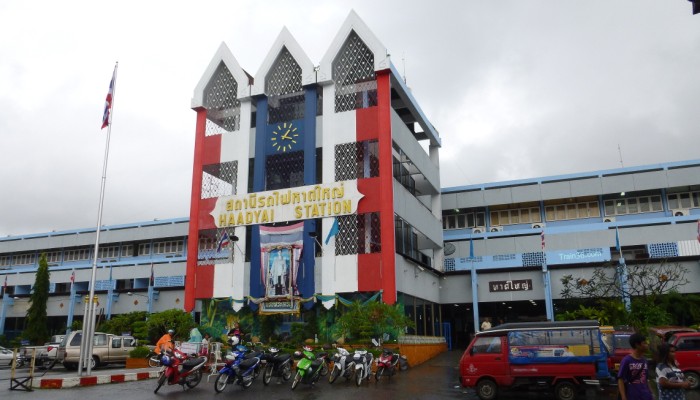 Photo of the front entrance to Hat Yai Train Station - notice the spelling Haadyai Station - Place names in Thailand can often have many different spellings when translated from Thai script.
One of the first things you will notice as you enter Hat Yai Station, is the high levels of security.
This is because of the unrest in some of the southern provinces.
You now have to put your bags through a scanner and walk through a metal detector to gain entry to the station ticket area and platforms.

You will also see a number of fully armed soldiers walking around the station, many of whom travel on the trains through these provinces, as protection against attacks on the trains, which seem to occur too frequently for my liking.

If you are heading north there is nothing to worry about.
If you are heading to Malaysia via Padang Besar, there is nothing to worry about.
If you are planning to travel through the south-eastern province south of Hat Yai - ie trains to Yala or Sungai Kolok - seek the latest advice before travelling.
Most of the time you will fine, but as i said before, attacks on trains do happen - that's why the heavily armed soldiers travel on them!

---
Booking Tickets at Hat Yai Railway Station
| | |
| --- | --- |
| Advance Booking Office | Main Ticket Counter |
Train tickets can be purchased for the same day at the ticket counters as you enter the station complex on your right hand side.

For advance tickets up to 90 days in advance, you will have to go to the Advance Booking Office which is located directly opposite the main ticket counters on your left as you enter the station. Take a number from the machine and wait for it to be called.
Like anywhere in Thailand, you can book tickets for travel from any station in Thailand here, so if you are entering Thailand here, it maybe a good idea to book as much of your advance train travel as possible in Hat Yai, especially if you are travelling during the high season.
The Advance Booking Office is open daily from 07:00 until 17:00.

Contact Telephone Number for Hat Yai Railway Station is: 074-238001

If you want to travel to Malaysia (via the Shuttle Train to Padang Besar) to places like Kuala Lumpur on the fast ETS trains, it is best to buy your tickets before arriving at Padang Besar station, as frequently they can be full.
You can easily book ETS tickets online (same price as from the station) :
To book your ETS train tickets online click here >
If you want to travel to Langkawi or Butterworth, Penang via the KTM commuter trains, tickets are only sold on the day of travel, so you buy tickets from the KTM ticket counter at Padang Besar Railway Station.

For train times from Padang Besar click here >

---
Photo of Hat Yai as you exit from the station
As you exit the station you will find the usual Tuk Tuks, motorbike taxi's and a number of travel agents just across the road selling onward travel (mostly by minibus), to places all over Southern Thailand and into Malaysia, including Koh Samui, Phuket, Krabi, Penang, Langkawi, KL and many more. See the warning below

Hat Yai Railway Platform
Trains to / from Hat Yai Junction

Click on a destination below for train times and ticket prices for services to and from Hat Yai Junction.
Thailand:

Malaysia:

Facilities at Hat Yai Train Station

Hat Yai Train Station left luggage office
Other facilities at Hat Yai railway station include an information counter just on the right as you come onto the main platform. Here you can check to see which platform number your train is departing from, pick up some Thai Railways timetables and to see if your train is running on time.
There is also a left luggage office which is open from 05.00 to 20.00.  Prices are either 30, 40 or 50 Baht for the day, depending on the size of you bags.
There is a restaurant and toilets towards the northern end of platform one, as well as shops and plenty of food sellers along the platforms.
The is also the Hat Yai Train Station Hotel.

---
Staying in Hat Yai

As a Western tourist there is really not much to keep you in Hat Yai and many people just pass through.
Hat Yai is really geared towards the Malaysian and Singaporean tourists who flock here at weekends and public holidays for the shopping and night-life and it has a reputation as a bit of a sin city.
However, if you are planning on stopping over here, then most budget accommodation and most of the more upmarket hotels can be easily reached within 5 to 10 minutes walk from the railway station.
Just go straight ahead after exiting the station, down the main road.
Click here to view a list of the best hotels in the city centre, within walking distance of the station >
Is it worth visiting Hat Yai

If your a Westerner like me, you really could give Hat Yai a miss!
There is really nothing of interest here and being a border city, it is expensive and a good place to get ripped off!
In the last few years it has gained a reputation (and quite rightly so) as a rip-off city. 
Prices for foreigners of any nationality, seem to be whatever the locals think they can get away with!
You will find this true especially in restaurants where you pay around twice as much as locals - if you are lucky.
Always ask the price first or I would recommend you eat in the food courts of the main shopping malls where there are fixed prices, especially if this is your first time in Thailand and you do not yet know how much things should cost.
Another problem you may encounter is for onward travel by minibus (my least favourite form of travel in Thailand) .
People have told me of huge overcharging.
So shop around as much as possible, or better still, just stay on the train!
If you are heading to the bus station, make sure you go into the bus station itself and not to the agencies all around. 
Inside the bus station you can buy bus tickets at the right prices direct from the bus company.
If you are dropped off outside or led outside by one of the many touts, you will pay a lot more and told the time of your bus is 30 minutes or one hour away, when it could be leaving in five hours!

Location Map for Hat Yai Train Station

---
Back to Hat Yai Trains main page >

---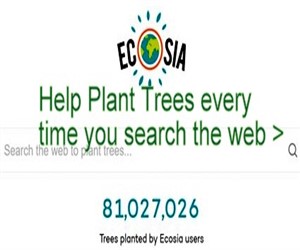 Ecosia - Search the Web - Plant Trees >