Kangar Kuala Perlis Bus Timetable
There is a regular Kangar to Kuala Perlis bus service operated by Maraliner that departs from the Kangar Bus Station to Kuala Perlis Bus Station, just a couple of minutes walk away from the ferry terminal for boats over to Langkawi Island (Pualau Langkawi).

Kangar to Kuala Perlis Bus Timetable:

Buses depart from Kangar at:

06:30, 08:00, 09:30, 11:00, 12:30, 14:00, 15:30, 17:00, 18:30 and 20:00

This timetable was obtained from the Kangar Bus Station in mid 2017 and times may change  - so please use as a guide only.

The journey to Kuala Perlis takes 30 minutes to cover the 11 Kms distance from Kangar to Kuala Perlis, stopping along the way to pick up passengers along the route.

If you want to travel in the opposite direction from Kuala Perlis to Kangar by bus, we do not have a exact timetable, but you can use the timetable from Kangar to get a rough estimate of the departure times from K. Perlis.

---
Another option to take the bus between Kuala Perlis and Kangar is to ask one of the long distance buses to drop you off in Kangar / K. Perlis.
Most buses to and from the port will make a stop at Kangar bus station.
I have done this before (when the Maraliner buses where not operating) and got on a KL bound bus that dropped me off in Kangar.
You will have to ask one of the drivers directly (they charged me 5 MYR).

For information on Kuala Perlis Bus Station click here >>>

If you want to travel from Kuala Perlis to Thailand, you can take another Maraliner bus once you reach Kangar, to Padang Besar (the Malaysia / Thai border town).
From Padang Besar you can then decide to continue your journey by train from Padang Besar Railway Station.
Or you can take a bus from the Thai side of the border to Hat Yai bus station or city centre.

Boats from Kuala Perlis to Langkawi

Kuala Perlis Jetty to Kuah is the shortest boat trip between the mainland and Langkawi at just one hour to one hour 15 minutes for the journey.
High-speed ferries leave from the early morning until the early evening every day of the year.

For the latest timetable and fares for boats to Langkawi click here >>>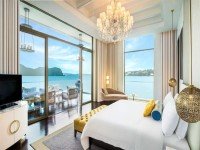 Find you ideal accommodation in Langkawi
Check prices and read previous guests reviews to find the best places to stay on the island.
Budget hostels to luxury resorts.
---