Kuala Perlis to Langkawi Island Ferry Schedule (Jadual) 2020

Travel from the Jetty at Kuala Perlis to Langkawi Island on one of the many daily high-speed ferries that leave from the jetty to Kuah town jetty on the island.

This is the shortest distance by boat from any port on the mainland and consequently the cheapest way to travel to Langkawi by boat.

These high-speed boats are scheduled to take one hour and 15 minutes to get to Langkawi and depart many times a day (less during the month of Ramadan), 365 days a year.
The first boat leaves Kuala Perlis to Langkawi at 7am in the morning, the last boat at 7pm in the evening.

Kuala Perlis to Langkawi Ferry Timetable 2020 (Jadual Feri Kuala Perlis ke Langkawi)

Below is the published timetable for boats to and from Langkawi. These times are not set in stone and may change at various times of the year due to demand.

The other option from the mainland is to catch the ferry from Kuala Kedah (near Alor Setar).
For more information on boats from Kuala Kedah click here >

If you are viewing this page on a mobile phone, to see the full timetable below, you may have to click on "Full Site" at the top of the page.

| Departure K. Perlis | Arrival Kuah | *** | Departure Kuah | Arrival K. Perlis |
| --- | --- | --- | --- | --- |
| 07:00 | 08:15 | | 07:30 | 08:45 |
| 08:30 | 09:45 | | 08:30 | 09:45 |
| 09:30 | 10:45 | | 09:30 | 10:45 |
| 10:30 | 11:45 | | 11:00 | 12:15 |
| 11:30 | 12:45 | | 12:30 | 13:45 |
| 13:00 | 14:15 | | 14:00 | 15:15 |
| 14:30 | 15:45 | | 15:30 | 16:45 |
| 16:00 | 17:15 | | 17:00 | 18:15 |
| 17:30 | 18:45 | | 18:00 | 19:15 |
| 19:00 | 20:15 | | 19:00 | 20:15 |
---
Extra departures are often added during busy weekends and public holidays.
To check for the latest departure times, we suggest you visit the official website of the Langakwi Ferry Line (see the link below under the booking section to visit their site).

---
---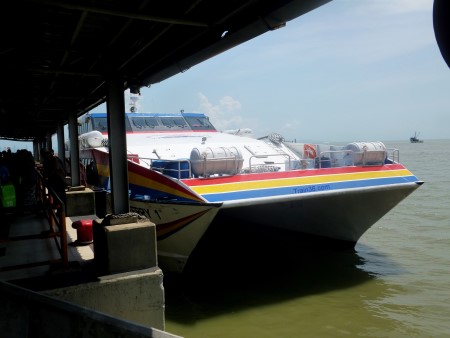 Photo of the Kuala Perlis - Langkawi Ferry Boat
Kuala Perlis to Langkawi Ferry Ticket Prices (Harga Tiket)

As already mentioned, this is the cheapest place to travel to / from Langkawi.
One-way Ferry Tickets cost :
18 MYR for Adults.
13 MYR for Children aged 3 to 12 years old.
There is no discount for return fares.

---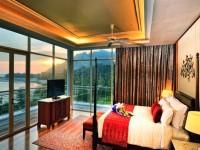 Looking for a great place to stay in Langkawi?
Read hotel reviews.
Find the best room prices.
Budget or top luxury resort.
---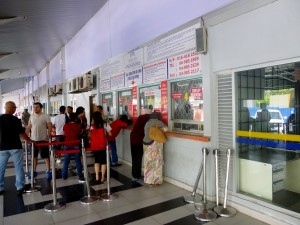 Kuala Perlis Ferry Ticket Counters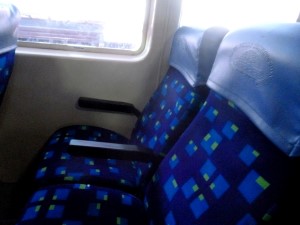 Seats on the Ferry to Langkawi from Kuala Perlis
---
Booking Langkawi Ferry Tickets Online or at the Counter

You can buy your ferry tickets from the ticket counter which is located just outside the ferry terminal at Kuala Perlis Jetty.
From Kuah Jetty in Langkawi, the ticket counters are all located across the road from the terminal building, behind KFC.

If you want to book your ferry tickets from Kuala Perlis to Langkawi online in advance, you can do that at the  :
Langkawi Ferry Line official website here >

How to get to Kuala Perlis Jetty

If you are travelling by train, the nearest railway station to Kuala Perlis is at Arau, some 18 kms away.
From Arau Station you can get direct trains all the way to Kuala Lumpur in the south and to the border with Thailand to the north.
For more information, please see our Arau Trains page here >

---
The Kuala Perlis bus station is located just a few minutes walk away from the ferry terminal building.
From here you can get buses to most destinations within peninsular Malaysia, but you may have to wait a while as it is not the busiest bus station!
To find bus routes, times, fares or book bus tickets online click here >

If you want to travel from Kuala Perlis to Thailand by bus, you will have to first take a bus to Kangar, then another bus from Kangar to Padang Besar.

Related Links :
Find places to stay in Langkawi >
Find places to stay in Kuala Perlis >