KTM ETS Ipoh to Butterworth Penang
Times and Fares
The ETS Ipoh to Butterworth high-speed electric train offers a quick way to travel from Ipoh to Penang Island with a number of departures every day.

---
---
ETS Ipoh to Butterworth Train Timetable 2017

If you want to travel by ETS train in the other direction from Butterworth to Ipoh click here>>>

*****
Please Note : from 1st of February 2017 a new ETS schedule has been introduced.

Click here to see the full new ETS timetables >>>>>

New ETS Timetable from 1st February 2017 :

| Train Number | Departs Ipoh | Arrives Butterworth |
| --- | --- | --- |
| EP 9202 | 11.21 | 13.02 |
| EP 9204 | 13.51 | 15.32 |
| EG 9412 | 18.37 | 20.24 |
| EG 9214 | 22.21 | 00.07 |
| EG 9216 | 23.57 | 01.43 |
| | | |
Notes for the above timetable :
(EG) = ETS Gold Service
(EP) = ETS Platinum Service
All trains depart daily.

To view the full timetables for these ETS Services click here>>>
8% OFF KTM Train Tickets in April 2017
Special discount on train tickets booked through Busonlineticket using this website.
Book until 30/4/2017.
To get your special discount.
Look for the discount code on our booking pages.

---
Fares for the ETS Train from Ipoh to Penang - Butterworth

ETS Train tickets to Butterworth from Ipoh cost :
Platinum : Adult : 42 MYR - Child 25 MYR
Gold : Adult : 33 MYR - Child 21 MYR
For more ETS ticket prices on this route, please see our :
Ipoh - Padang Besar ETS Fares page>>>
If you would like to make an advance booking for any of these trains, you can :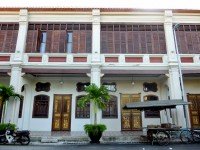 Find the best places to stay in George Town Penang.
Read Reviews.
Compare room rates.
Find the best deals - Budget or Luxury.
Arriving at Butterworth Railway Station

Once you reach Butterworth Station, if you are heading over to George Town on the island of Penang, the ferry terminal is just a few minutes walk away.
The ferry trip over to George Town Jetty takes just 15 minutes and ferries depart every 15 -20 minutes during the busy times of day, less frequently in the evenings.
Once you arrive on the island, you are in the old part of the city and most accommodation can easily be reached within 10 - 15 minutes walk.
Alternatively, as you leave the ferry terminal, the Jetty bus terminal is on both your left and right.
You can catch a bus to any part of the city or to other places on the island, such as the beaches at Batu Ferringhi.

---
If you are not travelling over to Penang island, the train station is also next to the Butterworth bus station, so you can catch a bus to anywhere in Peninsular Malaysia.

There are also a number of hotels in Butterworth if you want to spend the night there.

Related Pages :
---
---
ETS Malaysia High-speed Trains main page >>>
KTM Train Schedule main page >>>

---