KTM Arau Perlis Train Schedules (Jadual)

---
The KTM Arau Railway station in the state of Perlis in Malaysia is used as the jumping off point for people travelling from Thailand to Langkawi by train, as it is the nearest train station to the ferry port of Kuala Perlis (which is approximately 18 kilometres away).
Once at the station the best way to get to the ferry port is by taxi and should cost you around 26 Malaysian Ringgit.

---
---
KTM Arau Trains

Arau ETS Trains

The new ETS high-speed train services are now in operation stopping in Arau on their way to Padang Besar.
For northbound ETS Trains from Arau to Padang Besar click here >>>

For southbound ETS Trains from Arau to KL, Butterworth, Ipoh, Gemas click here>>>

To see the ETS Train fares from Arau, please see the following pages :

ETS Gold Service fares to / from Kl Sentral - Padang Besar

ETS Gold Service Fares to / from Ipoh - Padang Besar
For time and fares of trains between Arau and Kuala Lumpur Click here>>>

---
KTM Komuter Arau Trains

From the 1st of January 2016, a new commuter train service (Komuter) started operating between Butterworth in Penang to Padang Besar on the Thai border in Perlis, stopping at all stations along its route.
These new Komuter services will allow you to travel between Arau and Butterworth or up to Padang Besar much more cheaply than on the ETS trains.
Komuter Trains from Arau stop at :
To the North :
To the South :
Kodiang
Kobah
Tasek Gelugor
Bukit Tengah
To see the full timetable for Arau Komuter Trains click here>>>


Arau Intercity Trains

Please Note : All old diesel Intercity Trains to / from Arau are now cancelled.

There are only four Intercity Trains a day that stop at Arau Railway Station :
The International Express train that travels between Bangkok in Thailand and Butterworth in the state of Penang in Malaysia.
This train now terminates / originates at the border (Padang Besar Station). You will now have to take one of the Komuter Trains to the border.

For departure times please see the following pages :

Train 36 timetable from Padang Besar to Bangkok for trains to Hat Yai, Surat Thani for the ferry to the islands of Koh Samui and Koh Phangan, or bus transfers to Phuket, Krabi and Koh Phi Phi on the West coast, Chumphon for boats to Koh Tao and Hua Hin.
Train 35 timetable to Padamg Besar.
These services are not operated by KTM Malaysian Railways but by SRT - The State Railway of Thailand and tickets can only be bought from the station or by using an onlne ticket booking service.

---
Please Note : All KTM Intercity Express Trains are now cancelled (from 19/05/2016).

The other is Senandung Langkawi Express train between Johor Bahru, KL Sentral Station in Kuala Lumpur and Hat Yai Junction in Southern Thailand.
For departure times please see the following pages :
Train 20 to Hat Yai stopping at Padang Besar.

Train 21 to Kuala Lumpur for trains from Arau to Alor Setar, Sungai Petani, Taiping, Kuala Kangsar, Ipoh, KL Sentral, JB Sentral (Johor Bahru) and many other smaller stations along its route.

Train 20 / 21 is cancelled from 19th May 2016.
These services are operated by KTM and you can easily buy your train tickets online directly from their website or by using an online agent.
Arau to Kuala Perlis for the Ferry to Pulau Langkawi

High-speed passenger ferries depart regularly from Kuala Perlis for the Kuah Jetty on Langkawi Island (Pulau Langkawi) from 7 in the morning until 7 in the evening.
The ferry leaves approximately every hour or so and departure times depends on the seasons and demand.
If you are travelling by public transport to the jetty, it is best to just turn up and catch the next available boat.
This is the shortest distance from the mainland of Malaysia to Langkawi Island and ferries take only one hour and 15 minutes to reach Kuah.
---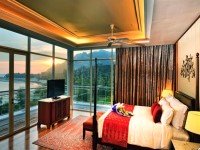 Langkawi Hotels
---
For more information times, fares and online booking for the ferry to Langkawi you can :
Visit our Kuala Perlis - Langkawi ferry page here>>>
---
The other station used by train passengers going to Langkawi is at Alor Setar in the state of Kedah, but boats from here take slightly longer and cost a little more.
---
Related Links :
Arau Train Station Information >>>
---
---
---