---
KTM Sungai Petani Train Schedules
The KTM Sungai Petani railway station is located in the state of Kedah in Malaysia, along the North - South Railway Line between the capital Kuala Lumpur and the northern most station on the border with Thailand at Padang Besar.
The new train station is centrally located just a minutes walk away over the tracks, from the clock tower in the centre of the older part of town on Jalan Ibrahim (located to the rear of the station).
The railway station at Sg. Petani has been rebuilt to accommodate the new high-speed electric trains (ETS) that have started operating from July 2015 with a growing number of services stopping here.

KTMB Sungai Petani Contact Number :

You can telephone Sungai Petani Station on :
04 - 4212604
Or phone the main KTM call centre on 1-300-88-5862

For more information on Sg Petani Train Station click here>>>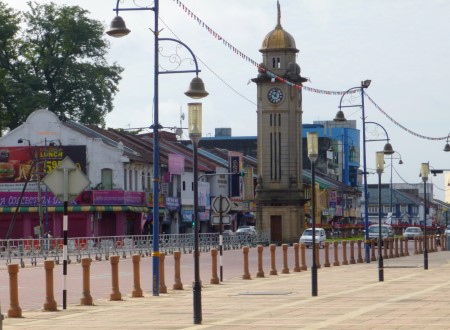 Main street and clock tower in Sungai Petani
KTM Sungai Petani Trains
---
---
The new Sungai Petani ETS high-speed train services are now in operation.
You can now catch the new faster Electric Train Services (ETS) from Sungai Petani to Kuala Lumpur, Butterworth, Ipoh and Gemas and many more places in between...

For the northbound ETS Train Timetable to Sungai Petani click here>>>
For the southbound ETS Train Timetable click here>>>

ETS Trains from Sg. Petani to Ipoh >>>

ETS Trains from Sg. Petani to KL Sentral >>>

ETS Train Fares from Sungai Petani
For a full list of ETS fares from Sg. Petani, please see the following pages :

ETS Gold Service fares to / from Kl Sentral - Padang Besar
ETS Gold Service Fares to / from Ipoh - Padang Besar
KTM Komuter Utara Trains from Sungai Petani

There is now a new Komuter Train Service operating between Padang Besar and Butterworth, Penang.
There are many services in each direction a day, offering a good, cheap way to travel by train from Sungai Petani.
These shuttle trains stop (southbound) at :
Tasik Gelugor, Bukit Tengah, Bukit Mertajam, Butterworth (for ferry to Penang Island - George Town).
Northbound they stop at :
Gurun, Kobah, Alor Setar, Anak Bukit, Kodiang, Arau, Bukit Ketri and Padang Besar.

To view the full timetables for these Komuter trains click here>>>

Sungai Petani Intercity Trains

All Intercity trains to /from Sg. Petani are now cancelled.

Heading north there are two Intercity Trains that stop at Sg. Petani and cross the border at Padang Besar into Thailand.

Train number 36 is the International Express service originating in Butterworth, Penang and travelling all the way up to Bangkok in Thailand.
Please Note : This service no longer travels between Padang Besar on the border and Butterworth.
If you wish to connect to this train you will now have to take a Komuter Train to Padang Besar.

You can use this train to get to many of the popular tourist destinations in Thailand, such as Hat Yai, Surat Thani (where you can transfer to the ports for boats out to the islands of Koh Samui and Koh Phangan), Chumphon (for boats to Koh Tao), Hua Hin and the capital, Bangkok.
This train is operated by SRT (State Railway of Thailand) and not KTMB.

---
Please Note : Trains 20 is now cancelled from 19th May 2016.

Train number 20, the Senandung Langkawi Express is a night train service that now originates in Johor Bahru and travels north via KL Sentral to Hat Yai in Southern Thailand.
This service stops in Sungai Petani in the morning and travels north to Gurun, Alor Setar, Arau, Padang Besar and Hat Yai.

---
Heading south from Sg.Petani, the same two trains stop here.
Train number 35 from Bangkok stops here just after midday and travels down to Butterworth, stopping at Bukit Mertajam.
This train now terminates at the border, Padang Besar. You will now have to take a Komuter train to Sungai Petani from there.

Train number 21 from Hat Yai travels overnight to the capital, Kuala Lumpur, stopping at most of the stations along the way, including: Taiping, Kuala Kangsar, Ipoh, Batu Gajah, Kampar, Tanjung Malim, Rawang and KL Sentral.
Please Note : Trains 21 is now cancelled from 19th May 2016.
From 1st September 2015, this train now travels all the way down to JB Sentral station in Johor Bahru, located a short distance from the Singapore border crossing.

---
Buying Tickets

For shorter distances and Komuter trains, you can buy your train tickets from the railway station on the day of travel.
For longer distances on KTM ETS and Intercity / Shuttle services, you can pre-book your tickets either at a Malaysian Railway Station, or online from the KTM website or online ticketing agent (only available for the SRT International Express train 35 / 36 through a ticketing agent).

---
Places to Stay in Sungai Petani

There are a number of good quality places to stay in town, some quite close to the railway station (the Seri Malaysia Hotel is just across the road from the main entrance).
To read reviews and find the cheapest deals, just click on the picture / link below.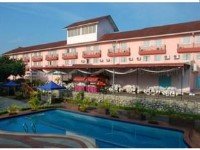 Sungai Petani Hotels
---
---