KTM Route Map for ETS and Intercity Trains in Malaysia (MY)

The KTM Route Map below shows the two railway lines in Peninsular Malaysia where KTM ETS (high speed Electric Train Services) and KTM Intercity and Shuttle Train services operate.

---
---
Please Note :
All long distance Intercity Express Trains on the North - South Railway Line have been cancelled from the 19th May 2016.
All long distance trains between Padang Besar and Gemas are now operated by ETS high-speed Electric Train Services only.
New Shuttle Trains now connect with the ETS services from Gemas to Johor Bahru.

8% OFF KTM Train Tickets in April 2017
Special discount on train tickets booked through Busonlineticket using this website.
Book until 30/4/2017.
To get your special discount.
Look for the discount code on our booking pages.

---
KTM Route Map

Click on the station name link below for more information about the train services from that particular railway station.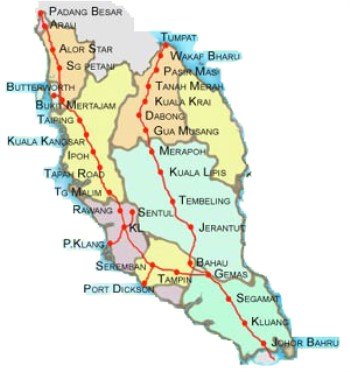 KTM Route Map
Jungle Line

Stations South to North

Gemas
|
Bahau
|
Kemayan
|
Triang
|
Mengkarak
|
Mentakab
|
Kerdau
|
Kuala Krau
|
Jenderak
|
Jerantut
(Taman Negara National Park)
|
Mela
|
Kerambit
|
Kuala Lipis
|
Padang Tungku
|
Telang
|
Bukit Betong
|
Kampung Berkam
|
Dura
|
Aur Gading
|
Sungai Temau
|
Kubang Rusa
|
Telok Gunong
|
Merapoh
|
Mentara Baru
|
Gua Musang
|
Pan Malayan
|
Sungai Koyan
|
Kampung Sungai Sirian
|
Sungai Sirian
|
Limau Kasturi
|
Bertam Baru
|
Bertam
|
Jerek Baru
|
Sungai Tasin
|
Sri Bintang
|
Sri Mahligai
|
Sri Jaya
|
Kemubu
|
Dabong
|
Kuala Gris
|
Bukit Abu
|
Kampung Baru Bukit Abu
|
Ulu Temiang
|
Kampung Baru Sungai M'kuang
|
Manek Urai
|
Pahi
|
Krai
|
Sungai Nal
|
Temangan
|
Tanah Merah
|
Bukit Panau
|
Sungai Keladi
|
To' Uban
|
Chica Tinggi
|
Pasir Mas
(Bus / taxi to Thai border)
|
Kampung Machang
|
Banut Susu
|
Wakaf Baharu for Kota Bharu
|
Kampung Kok Pasir
|
Tumpat

KTM Train Timetables

KTM ETS High-Speed Train Timetables (Southbound) >>>
KTM ETS High-Speed Train Timetables (Northbound) >>>
KTM Intercity / Shuttle Train Timetables (Southbound) >>>
KTM Intercity / Shuttle Train Timetable (Northbound) >>>

Jungle Railway Train Timetables (Southbound) >>>
Jungle Railway Train Timetables (Northbound) >>>
---