Travel by Train from Butterworth Penang
to Bangkok Thailand
Train number 36, the International Express or in Malay, the Ekspres Antarabangsa, leaves Butterworth railway station everyday as an all 2nd class overnight sleeper service to Thailand's capital city, Bangkok.
If you are looking to travel from Penang to Bangkok, this train is the easiest way to travel.

---
---
The other alternative to travel overland, is to catch a minibus to Hat Yai, then a bus from Hat Yai to Bangkok, but the train is much more comfortable.

Train Times Butterworth to Bangkok (2016)

---
**************************
****Please Note : This service is no longer departing from Butterworth as the Thai Railways Train is now stopping at the border station of Padang Besar.
To get to Padang Besar you can take one of the regular Komuter Trains or an ETS Train.
To view the train schedule for ETS services to Pdg. Besar click here >>>
To view the Komuter Train service to Pdg. Besar click here >>>
Update from 2nd of December 2016 : The train number 36 service has now been cancelled and replaced by Train number 32 which originates from Hat Yai Junction Station.
To travel between Padang Besar and Hat Yai you can take the afternoon Shuttle Train Service >>>
There is also a new service that operates from Padang Besar to Bangkok (train 46).
The Padang Besar to Bangkok train is scheduled to depart at 18.00 Malaysian time (17.00 Thai time).
This train is currently made up of only one carriage between PB and Hat Yai, where you will have to change trains. Tickets for this service are only for sale at PB Station (apart from pre-booking using a more expensive agent).
Our suggestion is to take one of the Shuttles to Hat Yai, where there are more departures heading north to Bangkok every day.
To see the schedule for Hat Yai to Bangkok trains click here >>>

**************************
---
| Train Number/Name | Departure Time | Arrival Time |
| --- | --- | --- |
| 36 Internatational Express | **** Malaysian Time | 10.30 Thai Time |
For information and fares of the train in the opposite direction from Bangkok to Butterworth click here>>>

Train Ticket Prices Butterworth to Bangkok

Ticket for the train to Bangkok from Butterworth Penang
Fares from Butterworth to Bangkok are only available in second class sleeper coaches as there are only two carriages that travel from Malaysia to Hat Yai, where many more 1st and 2nd class sleeper carriages are added.

Train Tickets from Butterworth to Bangkok cost :
Adults :
Lower Berth / Bed 111.90 MYR
Upper Berth / Bed 103.90 MYR

Children :
Lower Berth / Bed 90.40 MYR
Upper Berth / Bed 82.40 MYR
---
Tickets for the train from Padang Besar to Bangkok cost :
Adult Fare :
Lower 960 THB
Upper 870 THB

Child Fare :
Lower 780 THB
Upper 690 THB

---
---
---
Buying Tickets

If you are on Penang Island you do not have to go over to Butterworth station to buy your tickets as there is a small KTM ticketing office in George Town at the jetty.
The office is located on the walkway up to the ferry over to Butterworth.
---
Please Note : Tickets are no longer available from George Town or Butterworth Station and have to be purchased at Padang Besar Station.

If you need to make an advance booking you can do that online here >>>

---
Seats / Berths

2nd class seats
Second class coaches have a total of 40 sleeper seats, which are later turned into beds.
For a good nights sleep, try to avoid seats 1- 4 and 37 - 40 as they are near the toilets or automatic doors.
There is an electrical point in the centre of the carriage which comes in handy if you need to charge anything.

Seats are turned into berths / beds on the international express train
Sleeping berths with curtains for privacy
Sleeping berths on Thai trains come in either "Upper" or "Lower."
Lower berth a quite a bit wider than the upper berths and so cost a little more, but are really worth it. They are also the first ones to sell out, so book as early as possible to get that little extra bit of comfort.

Immigration / Passport Control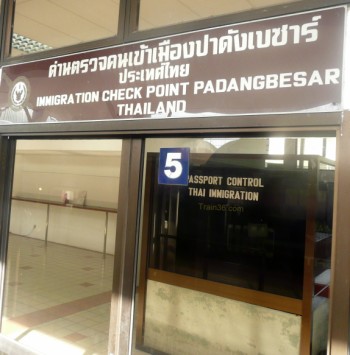 Immigration at Padang Besar station
Just before entering Thailand the train arrives at Padang Besar station where you will have to go through immigration and customs checks.
At present, when entering into Thailand you can leave all you larger baggage on the train and just take along your passport and valuables.
This is because the Thai customs do not check you bags when entering into Thailand, which is not the same as when entering into Malaysia where all bags are checked.
Padang Besar station has a money-changer and cafe upstairs, but it is usually either closed or out of food by the time this train arrives. Sometimes they will serve drinks and snacks from the platform.

Food On the International Express to Bangkok

Once the train arrives in Hat Yai Junction, many more coaches are added, one of which is a restaurant car.
Thai railways staff will come around with a menu (in English) from which you can order your dinner and breakfast the next morning, or if you prefer, you can go down to the restaurant car yourself and have your food there.
If you order from your seat, your food will be delivered to you there and a foldaway table erected to eat off of.
To see the menu for food available on Thai trains click here or the menu picture above.

You can also order soft drinks and coffee from one of the crew members (alcohol is no longer allowed on Thai trains).
If you don't fancy the food on-board, either bring your own or try to buy from vendors at the stations.
Usually only at Hat Yai station, (while the train is pulling in and out of the platforms hooking up its new carriages) is there enough time for the vendors to come onto the train.
A number of Thai ladies will board here selling mainly fried chicken and sticky rice and some fruits.
Arriving in Bangkok

Hua Lamphong Railway Station
Train 36 arrives at Bangkok's main railway station, Hua Lamphong, which is within walking distance of Chinatown.
For places to stay nearby the station click here>>>
If you are heading off to other areas of the city you can catch an underground train, bus or taxi right from the station.
See our Hua Lamphong Railway Station page for more details about travelling to and from the station.

If you are planning to catch another train from Bangkok click here>>>

---
Related Links :
Butterworth to Surat Thani Train
---