KTM Arau Train Station Perlis, Malaysia
(Stesen Keretapi Arau)

The Arau Train Station (Stesen Keretapi Arau) in the state of Perlis in Malaysia is used by tourists as the gateway to the port of Kuala Perlis, where high-speed ferry boats run throughout the day to the port of Kuah on Langkawi island.

If you are travelling by train from Thailand to Langkawi, Arau Station is the best place to get off the train at, as the nearby port of Kuala Perlis is the closest of all the mainland ferry ports to Langkawi, with boats taking around an hour and 15 minutes to reach the port of Kuah on the island.

For train departures and arrivals at Arau click here >

Like all the other train stations in this area of Malaysia, Arau has a brand new station in gleaming white, located just off the main road that runs through the town from Kangar, behind the large State Mosque.
Please note: Arau train station is now known as Stesen Diraja Arau (Arau Royal Station).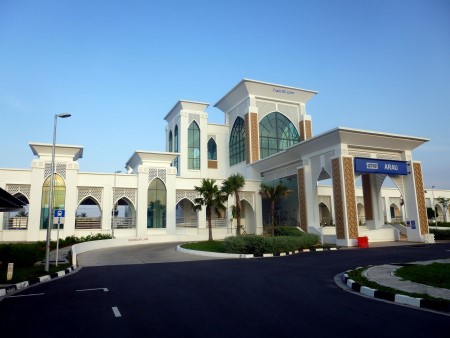 Photo of the front entrance to Arau Train Station
Arau Railway Station Train Schedule

Arau is serviced by Intercity high speed Electric Trains (ETS) for long distance travel.
There is also a new (from 1/1/2016) Komuter Train Service for shorter trips that operates between Padang Besar and Butterworth Penang.

For departure times for all trains (Komuter, ETS) please click here >

For all ETS Fares to/from Arau click here >

Booking Train Tickets from Arau Train Station

If you want to book train tickets at Arau Railway Station, the ticket counters are located upstairs and can be reached by stairs or a lift from the front entrance.

For short distance train travel on Komuter Trains, you can book your tickets on the day (no advance purchase is available).

For longer distances ETS Intercity Trains to places like Ipoh and Kuala Lumpur, it is best to book in advance to make sure you get a seat.
ETS Trains are often full during busy holidays and weekends, so always book in advance if you can.

You can book all KTMB train tickets online here >

If you want to travel on the International Express train from Arau to Bangkok, Hua Hin, Chumphon or Surat Thani in Thailand, please be aware that this service is operated by the State Railway of Thailand.
Please note: this service no longer operates inside Malaysia and now originates / terminates at Padang Besar Railway Station on the border with Thailand.

Just take a cheap and regular Komuter train to the border and take the train from there.
You should purchase your Thai train ticket in advance to guarantee a sleeping berth.
If you turn up on the day to buy a ticket, chances are the train will be full.
You can buy your tickets for the train to Bangkok here >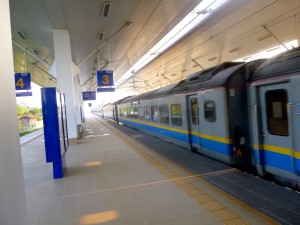 Langkawi Express Train at Arau Station (now replaced by ETS services)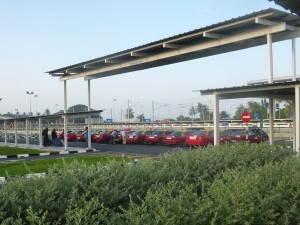 Taxi rank outside Arau Railway Station
Arau Station Ticket Counter Operating Hours

You can buy tickets at the ticket counter from 05:30 to 22:30.
KTMB Arau Contact Number (no telefon):

You can phone KTM Arau on: 04 - 9861225 or use the main KTMB call centre number 1-300-88-5862.

Arau to Kuala Perlis Jetty for the Ferry to Langkawi

The easiest way to travel from Arau KTM Station to Kuala Perlis Jetty to catch one of the high-speed ferries, is by taxi.
A taxi to the jetty should cost around 26 MYR and the distance is about 18 km.
The taxi station is just on your right as you exit the main entrance of Arau Train Station.

You are also be able to catch a Maraliner bus (MyBas) to Kangar, then another bus from there to Kuala Perlis.
This is a much longer journey, but much cheaper (around 5 MYR), so if you are not in a rush, or just want to save money, this is a good option.
For more information on the bus from Arau to Kuala Perlis, please visit:
http://www.maralinergroup.my/v3/mybas.html
For Ferry Times and Fares from Kuala Perlis to Langkawi click here >

---
Related Links:
---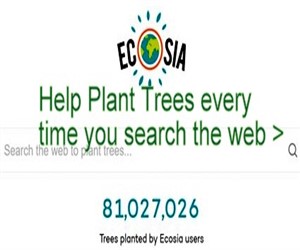 Ecosia - Search the Web - Plant Trees >