ETS Ipoh Taiping Train Schedule (Jadual) KTM & Ticket Price

Below you will find the latest ETS Ipoh Taiping Ipoh Train Schedule for the new high-speed Electric Train Services.
Travel from Ipoh to Taiping by the new ETS Train is quick and convenient, with many departures a day to choose from.

ETS Schedule from Ipoh to Taiping

(Jadual ETS dari Ipoh ke Taiping)
*************
Movement Control Order (MCO / CMCO / RMCO) - (PKP / PKPB / PKPP) 2021

KTM has a new temporary ETS service for 2021.
Temporary ETS Timetables (Jadual / 时间表) for September 2021

---
*************
To see the timetable in the opposite direction from Taiping to Ipoh click here >

KTM Ipoh to KTM Taiping ETS Schedule:
Please note: Due to Covid 19, KTM is currently operating a reduced temporary schedule - to see the latest temporary ETS timetable click here >

| Train Number | Departs Ipoh | Arrives Taiping | Operating Days |
| --- | --- | --- | --- |
| EG 9222 | 09:39 | 10:23 | All |
| *EP 9172 | 10:39 | 11:23 | All |
| *EP 9274 | 11:48 | 12:32 | All |
| EG 9420 | 13:13 | 13:59 | All |
| EP 9104 | 13:34 | 14:18 | All |
| *EP 9176 | 18:23 | 19:07 | All |
| *EP 9372 | 20:01 | 20:45 | All |
| EP 9204 | 20:56 | 21:40 | All |
| EG 9126 | 22:32 | 23:17 | All |
| | | | |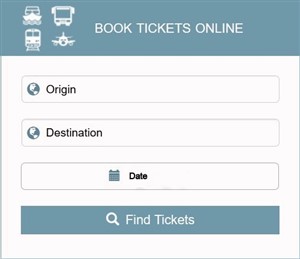 Buy Train Tickets Online (Beli Tiket Kereta Api) >
For ETS ticket prices from Ipoh click here >

* Operated by the newer ETS2 trains that include a Business Class carriage.
EG numbered trains are ETS Gold Services.
EP numbered trains are ETS Platinum Services.

To see the full ETS Timetable northbound click on the timetable link below:

KTM Train Ticket Price from Ipoh to Taiping

(Harga Tiket Keretapi KTM dari Ipoh ke Taiping)
There are different fares for these trains depending on which train you travel on.
ETS Gold Fares cost:
Adults: 20 MYR - Child: 14 MYR
ETS Platinum Fares are:
Adults: 24 MYR - Child: 16 MYR
Fares shown are for one-way tickets - no discount is given for return tickets.
Please note: As KTM are now pricing ETS fares under the Flexi Fare rules, the prices shown above may vary depending on a number of different factors.
For more information about Flexi Fares: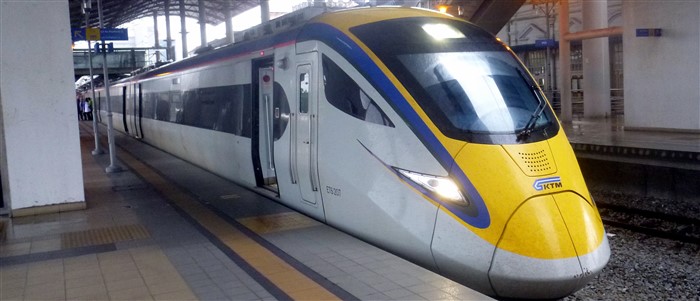 KTM ETS train from Ipoh
Booking Tickets for the ETS Ipoh Taiping Train

As all these trains are long distance ETS services, you may find that if you just turn up at the station hoping to get a ticket, the trains may be full.
So, if you want to be sure of a seat for this short sector, you should book your tickets in advance.
Train tickets in Malaysia can usually be booked up to a couple of months in advance, but booking periods do vary, especially due to the many schedule changes KTM are making at the moment, so you may only be able to book seats just a few weeks in advance at some periods of the year.

You can book your train seats easily by either:
Buying your tickets from a ticketing counter at any mainline KTMB railway station.
Or, you can book your tickets online, either directly from KTM or by using an online ticketing agent.
To book either way:
Visit our online train booking train here >

If you buy tickets from the ticket office at Ipoh station, they have a ticket number system in place (ie you get a ticket with a number on it and wait for your number to be called before you can go to the ticket counter).

For more information about the railway station in Ipoh, click on the picture link below: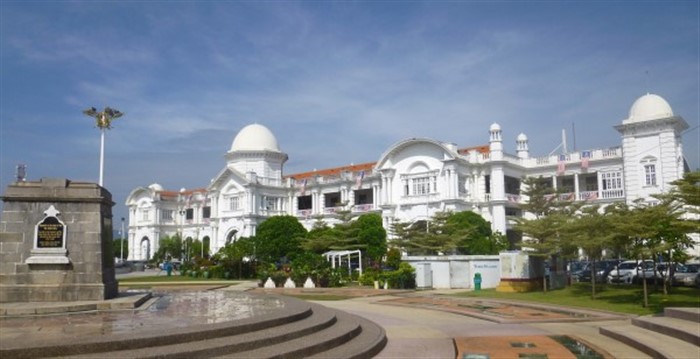 KTM Ipoh train station >
---
Related pages:

KTM Taiping Trains main page >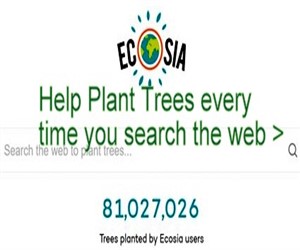 Ecosia - Search the Web - Plant Trees >