KTM Train from Johor Bahru to Gemas
If you want to travel by train from Johor Bahru to Gemas you will have to take one of the older Intercity or new Shuttle trains, as this part of the line has not yet been upgraded to the Electrified Double Tracking that has already taken place on the North - South Line, north of Gemas.
Once you are at Gemas, you can take one of the new high speed Electric Train Services (ETS) that now originate from Gemas Railway Station.
These ETS Trains can take you all the way to the border with Thailand at Padang Besar, with stops at many tourist destinations such as Kuala Lumpur, Ipoh, Penang (via Butterworth) or Langkawi (via Alor Setar or Arau) and many other smaller stops along this route.

JB Sentral to Gemas Train Schedule 2019 (Jadual)

Latest Timetable from the 16th of November 2018 in to 2019:
To view the timetable in the opposite direction to JB Sentral click here >

| Train Number | Departure Time | Arrival Time |
| --- | --- | --- |
| ES40 Shuttle | 08:45 | 13:37 |
| ES42 Shuttle | 14:15 | 18:56 |
| ERT26 | 20.15 | 01.03 |
| ES44 Shuttle | 22.40 | 03:10 |
| | | |
All trains depart daily.

Please note: From the 3rd of June 2018, all ES numbered trains (Shuttle Services) will now travel past Gemas to Batang Melaka and Tampin / Pulau Sebang.
To see the full timetable for these services, please see:

---
---
To view the ETS Timetable northbound from Gemas click here >

Ticket Prices for the Train from Johor Bahru to Gemas
Fares for the train from JB Sentral to Gemas in either direction cost :

Superior class (2nd class) :
Adult : 21 MYR - Child : 15 MYR

Superior Night Class (2nd class sleeper only available on trains 26 / 27) :
Lower Berth :
Adult : 33 MYR - Child : 27 MYR

Upper Berth :
Adult : 27 MYR - Child : 21 MYR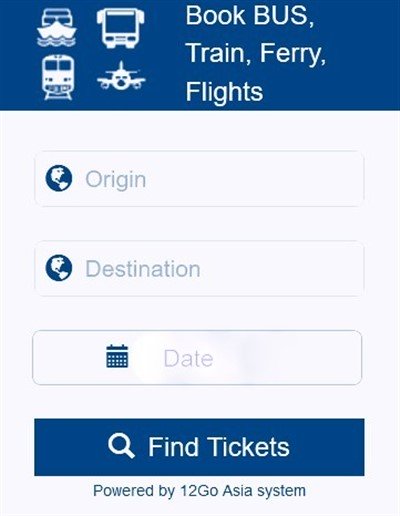 Booking Tickets

You can book you train tickets for these services directly from JB Sentral Railway Station ticket counter or any other KTM mainline station.
If you want to make an advance booking, you can usually do that from a couple of weeks, to a couple of months in advance (highly recommended as this route between JB and KL gets very full at any time of the year).
You can also book advance tickets online, saving yourselves a trip to the station.
Booking online can be done via the KTMB website or using an online tickets agent.

Click here to go to our online booking page >

Related Links :
Find a place to stay in Gemas >
Find a place to stay in Johor Bahru >

---