KTM Train from Kuala Lumpur to Singapore
(KL Sentral to SG Woodlands)

If you are wondering how to travel by train from Kuala Lumpur to Singapore Woodlands, currently you will have to take three different trains, as all the old Intercity daytime and sleeper night trains have been replaced on the West Coast Railway Line, with the new, much faster ETS services.
As the dual electrified railway tracks have only currently been upgraded as far as Gemas, the new KTMB high-speed Electric Train Services (ETS) can go only as far as here (the tracks between Gemas and Johor Bahru are currently being upgraded).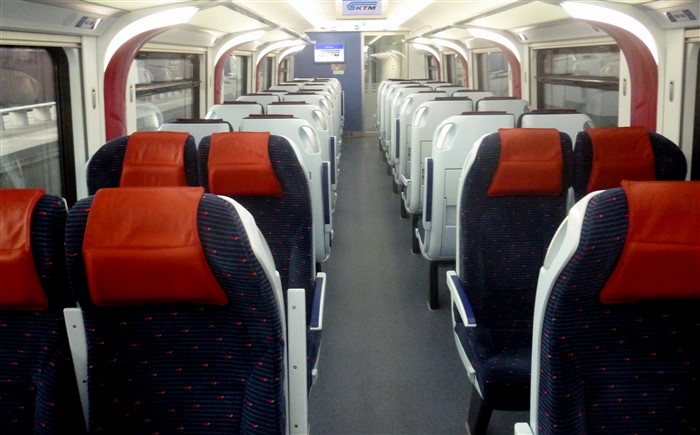 KTM ETS train on part of the Kuala Lumpur to Singapore train route
Another, cheaper alternative, is to take a KTM Komuter Train from KL Sentral to Tampin (Pulau Sebang), then connect to the shuttle services to JB from there (since Covid-19 and the MCO / PKP period, this Komuter train connection is currently not possible).

For more ways to travel from KL to Singapore (bus or fly) click here >

Train Timetable for KL Sentral to Singapore

(Jadual kereta api Kuala Lumpur ke Singapore)
Latest KTM Train Timetable:

KTM KL Sentral to Gemas Route (Laluan) latest ETS train timetable.

You can see the latest full ETS timetable for 2023 here >

New train timetable from the 15th of January 2022 (2022-01-15):
| Train Number | Departs KL Sentral | Arrives Gemas | Book Online |
| --- | --- | --- | --- |
| EG 9321 | 12:14 | 14:52 | Book Tickets |
| EG 9425 | 21:35 | 00:10 | Book Tickets |
| | | | |
* Operated by the newer ETS2 train that includes a Business Class coach.

---
ETS2 train to Gemas
---
New KTM Timetable from the 1st of July 2022:
---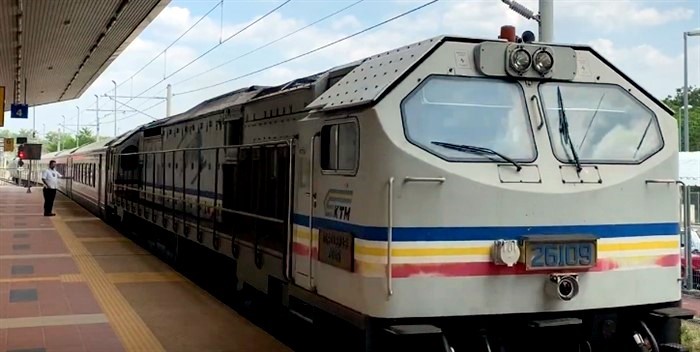 Shuttle train to JB Sentral
---
---
For the latest full timetables for all these services, please see the following pages on our site :
From Tampin or Gemas to JB Sentral in Johor Bahru, you now have to travel on one of the new Shuttle Trains that still use the old diesel engines and carriages / coaches.
Some of these Shuttle services are timed to connect with the arrival of the ETS services and leave shortly after the ETS services arrive in Gemas or Tampin.
Seats on a Shuttle train to JB
From JB Sentral Railway Station to Singapore Woodlands Railway Station, you will also have to change to another Shuttle service that operates the 5 minute journey across the Causeway into Singapore from Malaysia.
How many hours it takes to travel from KL to Singapore by train depends on the connections at Tampin, Gemas and JB Sentral.
The Shuttle Trains from JB to SG are not timed to the arrival of the trains from Gemas / Tampin and are mainly used by workers commuting to Singapore, so you may want to consider taking a bus for the last part of your journey to Singapore or spending a night in Johor Bahru, then travel on to Singapore at your leisure at a later date.
JB to Singapore shuttle train
---
---
---
Immigration Procedures Crossing the Border from Malaysia to Singapore by Train
When you arrive at Johor Bahru Railway Station, if you are continuing your journey by Shuttle Train to Singapore Woodlands, you will need to go through immigration at JB Sentral Station to get stamped out of Malaysia.
This is usually a fairly quick procedure, but allow yourselves time to make your connections.
Once you arrive in Singapore, you have to go through immigration at Woodlands Station to get stamped into Singapore.
One of the advantages of travelling over the Causeway into Singapore by train is that immigration procedures are usually much quicker than at most of the other, often very congested border crossings.

Please Note: You are not allowed to bring any cigarettes / tobacco or alcohol across the border from Malaysia to Singapore.
If you do, you will have to declare them and pay a high duty fee.
If you don't declare them and get caught, you will pay a huge fine.
For more information visit the Singapore Customs website here >
How to Travel from Woodlands to Singapore City Centre
(Cara Perjalanan dari Woodlands ke Pusat Bandar Singapura)
Once you have passed through immigration / customs, you can continue your journey to the city by either taking a taxi or to save money, you can take a short bus ride to the nearest MRT station, then take the train to anywhere around Singapore.
There are two MRT stations close to Woodlands Train Checkpoint (CIQ).
The nearest is Marsiling MRT Station which is a little under 2 Kilometres away (you can walk there if you like!).
The other nearby MRT Station is Woodlands MRT Station.
Either of these stations can be reached by regular bus from outside Woodlands Train Station.
Once at the MRT station, the extensive MRT train system in Singapore will take you to just about anywhere in the city.
For more information, fares, timetables and a "Journey Planner" to help you plan your route, we recommend you visit:
Ticket Prices for the Train from Kuala Lumpur to Singapore (Singapura)

(Harga tiket kereta api Kuala Lumpur ke Singapore)

All fares shown are for one-way tickets and are in Malaysian Ringgit.

ETS tickets from KL to Gemas cost:

Gold Service:
Adult 31 MYR
Child (Kanak-Kanak) 20 MYR
Platinum Service:
Adult 40 MYR
Child 24 MYR

Shuttle Trains from Gemas to JB Sentral cost:
Adult 21 MYR
Child 15 MYR

Shuttle Trains from JB Sentral to Singapore cost:
5 MYR (Adult and Child)
So the total cost for an adult would be 57 MYR using the cheaper Gold trains.
For children aged 4 - 12 the cost is 40 MYR.
Children aged 3 and under travel for free and are expected to sit on their parents seat.

Buy Train Tickets from KL Sentral to Singapore

(Beli Tiket Keretapi dari KL Sentral ke Singapura)
Advance booking for these services is highly recommended as trains can often be full many times of the year.
Tickets for all three of these trains can be purchased from KL Sentral Station or any other mainline KTMB station in Malaysia.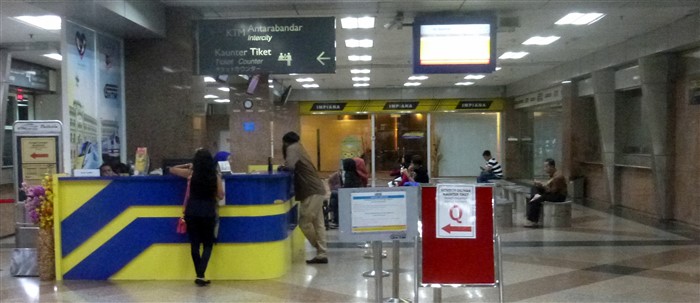 KL Sentral station KTM Intercity train ticket counter
Please note: you have to purchase each ticket separately:
one from KL to Gemas
one from Gemas to JB
one from JB to Singapore
To make an advance booking, it is much easier to book tickets online via the KTMB website or using an online ticket agent.
To make your train reservation online now, see our:

Online KTM Ticket booking page here >
If you want to compare prices with bus tickets from KL to Singapore:
Visit our bus booking page here >

To find cheap flights from KUL to SIN click here >

Cheap Ways to Travel from KL to Singapore by Train
If you want to travel from Kuala Lumpur to Singapore as cheaply as possible, there is a way to substantially reduce your ticket costs!
This route involves not taking the relatively expensive ETS and travelling on the KTM Komuter train as far as possible.

The first part of the journey involves taking a commuter train from KL Sentral to Tampin (also known as Pulau Sebang) - no booking is required for these trains, just turn up and buy a ticket on the day of travel - the cost of these train tickets is just 13.70 MYR from KL to Tampin.
Tampin is the end of the line for the Batu Caves - Tampin KTM Komuter Line.
To see the timetable for these commuter trains click here >

From Tampin you can then take one of the Shuttle Trains to JB Sentral Railway Station in Johor Bahru (advance booking highly recommended).

Since the MCO / PKP this connection is currently unavailable.

Click here for the latest Tampin to JB Sentral Shuttle train timetable >

Once you arrive at JB, take the Shuttle over to Woodlands Station in Singapore or take a bus.

Future HSR / Bullet Train from KL to Singapore
There are plans in place (since 2010) to build a brand new high-speed rail link (HSR or Bullet Train) between Kuala Lumpur and Singapore, which is planned to cover the 350 Kilometres distance between these two cities in just 90 minutes.

Like most things that cost this much money to build, plans are made then changed, then changed again. So when, where and if it ever gets built is still very much open for debate.
Currently, they hope to have the HSR operational by 2026, but they have yet to decide who is going to build it.
Watch this space as they say!

---
---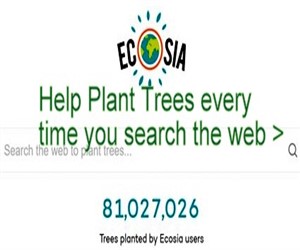 Ecosia - Search the Web - Plant Trees >