Best Hotels near KL Sentral Station
Kuala Lumpur, Malaysia

---
---
If you are looking for hotels near KL Sentral Train Station in Kuala Lumpur, Malaysia, there are plenty on offer.
Many are just a short walk away from the station, others may require a short taxi ride. Some hotels may even have a free shuttle bus service from the station.

On this page you will find the more upmarket hotels in the KL Sentral area.
If you are looking for cheap, budget hotels, hostels and guesthouse click here>>>

KL Sentral is the main transport hub for Kuala Lumpur and is just a couple of kilometres away from the main city centre.
Not only is KL Sentral the main Intercity Train Station in Kuala Lumpur, but it is also where you catch the high-speed train to KLIA (Kuala Lumpur Airport) and connected to the LRT (Light Railway Transit) that can whisk you around the city.
The Best Hotels near KL Sentral Station

---
Hilton Kuala Lumpur

If you are looking for a luxury 5 star hotel near KL Sentral, then then Hilton fits perfectly, as it is right next to the train station.

Check Prices and Read Reviews >>>

---
---
Le Meridien Kuala Lumpur

Another 5 star hotel in the KL Sentral area, and just a couple of minutes walk from the station exit.

Check Prices and Read Reviews >>>

---
---
The Majestic Hotel Kuala Lumpur

Catch the free hotel shuttle bus to this 5 star colonial heritage hotel, located opposite the old main railway station in KL.

Check Prices and Read Reviews >>>

---
---
Carcosa Seri Negara Hotel Kuala Lumpur

If you want some old world charm, this former British High Commissioner's residence is set on a hilltop, in large gardens and offers just a handful of exclusive 5 star suites for guests.

Check Prices and Read Reviews >>>

---
---
Aloft Kuala Lumpur Sentral

A very modern and trendy 4 star deluxe hotel, just a few minutes walk away from KL Sentral.

Check Prices and Read Reviews >>>
---
---
Ascott Sentral Kuala Lumpur

A 4 star serviced apartment hotel offer spacious accommodation close to the station, with studio and one bedroom apartments on offer.

Check Prices and Read Reviews >>>

---
---
Ramada Plaza Dua Sentral Kuala Lumpur

A little further away from the train station is this 4 star hotel, which is best reached by taxi or the free shuttle bus.

Check Prices and Read Reviews >>>

---
---
Hotel Summer View Kuala Lumpur

A good value 3 star hotel close to KL Sentral station.

Check Prices and Read Reviews >>>

---
---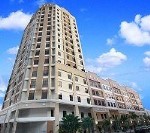 Hotel Sentral Kuala Lumpur

A good value 3 star hotel located very close to the KL Sentral monorail station.

Check Prices and Read Reviews >>>

---
---
If you decide the Kl Sentral area is not for you :
Take a look at our top 10 places to stay in Kuala Lumpur page here>>>

If you are travelling to or from KL Sentral by Intercity train :
Please see our KL Trains page for times and fares by clicking here>>>

---
---
---