Train from KL to Penang KTM ETS Schedule (Jadual) 2023

The modern and fast ETS train from KL to Penang is operated by Malaysian Railways - Keretapi Tanah Melayu Berhad (KTMB/KTM) with six services a day on the route between KL Sentral and Penang Sentral in Butterworth, taking just four hours and 12 - 22 minutes to make the journey.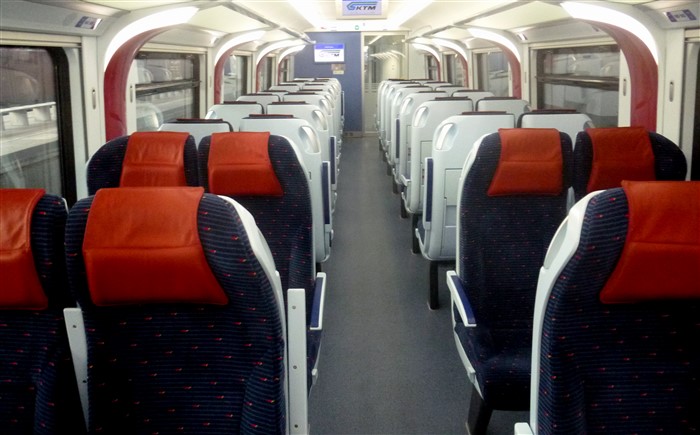 Seats on an ETS train from KL Sentral to Butterworth Penang Sentral
ETS Train Schedule from KL Sentral to Penang

(Jadual Keretapi ETS dari KL Sentral ke Pulau Pinang)
The following ETS schedule (jadual) is for departures from KL Sentral railway station.

If you want to see the timetable from the old Kuala Lumpur railway station click here >

If you want to see the timetable in the other direction from Penang Sentral to KL Sentral click here >

KTM KL to Penang Sentral Butterworth ETS train timetable.
You can see the latest full ETS timetable for 2023 here >

New train timetable valid from the 15th of January 2022 into 2023:
There are two different types of ETS services on the route from KL to Penang: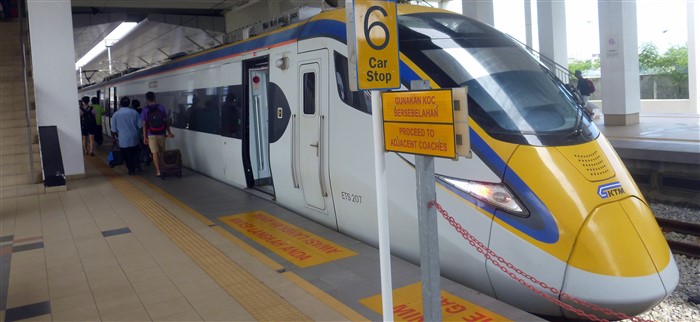 Picture of an original KTM ETS train at the platform in Butterworth station
ETS Gold services from KL to Penang (EG numbered trains):
These trains are operated with KTM's original ETS trains and are the cheaper of the two services, stopping at more stations along the route (the ticket price is around 59 MYR for an ETS Gold train from KL to Penang Sentral).
However, they operate during off-peak hours and arrive at Butterworth railway station after the last ferry leaves for Georgetown, leaving you stranded in Butterworth for the night or having to pay way more than your train fare to take a taxi over the Penang bridge to the island (a taxi will charge up to double their normal fare at this time of the night).
So, if you want to make it to Penang Island the same day, you will have to take one of the more expensive ETS Platinum trains.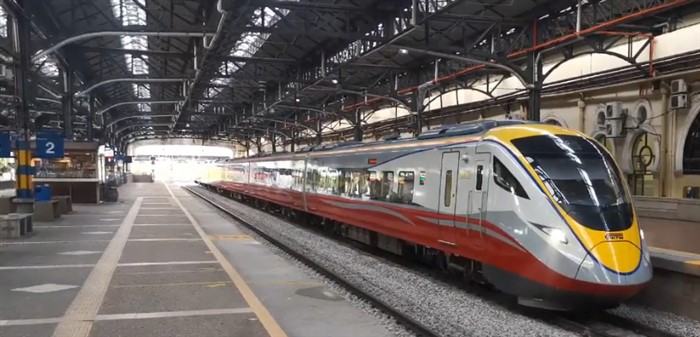 Picture of an ETS2 train travelling from Kuala Lumpur station to Penang
ETS Platinum services from KL to Penang (EP numbered trains):
These limited-stopping trains leave KL Sentral at peak times of the day and all arrive at Butterworth with plenty of time to take the ferry over to Georgetown.
Platinum ETS services are operated by both the original ETS train sets and the newer ETS2 train sets (marked with a * in the timetable above).
The newer ETS2 trains are different because they have one carriage that has Business Class seating (costing at least double the normal fare).
Tickets on an ETS Platinum train from KL to Penang cost around 79 MYR.

Please note: The train ticket prices (harga tiket) mentioned above are the basic fares before KTM introduced its Flexi Fare system.
Under the Flexi Fare system, you pay less the further in advance you book but pay more to travel during peak times of the day and during weekends and holiday periods.
To learn more about Flexi Fares:
If you want to see the full schedule with all the stops on the KL Sentral to Penang ETS route, click on the timetable link below:

Where to Buy Tickets for the Train from KL to Penang

(Tempat Membeli Tiket Keretapi dari KL ke Pulau Pinang)
As this ETS route is one of the most popular in Malaysia (especially at weekends), you should always book your tickets in advance to make sure you can travel on the train you want.

You can go to KL Sentral station (or any other ETS station) to buy advance tickets or tickets for the same day but we would strongly advise you not to just turn up at KL Sentral expecting to get a seat.

Book in advance!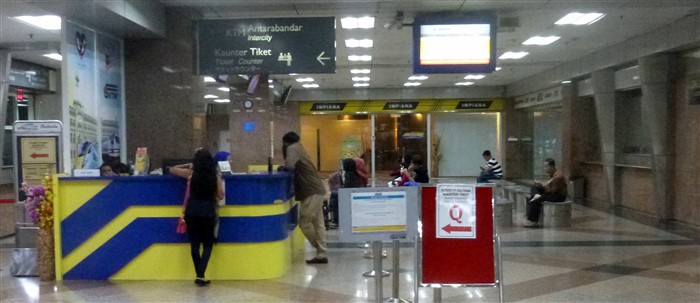 KL Sentral station ETS ticket counter area
By far the easiest way to buy train tickets to Penang is to book online direct from the KTMB website or by using an agent.

For more about booking tickets online click here >

If you find all seats on the direct train to Penang Sentral Butterworth are full on the day you want to travel, another option is to take a Padang Besar bound ETS train to connect to the Northern Commuter Line (Laluan Komuter Utara) services that start from Padang Rengas in Perak state.
The best option is to take an ETS train from KL Sentral to Taiping as all trains stop off here (Padang Rengas has limited ETS services).

From Taiping, you can then get to Butterworth by one of these cheap Komuter trains.
To see the Komuter train timetable from Taiping to Butterworth click here >
Taking this route via Taiping or Padang Rengas also works out to be the cheapest way to travel from KL to Penang by train (if you take one of the ETS Gold services).
Taiping is also a nice place to visit, so you could break your journey here and spend a day or two seeing the sights around Taiping.

Butterworth KTM Station to Penang Island

(Stesen KTM Butterworth ke Pulau Penang)
To get from Butterworth train station to Georgetown on Penang Island there is only one way to travel using public transport, the Butterworth to Penang ferry service.

To get to the departure point for the ferry, you now have to go via the Penang Sentral terminal building.

Just follow the signs for the ferry and you should be there in between 5 and 10 minutes.

For more information, departure times and fares for the ferry to Penang Island click on the picture link below:

Penang Sentral Butterworth to Georgetown ferry >
For information about the train station in Butterworth click on the picture link below: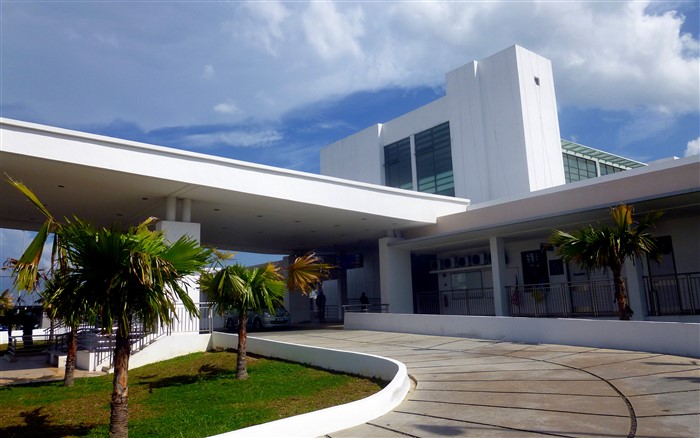 KTM Butterworth railway station >
---
---
FAQ's
To travel by train to Penang from KL you can take an ETS train (Electric Train Service) from Kuala Lumpur Sentral Railway Station or the old Kuala Lumpur station to Butterworth Railway Station. From Butterworth station you then take a short (10-15 minute) ferry ride over to Georgetown on Penang Island.

Train ticket prices from KL to Penang vary depending on what type of train you take. The cheaper Gold Services (EG numbered trains) cost approximately 59 RM. The slightly faster Platinum services (EP numbered trains) cost approximately 79 RM. Ticket prices do vary depending on how far in advance you book and if you are travelling during peak times of the year, week or day.

The duration of the train journey from KL to Penang's Butterworth station ranges from 4 hours and 12 minutes for the fastest Platinum services to 4 hours and 22 minutes for the slower Gold services.

Related pages:

How to get from KL to Penang Island >

ETS train from KL Sentral to Butterworth >

ETS train from KL Sentral to Bukit Mertajam >

---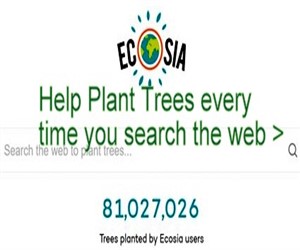 Ecosia - Search the Web - Plant Trees >