ETS Arau to KL Sentral Kuala Lumpur Train Schedule (Jadual)

Travel on the ETS Arau to KL Sentral Kuala Lumpur Train is the fastest way to travel from Perlis to the capital, with these high-speed express services travelling at speeds of up to 140 kilometres an hour.

ETS Train Schedule from Arau to Kuala Lumpur Sentral

(Jadaul ETS Dari Drau ke KL Sentral)
---
*****

New ETS Timetable valid from the 26th June 2020.

To see the full new ETS schedule for southbound trains click here >

Movement Control Order (MCO / CMCO / RMCO) - (PKP / PKPB / PKPP) 2020
KTM are operating a reduced ETS train schedule during this period.
New RMCO ETS Timetables (Jadual / 时间表) from the 2020-06-26 (26th June 2020)

---
---
New Arau to KL Sentral ETS Timetable (Jadual) valid for 2019 and into 2020:
To view the train schedule in the other direction from KL to Arau click here >

| Train Number | Departs Arau | Arrives KL Sentral | Operating Days |
| --- | --- | --- | --- |
| EG 9221 | 07:24 | 12:55 | All |
| EP 9201 | 09:58 | 15:13 | All |
| EP 9203 | 14:03 | 19:20 | All |
| *EP 9275 | 15:58 | 21:26 | All |
| EG 9425 | 16:13 | 21:49 | All |
| EP 9205 | 17:08 | 22:30 | All |
| | | | |
For all ETS train fares from Arau click here >

* EP 9275 is a new service that now includes a new Business Class carriage.

Trains numbered EG are ETS Gold Services (cheapest).

Trains numbered EP are ETS Platinum Services (the most expensive).
---
---
For information on Arau Railway Station click here >

---
Once you arrive at KL Sentral Station, you can connect to the KTM Komuter train services around the capital and Klang Valley. These commuter trains are a good, cheap way to get to places like TBS Bus Terminal, Port Klang, Shah Alam, Seremban, Tampin and many other places...

To see the latest KTM Komuter train timetables click here >

---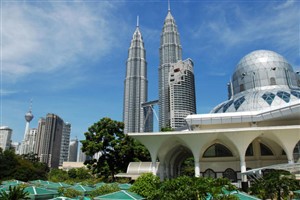 KL Tours and Day Trips >

Want to find the best things to do and see in KL?
Book tours and day trips to make the most of your time in the capital.

Arau to KL ETS Ticket Prices / Fares

(Tambang / Harga Tiket ETS Arau ke KL Sentral)
For all ETS fares to/from Arau click here >

Tickets for these services depend on the type of train you take: Platinum or Gold.
Gold services are the cheaper of the two options.
You now also have to take into consideration the new KTM "Flexi Fares" which allow you to get a discount on the regular fare if you book over 30 days in advance, but means you will pay more if you book 6 days or less in advance.

A new Business Class coach has also been introduced from October 2019.

Child fares are available for children up to 12 years old - children under 4 travel for free on their parents seat.

Buying ETS Arau to KL Sentral Tickets

(Beli Tiket ETS Arau ke KL Sentral)
ETS tickets in Malaysia usually go on sale 30 - 60 days before the departure date, but times vary depending on when KTM release them for sale.
Advance booking for all ETS Trains from Arau is highly recommended as most people will be travelling from Langkawi island and if you just turn up at Arau Station without a ticket, the train may be full!
Advance tickets are easily booked, either from any KTMB Railway Station ticket counter or you can book online via the KTM official website, or use one of the online ticketing agents.
We recommend you book through an agent as this is the simplest way to book online and you will usually pay the same as the counter price (or sometimes cheaper).

To book your Arau train tickets online now click here >

---
If the trains are full, you could alternatively travel by bus from Perlis to Kuala Lumpur.
If travelling by ferry from Langkawi, there is a bus station close to the ferry jetty in Kuala Perlis.
Another option is to catch a bus from the nearby town of Kangar, where you will find more departures to KL.
To check bus departure times and fares :
Visit our online bus booking page here >

Related Pages:
How to travel from Langkawi to KL >

Kuala Lumpur Trains main page >