Please Note: With the new ETS timetable from the 3rd of June 2018, there will no longer be any ETS services on this route and you will have to use the KTM Komuter trains (see the link below for timetables).

KTM Komuter Trains are a good, frequent and cheap way to travel from Padang Besar to Penang (via Butterworth Railway Station).

For the full Komuter timetables and fares click on the timetable link below:

To view the full train schedule for the long-distance ETS Train Services, please:
Visit our ETS Timetables southbound page here >

---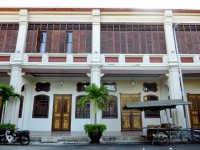 Hotels in Penang >
Ticket Prices

Fares for the ETS Train from Padang Besar to Butterworth cost:
Gold service : Adult - 29 MYR - Child - 19 MYR
Silver service : Adult - 21 MYR - Child - 15 MYR
Please Note : From the start of January 2016, there is a new Komuter (commuter) service in operation from Padang Besar to Butterworth.
Click here for more information >

Buying Tickets
You can book your ETS train tickets at the station or if you want to book in advance, we recommend you use a ticket agent.
It is much quicker and simpler to book this way than it is direct through the KTMB website where you have to create an account first and the price is the same.