Ipoh to Sungai Petani Bus, Train - How to Get to SP
To get from Ipoh to Sungai Petani in Kedah by public transport (a distance of 178 km), you can take a bus from Aman Jaya which takes 2.5 hours and costs 18-30 MYR or go by KTM ETS train which takes around one hour 50 minutes costing 34-44 MYR.

Bus to Sungai Petani from Ipoh
(Bas ke Sungai Petani dari Ipoh)

The bus is the cheapest way to get to Sungai Petani (SP) from Ipoh but it will take you much longer than travelling by train due to the fact that the bus station in Ipoh is approximately 10 km north of Ipoh Old Town.
Find a bus from Ipoh to Sungai Petani >
All buses to Sungai Petani now depart from Aman Jaya Bus Terminal (Terminal Bas Amanjaya).
To get to Aman Jaya from Ipoh you can take a local Perak Transit bus for a couple of Ringgit or taxi for around 15-20 MYR.
The cheap local buses depart from the Medan Kidd bus terminal located 5-10 minutes walk away from Ipoh railway station on the edge of the old town (see map below here >) and take around 30 minutes to get to Aman Jaya.

Once you arrive at Aman Jaya bus terminal, you can then begin your journey to Sungai Petani with a number of coach companies offering buses on this route including:
Cepat Express, Sri Maju Group, Transnasional and Kesatuan Express.

How much is a bus ticket from Ipoh to Sg Petani?
The cheapest tickets for an express bus will cost around 18 MYR with the more luxurious VIP coaches costing up to 30 MYR.

To find current bus departure times and fares:
Visit our bus booking page here >

Expect the bus journey to take at least two and a half hours but it may be longer if traffic is bad.

Buses arrive in Sungai Petani Bus Terminal which is located along the same road as the railway station and close to the centre of the town (see map below here >).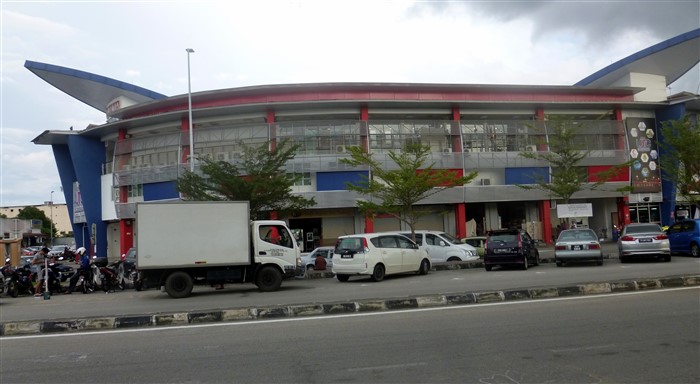 Sungai Petani bus station
KTM ETS Train from Ipoh to Sungai Petani

(Keretapi KTM ETS dari Ipoh ke Sungai Petani)
By far the quickest and most convenient way to travel from Ipoh to Sungai Petani is to take a train.
Malaysian Railways (KTM Berhad) operate a number of daily services from Ipoh railway station on their fast Electric Train Services (ETS).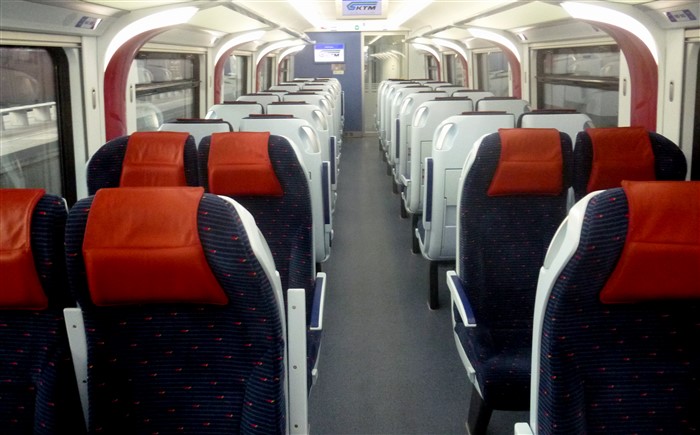 Seats on an ETS train from Ipoh to SP
The main advantage of travelling by train is that the railway station is located just on the edge of Ipoh Old Town and is easily reached by foot from many of the hotels in this popular area of the city.

Alternatively, if you are further afield in the newer part of the city, you can get a Perak Transit bus straight to the train station or the nearby Medan Kidd bus terminal.

To see the latest ETS timetable for trains to SP from Ipoh click here >

To see the full ETS schedule for all northbound trains from Ipoh, click on the timetable link below:

---
Arriving by train, you will find the Sungai Petani train station is located close to the centre of town.
If you turn right as you exit the station there is a footbridge over the railway tracks that takes you to the centre of town.

Useful Information:
Below is a location map for the Ipoh railway station and the Medan Kidd bus station.

Ipoh Old Town stations map
For information about the railway station in Ipoh, click on the picture link below:

KTM Ipoh train station >
Below is a map of the railway station and bus station in Sungai Petani.

Sungai Petani station map
For information about the railway station in Sungai Petani click on the picture link below:

Sungai Petani KTM train station >
---
Related pages:

How to get from Ipoh to Langkawi by train >

---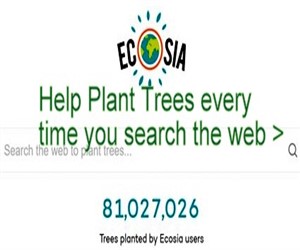 Ecosia - Search the Web - Plant Trees >