KTM Train from Ipoh to Langkawi Island

To travel by train from Ipoh to Langkawi, there are now a number of high-speed Electric Train Services (ETS) every day.
You can either catch the train to Alor Setar in Kedah state, then a ferry from Kuala Kedah Jetty.
Or catch the train to Arau, then the ferry from Kuala Perlis Jetty.

Train from Ipoh to Langkawi (via Alor Setar)
From the 19th May 2016, the night train (Intercity Express) is cancelled on this route.
You will now have to take one of the new ETS fast trains.

To view the ETS Train timetables between Ipoh and Alor Setar click here>>>

From Alor Setar, you have to get to the ferry port of Kuala Kedah which is around 15 kilometres away.
You could take a taxi or you could take one of the local white coloured buses to Kuala Kedah that leave from the main bus station outside town and travel through the centre of the city.
The railway station in Alor Setar is located around 10 minutes walk from the centre of the city where you can catch the bus.
Just ask at the station and they will direct you to the nearest bus stop.
Train to Langkawi from Ipoh (via Arau)

The other option is to stay on the train a few more stops and get off at Arau Railway Station, where you will have to catch a taxi to the ferry port of Kuala Perlis for the boat to Langkawi Island.

To view the ETS Timetable from Ipoh to Arau click here>>>

---
---
---
---
Train from Langkawi to Ipoh
To travel from Langkawi to Ipoh by train, you can again choose which station to leave from : Arau or Alor Setar.

For train timetable from Arau to Ipoh click here>>>
For the train timetable from Alor Setar to Ipoh click here>>>

Ipoh Langkawi Train Ticket Prices
Fares shown below are for one way tickets in either direction :
Trains to/from Ipoh - Alor Setar cost :
ETS Gold Services cost  :
Adult : 46 MYR - Child : 27 MYR
ETS Platinum Services cost  :
Adult : 61 MYR - Child : 35 MYR
Trains to/from Ipoh - Arau cost :
ETS Gold Services cost  :
Adult : 50 MYR - Child : 29 MYR
ETS Platinum Services cost  :
Adult : 66 MYR - Child : 37 MYR
---
To buy your tickets you can either purchase them from any Malaysian railway station or we would recommend you :
book them online direct from the KTM website or through an online ticket agent >>>

---
Ferry from Kuala Kedah to Langkawi

Ferries from Kuala Kedah leave for Langkawi from 07.00 until 19.00.
Boats run every hour to an hour and a half all day long (depending on the season), so you will not have to wait very long once you get to the port.
The ferry to Langkawi from Kuala Kedah takes one hour and 45 minutes.

Tickets can be pre-booked for specific departure times, but in case of travel delays it is best to just turn up and book a ferry ticket for the next departure.
The ticket office is the first thing you see as you walk inside the ferry terminal building.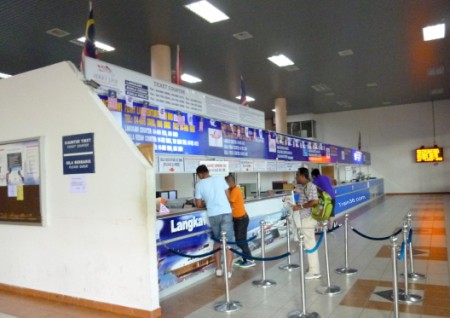 To learn more about these boats :
Alternative Routes :

You could stay on the train for al ittle while longer and disembark at Arau Station in Perlis State.
From here you will have to take a taxi to the port of Kuala Perlis.
The ferry from here is slightly shorter and slightly cheaper, but getting from the railway station to the port is more expensive, so it will end up costing you more doing it this way.

For ferry times and fares from Kuala Perlis click here>>>

---
Another option is to catch one of the trains from Ipoh to Butterworth in Penang State.
If you have never been to Penang Island and the World Heritage City of George Town, you really should think of stopping off here before heading to Langkawi. It is really worth visiting!
From Penang Island you can then catch one of the daily ferries to Langkawi from George Town or take the much cheaper option and head back over to the mainland and catch a bus to Alor Setar and then another local bus to the port at Kuala Kedah.
Or you can get a direct bus from Butterworth to the port of Kuala Perlis.
See our bus booking page for departure times and fares>>>

Related Links :
Find Langkawi Island accommodation here >>>

Find Ipoh accommodation here >>>

---
---
---