Train from Bangkok to Aranyaprathet
There is a twice a day train from Bangkok to Aranyaprathet, which is the closet train station to the Thailand / Cambodia border crossing at Poipet.
Once you arrive at Aranyaprathet station, it is around 5 kilometres to the border control area, which can be easily done by either motorbike taxi or Tuk Tuk from the station, costing around 50 to 100 Baht, depending on which transport you choose.

Once across the border you can continue onto the popular tourist destination of Siem Reap, where the world famous Angkor Wat is located.
Bangkok to Aranyaprathet Train Timetable

| Train Number | Departs | Arrives | Type |
| --- | --- | --- | --- |
| 275 | 05:55 | 11:35 | Ordinary |
| 279 | 13:05 | 17:35 | Ordinary |
To check the latest timetables from the Thai Railways timetables page click here >

In the future, you will be able to travel from Bangkok to Cambodia by train all the way, as the whole of the Cambodian railways is being rebuilt and that includes the connection of the line across the border into Thailand (Poi Pet on the Cambodian side of the border).

To check for the latest updates on the train from Poipet, please visit the Royal Railway of Cambodia website here >

Aranyaprathet to Bangkok Train Timetable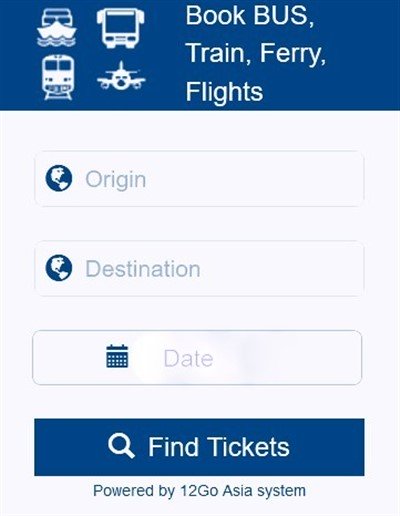 | Train Number | Departs | Arrives | Type |
| --- | --- | --- | --- |
| 280 | 06:40 | 12:05 | Ordinary |
| 276 | 13:55 | 19:40 | Ordinary |
Trains leave from and arrive at Bangkok's main railway station Hua Lamphong.
For all the information you need about Hua Lamphong station click here >

You can also board or alight these trains from other smaller, but more central Bangkok railway stations, that may be closer to where you are staying.
They are :
How much does the Train from Bangkok to Aranyaprathet cost?

If you are looking for the cheapest way to travel from Bangkok to Cambodia's border at Poipet, this is it.
As all the above services are the cheapest "Ordinary" trains and only have 3rd class seats available - they are very cheap.
The train tickets in either direction cost just 48 Baht for Adults, 24 Baht for Children.

You can't pre-book your seats on these Ordinary trains, so just turn up at the station and buy your tickets.

The trains are quite a bit slower than the public buses that leave from the Northern Bus Terminal at Mo Chit, but it is quite an enjoyable journey and if you have never been on one of Thailand's "Ordinary trains" we would highly recommend this journey.

If you do however want to travel by bus, you can check departure times, fares and book tickets from Bangkok to Aranyaprathet or buses from Bangkok to Siem Reap (Angkor Wat) or Phnom Penh or other popular destinations within Cambodia at our :
Thailand online bus booking page here >

If you decide to take the afternoon train from Bangkok, there are a few places to stay near to the Aranyaprathet train station, with a number of cheap guest houses along the main road and a few more upmarket hotels scattered around town.

If you decide to cross the border and stay in Poipet for the night, be warned - most of the accommodation is in upmarket casino's which dominate the Cambodian side of the border area.
To find accommodation and check prices for accommodation in Poipet and Aranyaprathet click here >

---
The times and fares on this page were correct at time of publication, but can change without notice, so please check before travelling by either visiting your nearest railway station in Thailand, telephoning the SRT hotline on 1690 or by checking the Thai Railways official website.
(See below the Bangkok to Aranyaprathet timetable for the link to the SRT timetables page).