Train from Kuala Lumpur to Penang - Georgetown
(from KL Sentral Railway Station)
If you want to travel by train from Kuala Lumpur to Georgetown Penang Island (Pulau Pinang), you can take the new fast Electric Train Services (ETS for short), as all the older diesel Intercity Express services have now been replaced by these newer, much faster trains.

There are a number of ETS train departures every day from either the old KL railway station (Terminal KTM) or KL Sentral station to Butterworth, Penang Sentral, with both ETS Gold services and the slightly faster ETS Platinum services (these trains have fewer stops along the route).

---
Kuala Lumpur to Penang Island by Train (for Georgetown)

Kuala Lumpur ke Pulau Penang dengan Keretapi (untuk Georgetown)
If you want to travel from KL to Penang Island (George Town, Pulau Pinang) you will have to take the branch line to Butterworth Railway Station.
Once you arrive in Butterworth, it is a short walk from the station to the ferry terminal (jetty) over to Penang island.
Regular car and passenger boats leave Butterworth every 15 minutes during peak hours, taking you over to the Jetty in George Town in around 15 minutes.

To see the ETS train timetables and fares from KL to Butterworth click here >

Or you can see the full northbound ETS train schedule by clicking on the link below:

For information and operating hours for the Penang ferry click here >


The Penang Island ferry >
For information about Butterworth Railway Station click here >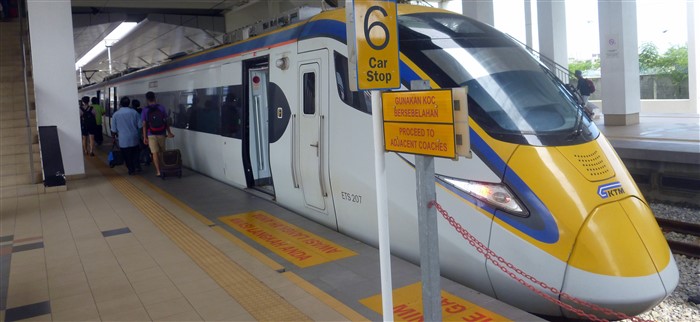 An ETS train from Kuala Lumpur to Penang Sentral Butterworth
To check timetables at the official KTMB website click here >

Kuala Lumpur to Bukit Mertajam Trains

(Keretapi Kuala Lumpur ke Bukit Mertajam)
All trains that travel to Butterworth also stop off at Bukit Mertajam on route, arriving there around ten minutes before the train arrives at Butterworth.

To see the ETS Train timetables from KL to B. Martajam click here >

Buying Tickets for the Train from Kuala Lumpur to Penang State

(Membeli Tiket Keretapi dari Kuala Lumpur ke Negeri Pulau Pinang)
These trains are very popular (especially at the weekend and during Malaysian holidays), so advance booking is highly recommended.
Booking your train seats in Malaysia is fairly easy.
You have a choice of either:
Visiting any KTM mainline railway station and buying your advance tickets from the station ticket counter (ticket counter opening times vary, so you may want to check locally at what time tickets can be purchased).
You can also book your seats online >
This is easily the best option as it saves you the time and cost of travelling out to the station.

Travel by Bus from KL to Penang

If the trains are full or you want to see how much a bus from Kuala Lumpur to Penang costs:
Visit our online bus booking page here >

Buses from KL to Penang mainly operate from either the TBS Bus Terminal or Hentian Duta Bus Terminal, but you can also take less infrequent buses from the train station at KL Sentral and Kuala Lumpur Old station (often called Terminal KTM).

---
ETS train schedules main page >

KTM Kuala Lumpur trains main page >

KTM Butterworth trains main page >

---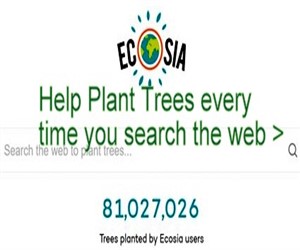 Ecosia - Search the Web - Plant Trees >