KTMB Shuttle Train from Singapore to Johor Bahru 2023
- SG Woodlands to JB Sentral (Shuttle Tebrau)

The KTM train from Singapore to Johor Bahru departs 13 times a day with the first train leaving Woodlands for JB Sentral at 08:30 and the last train at 23:45. The train journey takes just 5 minutes and tickets cost 5 SGD.
All long distance Malaysian trains now terminate / originate from JB Sentral Railway Station in Johor Bahru.
If you want to travel by train from Singapore to Malaysia, these shuttle trains (Shuttle Tebrau) over to JB Sentral are the only trains currently available.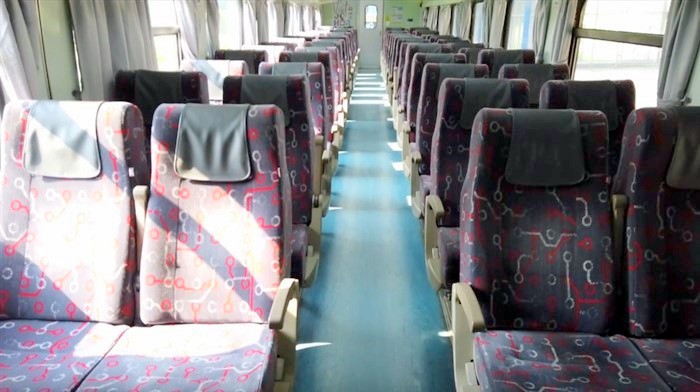 Singapore to JB Sentral train seats
Once you arrive at JB Sentral Train Station, you can then continue your journey by KTMB Intercity Train from there.
Timetable for the Train from Singapore to Johor Bahru (JB Sentral) 2023

(Jadaul KTM Singapore ke JB Sentral Johor Bahru)

Latest SG to JB KTM Timetable:

KTM Woodlands Singapore to JB Sentral Timetable valid for 2023:

For the times of the Shuttle trains from JB Sentral to Woodlands click here >

| Shuttle Service | Departure Time | Arrival Time |
| --- | --- | --- |
| ST72 | 08:30 | 08:35 |
| ST74 | 09:45 | 09:50 |
| ST76 | 11:00 | 11:05 |
| ST78 | 12:30 | 12:35 |
| ST80 | 13:45 | 13:50 |
| ST82 | 15:00 | 15:05 |
| ST84 | 16:15 | 16:20 |
| ST86 | 17:30 | 17:35 |
| ST88 | 18:45 | 18:50 |
| ST90 | 20:00 | 20:05 |
| ST92 | 21:15 | 21:20 |
| ST94 | 22:30 | 22:35 |
| ST96 | 23:45 | 23:50 |
| | | |
Advance booking for these Shuttle trains from Woodlands to JB Sentral is highly advisable, as many services (especially the afternoon trains which are used by many workers who will be travelling back home to Johor Bahru) will be fully booked, many days or even weeks in advance.

Book Shuttle Train Tickets from SG to JB online here >

---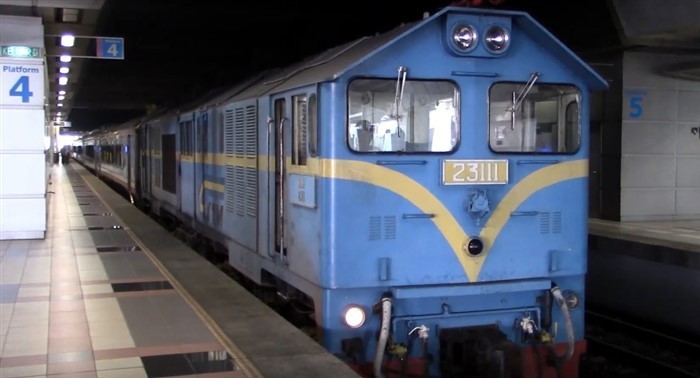 Singapore to JB Sentral Shuttle Tebrau train
---
If you want to continue your journey by train once you arrive at Johor Bahru Sentral Station, please use the links below for the latest timetables for travel up the west coast.
As the dual electrified railway line has yet to be completed between JB and Gemas, you will first have to take another Shuttle Train service from JB to Gemas or Tampin.

---
Once you arrive in Gemas, you then have to change trains for the newer and much faster Electric Train Services (ETS).

You can also connect to KTM Komuter Trains if you take the Shuttle all the way to Tampin.
The commuter services can take you very cheaply from Tampin to KL Sentral and beyond.
Click here to see the latest Komuter timetable from Tampin >

---
These new fast trains can take you quickly to places like Seremban, Kuala Lumpur, Ipoh, Butterworth (for George Town and Penang Island), Alor Setar / Arau (for the ferry to Langkawi Island) and on to the Malaysia / Thailand border at Padang Besar, where all KTMB trains now terminate and taken over by the State Railway of Thailand (SRT) with Shuttle services to the nearby Hat Yai or long distance services all the way up to Bangkok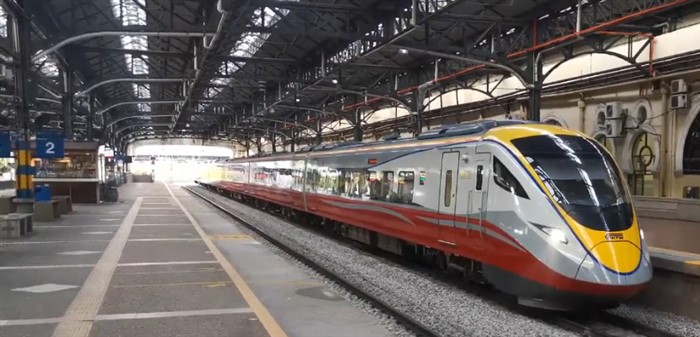 KTM ETS2 train
---
If you want to travel from JB on the Jungle Line up to the northeast of Malaysia:
You can see the timetable here >

---
KTMB Intercity train schedules main page >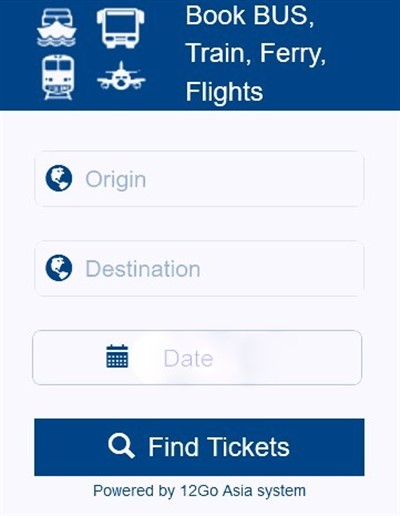 Ticket Price for the Train from Singapore Woodlands to JB Sentral
(Harga Tiket untuk Keretapi dari Singapore Woodlands ke JB Sentral)
One way fares from Singapore to Johor Bahru are 5 SGD (Singapore Dollars).

If you are travelling the other way from JB to SG, the fare is 5 MYR (Malaysian Ringgit).

If you want to know more about train departures from Johor's JB Sentral, visit our Johor Bahru trains page here >

When leaving Singapore, allow yourself some time to go through the immigration process.
You will be both stamped out of Singapore and stamped into Malaysia at Woodlands Station before boarding your train.

The big advantage of taking the train from Singapore to Malaysia is that the immigration process at Woodlands Train Checkpoint is much quicker here than at all the other border crossings (which are well known for their congestion problems), making it the best way to travel from Singapore to Malaysia (in our opinion).

How to get to Woodlands Train Station form Singapore City Centre
To get to Woodlands Railway Station which is located in the north of Singapore island, you can either take a taxi or if you want to travel as cheap as possible, we recommend you take a combination of the MRT (which covers most of the city so there should be a station close to where you are staying), then a bus.
The nearest MRT station to Woodlands Train Checkpoint is at Marsiling MRT Station. From here you can continue the short trip (about 1.7 km) to Woodlands by bus or you could walk if you have the time and energy.
Another option is to take an MRT to Woodlands MRT Station, then a bus from there.
To plan your route to Woodlands, we recommend you visit the following website where they have a handy "Journey Planner" which will tell you the best route to take from where ever you are in the city.
---
Buying Train Tickets for Departures from JB Sentral Railway Station

If you are staying in Singapore, you can make an advance booking for Shuttle / Intercity Trains leaving Johor Bahru by using the KTMB online booking site or through an online ticket agent.
We recommend you buy your tickets before travelling to JB Sentral as many services can be fully booked (depending on the season, public holidays, religious festivals etc).
You can book all train tickets leaving Singapore or Johor Bahru online here >
---
You can book your train tickets from JB and print them out yourselves, catch a Shuttle Train or bus over to JB, then catch your Intercity Train.
Looking for a great place to stay in JB?
Read guest reviews and compare room prices for the best deals in Johor Bahru and find your perfect accommodation to suit your budget and needs.
See our list of the best places to stay in JB here >

---
---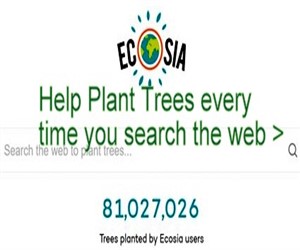 Ecosia - Search the Web - Plant Trees >