Chiang Mai Train Station Thailand

Chiang Mai Train Station is the final stop of the SRT (State Railways of Thailand) Northern Line and is often used by tourists as the point of entrance to explore Northern Thailand and the famous Golden Triangle.
The railway station is located on Charoen Muang Road, around 2 – 3 km east of the old city centre (which is surrounded by a moat and an old fortified wall).

Chiang Mai Station Location Map: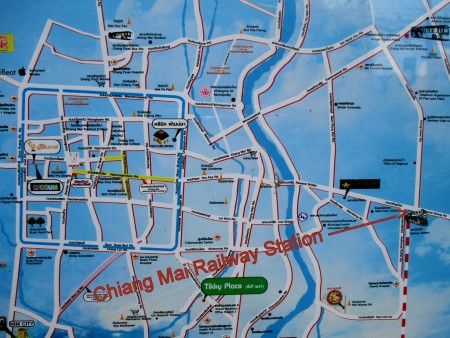 Map of Chiang Mai Station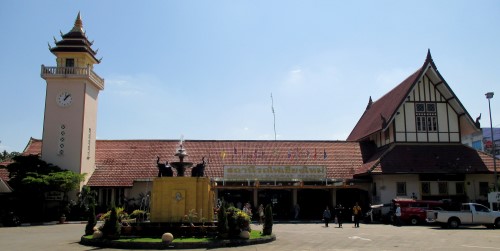 photo of the front of Chiang Mai Railway Station Thailand
---
Once you arrive at the station, unless you want a long walk, you will have to take some of the local transport into the city centre.

Layout of the Railway Station
Ticket counters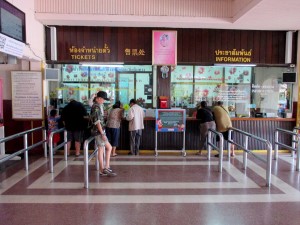 Ticket counters
Tickets selling counters are located directly on the right side after entering the stations front entrance.

From there you can purchase train tickets for the day as well as make advanced booking for any destination in the country (2nd and 1st class tickets) .

If you would rather book your long distance trains from Chiang Mai online (for a small fee) :
You can do that on our Thailand Train Ticket booking page here >

If you need to contact the station for any reason, their telephone number is: 053 - 244795 or 053 - 242094

---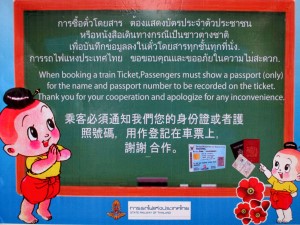 Show your passport sign
As we mention in our Thailand train ticket page, people making advanced booking at these counters are asked to present a proof of identity (passport or ID card).

Find the best places to stay in Chiang Mai.

Budget to Luxury.
Read reviews.
Compare room rates.
Station Platforms
Chiang Mai Train Station has 4 platforms.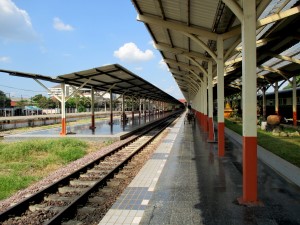 Station platforms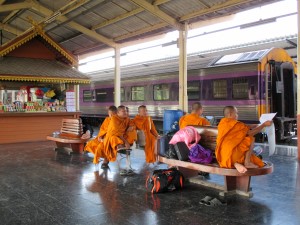 Novice monks waiting for their train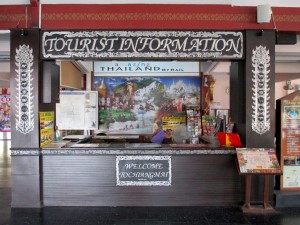 Tourist Information counter
At the start of the platforms you can ask for information or maps about Chiang Mai at the Tourist Information counter.

---
At platform #1 you will find a Thai massage shop to help you relax and pass time as well as the luggage and cargo office which can also be accessed from the outside by Rot Fai Road.
---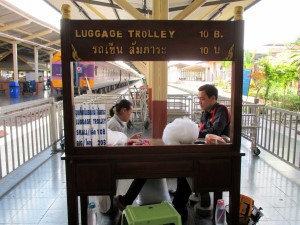 Luggage trolley service
In between platforms #1 and #2 there is a luggage trolley service which charges 10 THB for a small trolley and 20 THB for a big one.

---
Left Luggage at Chiang Mai Train Station

Note that on the left side after entering by the main entrance, there is a left luggage service, which costs 30 THB for a small bag and 50 THB for a big bag.

Food court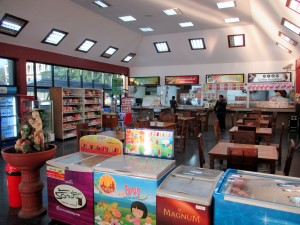 Food court
In the station you will be able to buy food and drink at the small food court that offers soft drinks, different kinds of Thai food, Western-style breakfasts as well as some burgers and sandwiches.

Parking lot
There is a big parking area in front of the train station where you will find many Red Cars and Tuk-Tuks to take you to the old city, as well as an old steam locomotive.

Red cars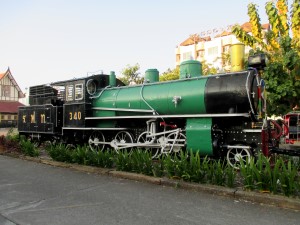 Old steam locomotive
By the station clock tower, you will find a cloth shop and a coffee shop which also serves food.

Northern Line Trains
The station is served by daily trains running on Thailand's Northern Railway Line that travel from Bangkok Hua Lamphong Railway Station and terminate at Chiang Mai.

Please note: From January 2023, all long distance trains to/from Bangkok with now depart/terminate at the new Bangkok railway terminal - Bang Sue Grand Station in Bangkok (Krung Thep Aphiwat Central Terminal).

To view departure times and fares to and from Chiang Mai Train Station, please see some of the following pages on our site:
Popular destinations:

---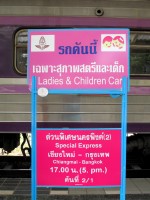 Ladies and children car
Since July 2014 some Special Express trains offer a "Ladies and children car" which is reserved for women and children (maximum 10 years old and not taller than 150 cm) only.
---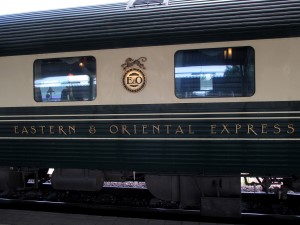 Eastern and Oriental Express train carriage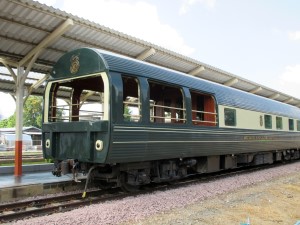 Viewing carriage
A few times every year, the famous Eastern and Oriental Express comes to Chiang Mai.
---
---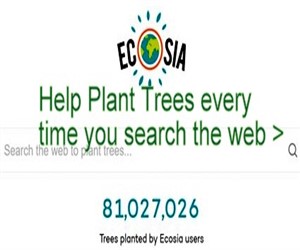 Ecosia - Search the Web - Plant Trees >