Train from Chiang Mai to Bangkok
Schedule and Ticket Price
The train from Chiang Mai to Bangkok offers five daily services, with two day trains and three overnight / sleepers costing between 231 Baht for a 3rd Class seat to over 1500 for a 1st Class sleeping berth and taking between 10:35 to 14:40 hours to travel the 751 km distance.

---
Most people opt for the overnight sleeper trains as these are the most comfortable, with sleeping berths at a very reasonable price and comparable with the price you would pay for a luxury bus on the same trip.

Train from Chiang Mai to Bangkok
Chiang Mai to Bangkok Train Timetable

For travel in the opposite direction by train from Bangkok to Chiang Mai click on the timetable link below:

Please Note : from November 2016, train 2 has become train 10 and is the first train in Thailand to be using the brand new Chinese built carriages.
| Train | Dep | Arr | Type | More Info |
| --- | --- | --- | --- | --- |
| 102 | 06:30 | 21:10 | Rap | Info> |
| 8 | 08:50 | 19:25 | Sp. Ex. DRC | Info> |
| 14 | 17:00 | 06:15 | Sp. Ex. | Info> |
Timetable Notes:
Rap = Rapid
Ex. = Express
Sp. Ex. = Special Express
Sp. Ex. DRC = Special Express Diesel Railcar - (Sprinter Train)
For information about the railway station in Chiang Mai click on the picture link below:

The train station in Chiang Mai >
If the trains to Bangkok are full on the day you want to travel.
check our Thai bus booking page for alternative travel arrangements >

---
All these services terminate at Hua Lamphong railway station in the centre of Bangkok, close to China Town.
For information on the Bangkok railway station click on the picture link below:

Bangkok train station Hua Lamphong >
If you are not planning on staying in Bangkok, you may want to get off at Bang Sue junction station, where you can then catch services to the south of Thailand or for services on the North-Eastern line.
For the timetable of trains from Chiang Mai to Bang Sue click here >

Bang Sue is also closer to Bangkok's Northern Bus Station Mochit.

Most trains that travel to / from Hua Lamphong will stop at Bang Sue, so getting off here could save some time and a little money. 
You will have to study the Thai railways timetables to see if there is a good connection to your final destination.
Another station in Bangkok you may want to consider getting off at is Sam Sen station.

---
If you are looking for somewhere to stay (budget or more upmarket) close to Bangkok Railway Station:
Visit our accommodation near Hua Lamphong Station page here >

Ticket Prices / Fares on the Train from Chiang Mai to Bangkok

Fares for these services vary depending on type of train and seat / sleeper class.
The cheapest train is the Rapid service number 102.
This service comprises of just second class fan and third class fan seat coaches.

Tickets cost :
2nd class - Adult 391 / Child 251
3rd class - Adult 231 / Child 171

---
Train number 8 is a Diesel Railcar service (DRC) and is made up of just second class air-conditioned coaches and cost:
Adult 641 / Child 501
Included in the tickets price of the DRC sprinter train from Chiang Mai to Bangkok, you also get free meals and soft drinks.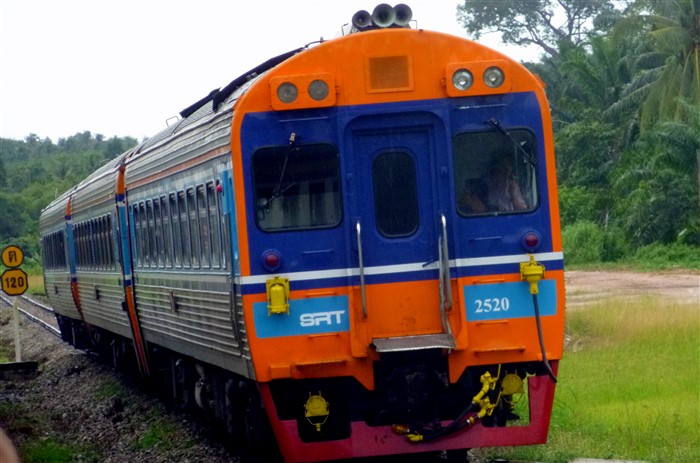 A DRC Sprinter train
---
Special Express services numbers 14 and 10 consist of all sleeper seats / berths and cost:

2nd class A/C
Upper Bed Adult 791 - Child 651
Lower Bed Adult 881 - Child 741

1st class A/C
Upper Bed Adult 1,253 - Child 957
Lower Bed Adult 1,453 - Child 1,157

Train number 14 may also have the cheaper 2nd class fan cooled carriages which cost:
Upper Bed Adult 601 - Child 461
Lower Bed Adult 671 - Child 531

---
Train number 52 is an Express service and offers both sleepers and seats, with tickets costing:

2nd class Air-Con Sleepers
Upper Berth Adult 751 - Child 611
Lower Berth Adult 821 - Child 681

2nd class Fan Sleepers
Upper Berth Adult 531 - Child 391
Lower Berth Adult 581 - Child 441

2nd class Air-Con seats
Adult 541 / Child 401

2nd class fan seats
Adult 431 / Child 291

3rd class fan seats
Adult 271 / Child 211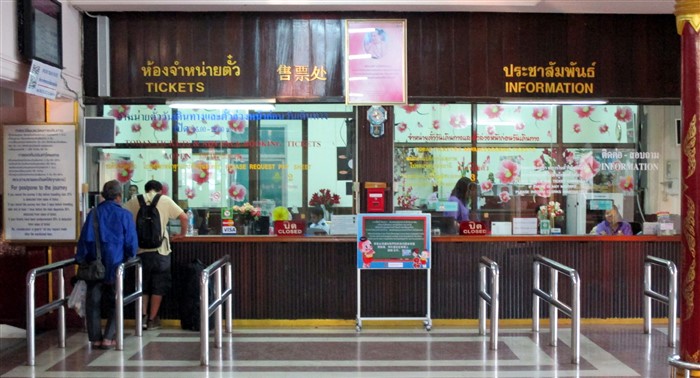 Chiang Mai station ticket counter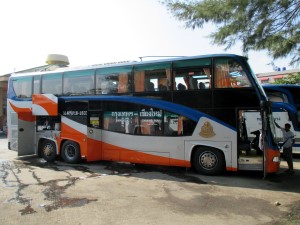 Chiang Mai to Bangkok bus
To compare these prices for the same trip from Chiang Mai to Bangkok by bus:
Times and fares are shown for information only and may change without notice.
Please check with the State Railways of Thailand before travel by either :
Visiting any Thai railway station.
Telephoning the 24 hour call centre within Thailand on 1690
Related pages:

For more trains from Chiang Mai click here >
For travel by Bus to Bangkok click here >
Book train tickets in Thailand >

---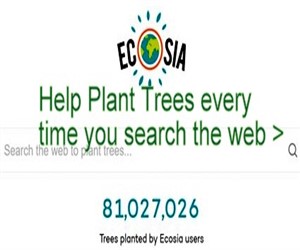 Ecosia - Search the Web - Plant Trees >