Train 35 Timetable (Now Train 31 from Bangkok to Hat Yai)

The International Express Train 35 is a daily overnight service from Bangkok in Thailand and Butterworth, Penang in Malaysia, operated by the State Railway of Thailand.
This rail service consists of only second and first class sleeping berths and a dining car between Bangkok and Hat Yai.
Please Note : This train is being replaced by train number 31 from 2nd December 2016 with the new Chinese made carriages and will now terminate at Hat Yai Junction Station.

For onwards travel to the Thai / Malaysian border station of Padang Besar using this service, you can take the early morning Shuttle Train from Hat Yai (as long as the train arrives in Hat Yai not too late).

If you want to travel from by train from Bangkok to Padang Besar on the border, it is best to take the new service (train number 45/37) which departs Bangkok at 15.10 and arrives in Padang Besar at 08.53 (09.53 Malaysian time).

Please see the following pages for more information :
Bangkok - Padang Besar - Butterworth train >>>
Hua Hin - Padang Besar - Butterworth train >>>
Chumphon - Padang Besar - Butterworth train >>>
Surat Thani - Padang Besar - Butterworth train >>>
Hat Yai - Padang Besar - Butterworth train >>>

Train 31 Timetable from Bangkok Thailand to Butterworth Penang in Malaysia

For the timetable in the opposite direction to Bangkok click here >>>

****Please Note :

To continue on to Butterworth Penang (or any other station in between) you now have to take one of the new KTM Komuter Trains that depart every hour or two from Padang Besar.
Click here to see the Komuter schedule to Butterworth >>>
At Hat Yai, all but two of the carriages are removed, leaving just two second class carriages to operate the last leg of the journey from Hat Yai into Malaysia, down to Butterworth Station in the state of Penang, which is a 15 minute ferry ride away from George Town on the island of Penang.
| | |
| --- | --- |
| 2nd class seats on train 35 that are later turned into your sleeping berths ---> | 2nd class sleeping berths (beds) showing the "Upper" and the much wider "Lower" berths. |
---
1st class cabin for two with a seat that converts into two beds is available between Bangkok and Hat Yai only.
The dining car on train 35 where you can enjoy dinner or breakfast is taken off at Hat Yai
-            To see the menu click here>>>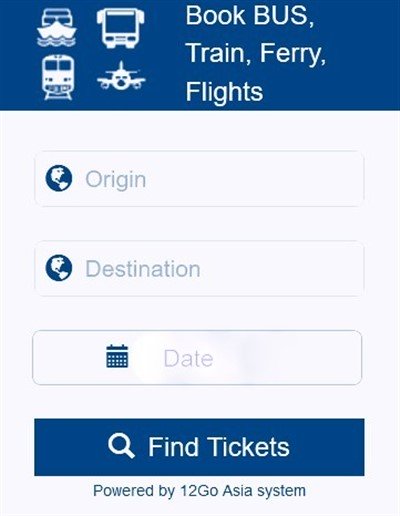 ---
If you plan to travel within Thailand using this train service then the only tickets you can buy are 1st and 2nd class sleeper berths making it quite expensive compared with other trains on this route down to Hat Yai.
Please see some of the following pages for more details and fares :
---
Bangkok to Langkawi by Train

If you are using this train to travel from Bangkok to Langkawi island, there are two stations you can use to get to the Langkawi ferry ports.
Arau Train Station is the first one you arrive at and ferries leave from the nearby Kuala Perlis. This is the shortest and cheapest ferry, but you will have to get a taxi from the station to the port.
Alor Setar Train Station is a little further south, but you can get a cheap bus to the port of Kuala Kedah from the city centre (about a 10 minute walk away from the station).

---
---
See the Southern Timetable for Trains from Bangkok