TBS to KL Sentral Station
Terminal Bersepadu Selatan to Kuala Lumpur Sentral Train Station

If you have just arrived by bus at the Terminal Bersepadu Selatan Bus Station (TBS for short - Southern Integrated Terminal) and want to travel from TBS to KL Sentral Railway Station, the easiest, quickest and cheapest way to get there is to travel by train.

TBS bus terminal building is directly connected to the Bandar Tasik Selatan Railway Station (BTS) by a pedestrian bridge.
Once at the station you have a choice of trains to KL Sentral:

The KTM Komuter (commuter) train services.
The KLIA Transit train (ERL) that stops here on the way from Kuala Lumpur Airport.
KTM Komuter Train from Terminal Bersepadu Selatan to KL Sentral

(Jadual KTM TBS ke KL Sentral)
To see the latest Komuter train timetable from TBS/BTS Station, click on a link below:

To see the full KTM Komuter timetable in the other direction from KL Sentral to TBS click here >

The cheapest way to travel from TBS to Kuala Lumpur Sentral, these commuter trains operate throughout the day until the late evening.
The trip / journey to Sentral takes 16 - 18 minutes by commuter train.
KL Sentral is just four stops down the line, with the train stopping at Salak Selatan, Seputeh and Mid Valley.

The commuter train ticket price / cost is currently 2.40 MYR (RM).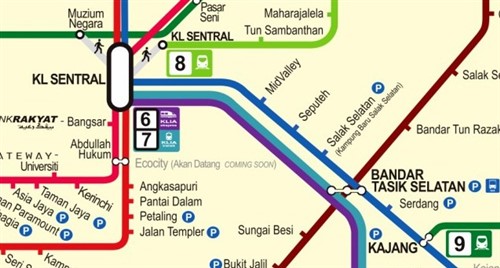 TBS to KL transit map (click for larger / full KL Transit map) >
How long is the journey from TBS to KL Sentral by train?
Just 10 minutes on a Transit, up to 18 minutes on a KTM Komuter.

KLIA Transit Train from TBS to KL Sentral
(KLIA Transit dari TBS ke KL Sentral)

This high-speed KLIA / KLIA2 (Kuala Lumpur Airport) train (ERL) is a non-stop train to KL Sentral from TBS, taking just 10 minutes.

Trains usually depart roughly every 30 minutes, with more frequent services every 15 minutes, during busy / peak periods of the day.

The first Transit train is currently departing at 05:47.

The last train is currently at 01:28.
The current fare from BTS to KL Sentral by KLIA Transit is 6.50 MYR.

To check the latest full timetable for these services, please visit:

the KLIA Express /Transit website here and and click on the link "View KLIA Transit Schedule" >

ETS Train from TBS
(ETS dari TBS)

There are currently two Electric Train Services a day heading north from TBS.
One train goes to Butterworth in Penang.
The other to Padang Besar on the Malaysia / Thailand border.
Both services stop in KL Sentral, but we would not recommend taking these trains as the are very expensive for such a short trip compared to the Komuter trains.
If however, you where planning to go to KL Sentral to catch a long distance train to the north, you may want to look at the ETS timetable to see if you can take one of the two ETS train directly from the TBS bus station.
To see the latest ETS timetable for northbound trains click here >

Other Ways to Travel from TBS to Kuala Lumpur City Centre
LRT from TBS to Kuala Lumpur City Centre
(LRT dari TBS ke Kuala Lumpur)

If you are not planning to travel on from KL Sentral Railway Station, you may be better off taking one of the Light Transit Trains from TBS to KL that also operate from here.
LRT Trains can take you to a much wider choice of destination throughout the city, with connections to the Monorail, MRT. 
You can use these trains to get to popular destinations such as:
Chinatown, Bukit Bintang, KLCC, Pudu Sentral as well as KL Sentral.
TBS to KL Sentral LRT price (cash) is 4.00 MYR and takes longer than the KTM Komuter as you have to change trains at Masjid Jamek.
For most popular destinations within KL, you will have to first take the Sri Petaling Line (laluan) from TBS, then change trains at either Chan Sow Lin or Masjid Jamek, or change at Hang Tuah for the Monorail.
For more information, route maps and timetables for LRT trains from TBS, please see our:
Bus from TBS to Kuala Lumpur City Centre
(Bas dari TBS ke Kuala Lumpur)

You could also take a local KL city bus from TBS to KL Sentral (or any other part of the city), but we would not recommend you to travel this way as the journey time would be much longer compared to a train.
However, if you do want to see what buses are available from from TBS to KL city centre, use the link below for the Myrapid website - (they have a good journey planner so you can find the best route to take within the city by either bus or LRT train).

---
Related Pages:

How to travel from KL Sentral to TBS >
KTM TBS to Mid Valley trains >
KTM TBS to Batu Caves trains >
KTM Bandar Tasik Selatan trains main page >
KTM Kuala Lumpur Sentral trains main page >
---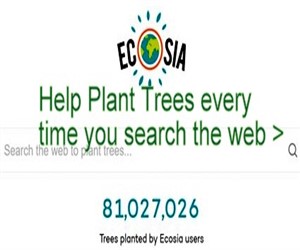 Ecosia - Search the Web - Plant Trees >