TBS to Mid Valley KTM Komuter Train Schedule (Jadual) & Price

The TBS to Mid Valley KTM Komuter train is the best way to travel cheaply and quickly with regular services operated by Malaysia Railways Keretapi Tanah Melayu Berhad on their Tampin to Batu Caves Komuter Route (Laluan).
Trains depart from the Bandar Tasik Selatan railway station (BTS) which is located right next to TBS Bus Terminal (Terminal Bersepadu Selatan), connected by a footbridge.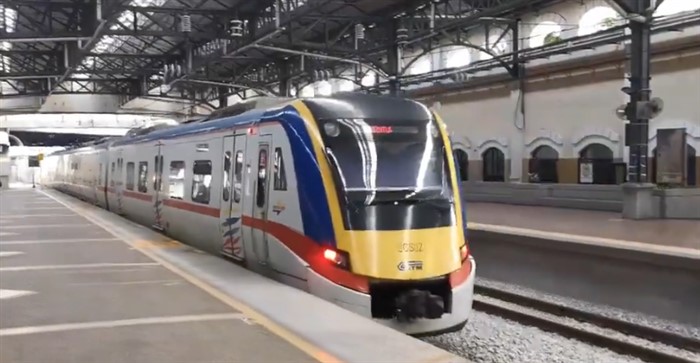 KTM Komuter train on the TBS - Mid Valley Route (Laluan)
The duration of the commuter train journey from Bandar Tasik Selatan to Mid Valley is 12 minutes.

KTM TBS to Mid Valley Komuter Train Schedule

(Jadual Keretapi Komuter KTM TBS ke Mid Valley)
To see the latest KTM train schedule to Mid Valley, click on the timetable link below:

---
To see the Komuter train timetable in the other direction from KTM Mid Valley to TBS (Bandar Tasik Selatan) click here >

---
Train station/stops along this KTM Komuter route to Mid Valley are as follows: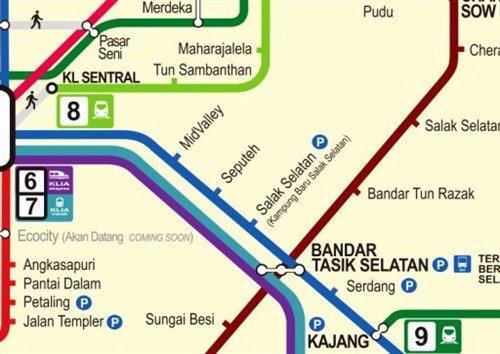 Bandar Tasik Selatan to Mid Valley KTM Komuter train route map (click to view full KL Transit Map) >
---
If you want to check for any schedule changes or disruption on the line to Mid Valley you can:

Visit the official KTMB.com.my Komuter train page here >

Ticket Prices for the KTM Train to Mid Valley from TBS/BTS

(Harga Tiket KTM dari BTS/TBS ke Mid Valley)

The current Cash Price fare (tambang) for tickets to Mid Valley from BTS/TBS is 2.00 MYR.
To see all cash prices fares for Komuter trains to/from TBS / BTS click here >

When you pay for your tickets on KTM Komuter trains you are given a token to get you past the platform entry gates.

To get to Mid Valley you need to take a train heading in the direction of KL Sentral or Batu Caves.
Keep your token safe as you will need it again to exit at Mid Valley.

Carriage on a KTM Komuter train from TBS / BTS to Mid Valley
---
Related Pages:

See all KTM Komuter Train Timetables >

Other KTM Komuter routes from TBS: