KTM Bandar Tasik Selatan Schedule 2019
Komuter and ETS Trains from TBS Bus Station

The KTM Bandar Tasik Selatan Railway Station (Stesen Keretapi) in Kuala Lumpur is a busy station located right next to the TBS Bus Station (Terminal Bersepadu Selatan) and has train services to and from KL Sentral on the Komuter Route between Batu Caves and Tampin, as well as long distance ETS Electric Train Services.
You can also take the ERL KLIA Transit to Kuala Lumpur International Airport or the LRT into the city on the Sri Petaling Line.

Bandar Tasik Selatan Komuter Train Timetables

KTM Train Schedule During Movement Control Order MCO / CMCO / RMCO - (PKP / PKPB / PKPP) 2020.
KTM is still operating a reduced service for some routes during this period.
To see the latest train timetables currently in operation, please see the following links:
KTM Komuter Train Timetables (Jadual / 时间表) >

To see the latest commuter train timetables to and from BTS, please see:

---
Trains from KL Sentral to BTS or trains from BTS to Seremban, Tampin.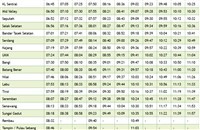 BTS Komuter schedule southbound >>>
---
Trains from Tampin, Seremban to BTS or trains from BTS to KL Sentral.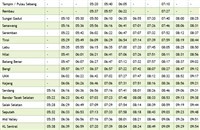 BTS Komuter schedule northbound >>>
---
To see the latest KTM Komuter timetable from BTS to KL Sentral click here >

See our TBS to KL Sentral page for more options on how to travel to Kuala Lumpur Sentral Station >

The duration of the journey by Komuter train from Bandar Tesik Selatan to KL Sentral takes 16 minutes.

KTM Bandar Tasik Selatan ETS Train Timetables
---
All of the fast long distance Electric Train Services (ETS) stop at Bandar Tasik Selatan Station on there way from Gemas in the south up to the Thailand border at Padang Besar.
You can use these trains to travel north to places like Ipoh, Taiping, Butterworth (Georgetown on Penang Island), Sungai Petani, Alor Setar / Arau (for boats to Langkawi Island).
As there are limited services from the south, you may find it better to first take the Komuter train to KL Sentral, where there are many more ETS services heading north.

If you are heading south, the ETS line goes as far as Gemas, where you will currently have to change trains for a Shuttle service to JB Sentral in Johor Bahru and Singapore.

If you want to use the ETS services, you should really book your seats in advance >

Related pages:

BTS / TBS to Padang Besar by ETS train >

BTS / TBS to Ipoh by ETS train >

Bandar Tasik Selatan to KLIA / KLIA2

If you want to travel to / from Bandar Tasik Selatan to Kuala Lumpur Airport by train, the ERL, KLIA Transit service operates every 15 minutes during peak hours, to every 30 minutes during normal times of day.
For more information, timetables and fares, please see the:
Official KLIA Ekspres / Transit website here >

Bandar Tasik Selatan LRT - Light Rail Transit

A good way to travel to / from KL city centre to Bandar Tasik Selatan / TBS Bus Station is to take one of the frequent LRT trains.
The Sri Petaling Line stops at BTS and you can change at Chan Sow Lin for the Ampang Line or Masjid Jamek for the Kelana Jaya Line.
The LRT will get you to the most popular tourist areas of the city such as China Town, Bukit Bintang, Pudu Sentral, KL Sentral, KLCC...

For more information, route maps and LRT schedule from TBS click here >
If you want to check for bus schedules from TBS Bus Station, check fares or book bus tickets online:
Visit our online bus booking page here >

Related pages:

BTS to Tampin / Pulau Sebang >