Train from Bangkok to Vientiane Laos
Timetable and Fares
If you want to travel by train from Bangkok to Vientiane in Laos, you can now almost reach the Laos capital, as there is a small stretch of railway line that crosses over the Friendship Bridge, crossing the Mekong River and the Thai - Laos border at the same time.
The first thing you have to do is catch a train from Bangkok to Nong Khai.
From Nong Khai, you then have to catch the train over the Friendship Bridge into Laos.
Train from Bangkok to Vientiane Schedule (via
Nong Khai)
Bangkok Bang Sue Grand to Nong Khai train timetable:

| Train Number | Departs Bangkok | Arrives Nong Khai | Type | More info |
| --- | --- | --- | --- | --- |
| 75 | 08:45 | 17:30 | Express DRC | Info > |
| 77 | 19:05 | 03:45 | Express DRC | Info > |
| 25 | 20:25 | 06:45 | Special Express | Info > |
| | | | | |
To see a full list of fares for these trains click here >

To view the full timetables and see pictures of the seats / berths available on each train, click on the train numbers below :
---
To check for any changes to the train timetable:
you can visit the SRT official website timetables page here >

---
The train station, just 4 kilometres over the Laos border where the train terminates is called Thanaleng Railway Station (also called Dongphosy Railway Station as it is located in Dongphosy village).

From here you can catch a minibus to the Vientiane city centre, located 20 kilometres away, for around 50 Baht per person.
This track was originally planned to be extended all the way to Vientiane, but now plans have changed and there is a new plan.
Now Bangkok will eventually be connected to Vientiane by the high-speed train project, using a different train line and a new bridge over the Mekong.

This will not be completed for a number of years, so for now, if you want to travel from Thailand to Laos by train, this is the only way that it is possible and Thanaleng station will remain the only train station in Laos for a few more years

---
The best train to catch if you want to connect to the Laos train is the overnight sleeper train number 25 which arrives in Nong Khai at 06:25, so you can connect to the departure to Thanaleng at 07:30.
All trains to / from Bangkok originate or terminate at the main station, Hua Lamphong railway station.
Click here for all the information you need about the main train station in Bangkok >

For all trains from Bangkok to Nong Khai and vice versa, with details of train ticket prices and seat / sleeper classes available on each train, please visit our :
If you would like to book your tickets online from Bangkok to Nong Khai, visit our online ticket booking page here >

Trains from Thailand to Laos (Nong Khai to Thanaleng Train Schedule)
| Train Number | Departs | Arrives |
| --- | --- | --- |
| 913 | 07:30 | 07:45 |
| 917 | 14.45 | 15.00 |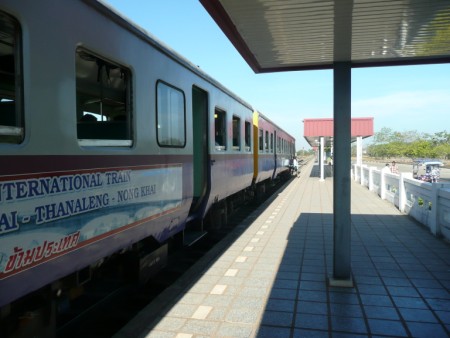 Thailand to Laos train that crosses over the Friendship Bridge
There are only two trains a day in both directions that operate between Thailand's Nong Khai station and Thanaleng station and the cost is 20 Baht each way.

Trains from Laos to Thailand (Thanaleng to Nong Khai Train Schedule)

| Train Number | Departs | Arrives |
| --- | --- | --- |
| 914 | 10:00 | 10:15 |
| 918 | 17:30 | 17:45 |
For train times and fares from Nong Khai to Bangkok click here >

The train is made up of just two carriages designed to carry 80 passengers each.

However, the only time I have travelled on this train there was standing room only and rather more than 80 people per carriage.

If you are travelling during the peak season (December - March), this can cause a bit of bottleneck at the immigration counters with hundreds of tourists queuing up for their visa's.

If the train you come in from Bangkok is full of tourists, you may want to do what I usually do, skip the train ride over the bridge and just take a 10 - 15 minutes walk to the Thai border control and catch a bus over the bridge (20 Baht).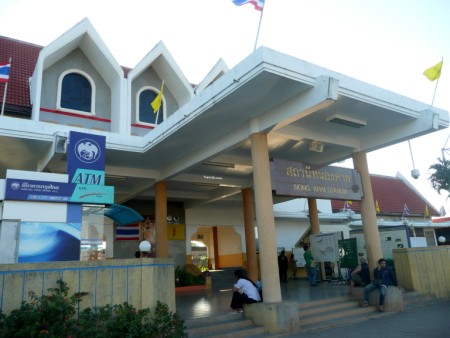 Nong Khai railway station
I find this better than getting off the night train from Bangkok, then standing in queue to buy your train tickets to Thanaleng, then standing in another queue to go through the Thai immigration (at Nong Khai station) and then being packed into the Nong Khai to Thanaleng train for 15 minutes and finally another long queue to get your visa paperwork and then again to finally get your Laos visa.

This is basically the last thing I want to do after being on the train all night!
I would rather go and get some breakfast, wait for any crowds to die down, then cross by bus over the border.

---
Train times on this page are published for information only and may change.

If you wish to check departure times with the State Railways of Thailand's official website click here >

Nong Khai Train Station to the Thai - Laos border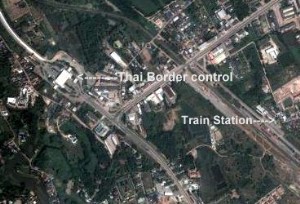 Map of Nong Khai Train Station
As you can see from the aerial photo above, the train station in Nong Khai is not far from the Thai border control area and is an easy 10 - 15 minutes walk (around one kilometre).
When you come out of the front of the station turn left and walk up until you come to the main road, then turn left again. You will see the border area on you right across the main road.
Once you have had your passport stamped out of Thailand, you have to catch the waiting bus (20 Baht) that takes you over the bridge to the Laos immigration area.
Here there is a separate counter for tourist visa's and there should be far fewer tourists here, than at the Thanaleng station.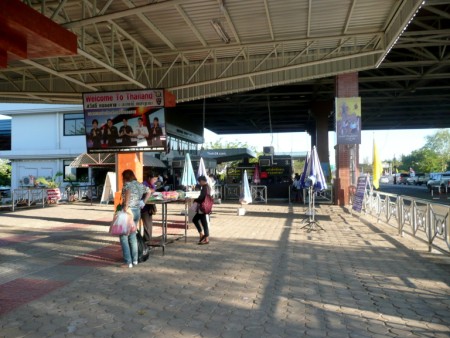 Thai immigration area on the Thai Laos border at Nong Khai
Travel Tip :
When crossing the Thai Laos border, always bring US Dollars with you as the visa on entry fee is charged in USD.
You can pay in Thai Baht but you will usually have to pay 30 - 50% more!

Visa fees vary depending on what passport you hold, so you will have to do some investigation to see what fee you have to pay for your own nationality.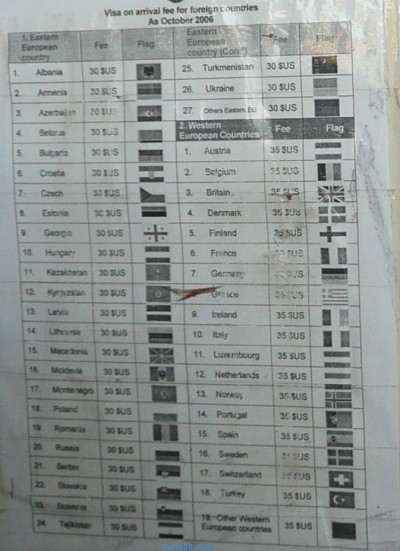 These two photos show the Laos visa on arrival fees that were being charged on my last trip to Laos.
They may have changed, so please check your own countries visa fee before arriving.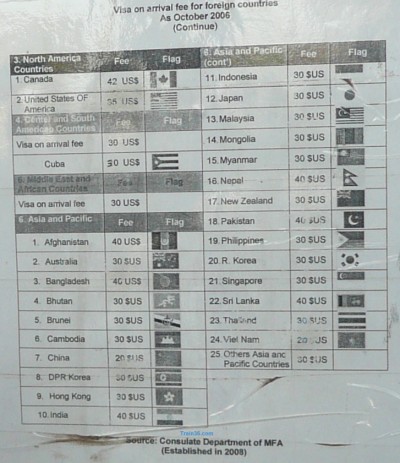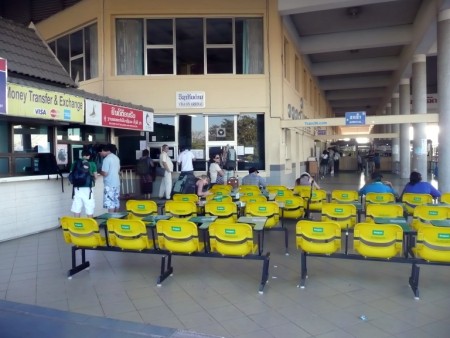 The Laos visa on arrival counter after you cross the Friendship Bridge.
Once you pass through the immigration area there are plenty of travel options onto Vientiane starting at around 40 Baht.

Where to Stay in Vientiane :

---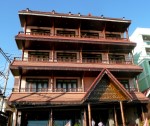 Vientiane has a good range of luxury and mid-range hotels as well as plenty of budget guest houses, mostly located in a fairly small central area of the city and along the Mekong River banks.
If you want to find the best places to stay for your budget :
Click here to read reviews and find the cheapest deals in Vientiane or Nong Khai >

---
Leave train from Bangkok to Vientiane for the main Bangkok Trains page
---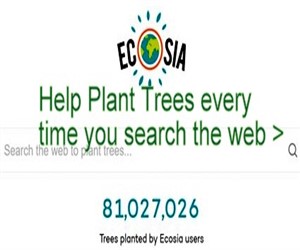 Ecosia - Search the Web - Plant Trees >