Special Express Train 7 Timetable Thailand
DRC Train from Bangkok to Chiang Mai
The Diesel Railcar (DRC) Special Express Train 7 is currently the fastest way to travel from Bangkok to Chiang Mai by train, taking just 11 hours to cover the 750 Kilometres trip (compared to 13 - 14 hours on the overnight sleeper services).
It is also the only train that travels through the daytime (apart from the last hour or so), so if you want to take in the sights of the Thai countryside, this is the train you should catch.

Train 7 Timetable Thailand Northern Line

This Train operates Daily.
This train originates from Bangkok's main railway station at Hua Lamphong.
For all you need to know about Hua Lamphong station click here >

Other train timetables on the Bangkok to Chiang Mai route in Thailand :
Train number 109 - Rapid day / night sleeper service >

Train number 9 - Special Express night sleeper service >

Train number 13 - Special Express night sleeper service >

Train number 51 - Express night sleeper service >

Seat Classes :

This sprinter train service to Chiang Mai comprises of just a few, 2nd Class - Air conditioned - seat carriages.
During the journey you will be served meals and drinks (included in the price) by the onboard steward / stewardess.
You may also want to take your own food and drink, as unlike most other trains in Thailand, you rarely get any hawkers on the train selling their wares (apart from longer stops at stations).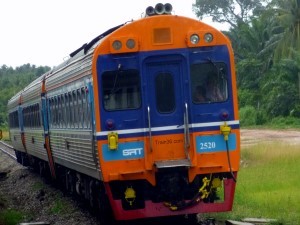 Special Express DRC - Sprinter Train in Thailand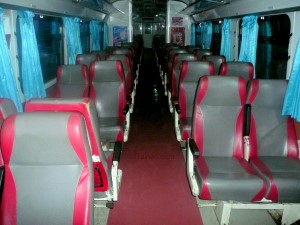 Sp. Express DRC Seats
DRC Ticket Prices :

As these are currently the fastest trains in Thailand, they are also the most expensive for seats (but still very cheap compared to western train ticket prices).
If you want to see prices for some of the popular routes this trains travels from / to, please see the following pages on our site :
Booking Tickets :

Tickets for this service go on sale 90 days in advance of the departure date and advance booking on this route is highly advised as it is the most popular in Thailand.
If you are already in Thailand, you can book your seats from any ticket counter at any main train station within the country.
If you are outside Thailand and want to make an advanced booking, you should book your tickets online.

This costs a little more, but is very convenient, saving you a journey to the station just to buy tickets, when you arrive in Thailand.

To check for seats and to book tickets online click here >

For alternative travel to Chiang Mai from Bangkok by bus click here >

Arriving in Chiang Mai

For all you need to know about Chiang Mai Railway Station click here >
For onwards travel to the city from Chiang Mai Station click here >
To find the best places to stay in Chiang Mai click here >

---
Related pages:

Train 7 Bangkok to Chiang Mai ticket prices >

---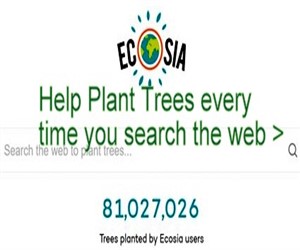 Ecosia - Search the Web - Plant Trees >