Train 8 Timetable Thailand
Chiang Mai to Bangkok DRC Special Express
Train number 8 is a fast Special Express Diesel Railcar service from Chiang Mai to Bangkok and is the quickest of all trains on this route, taking under 11 hours to make the journey to Thailand's capital (at least two hours faster than any other train).

Train 8 Timetable Thailand Northern Line

This Train operates Daily.
Seat Classes on Train Number 8
This sprinter train has only one class of seats - 2nd class.
All carriages are air-conditioned and you are served meals and drinks (included in the price of your ticket) during your journey by an on-board host or hostess.
These meals are okay, but nothing to write home about, so you may also want to take some of your own snacks along with you.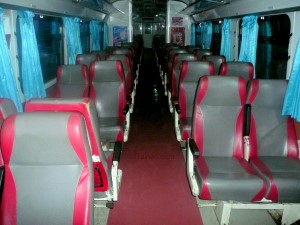 Seats on a typical DRC Special Express train in Thailand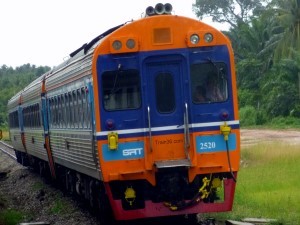 A DRC Special Express train in Thailand
Booking Tickets for Train 8
To travel on this train you will need to reserve a seat.
Most, if not all tickets for this service would be sold by the day of departure (especially during the high season), so don't expect to be able to turn up at the station and buy a ticket - you will often be out of luck.
If you do want to travel on train 8, book a seat in advance.
You can do this from any main railway station in Thailand, or:
You can book your tickets online for a small additional fee >

Station Information
This rail service originates from Chiang Mai Railway Station and terminates at Hua Lamphong Railway Station in Bangkok.
To find out how to get to Chiang Mai station click here >
For information about Chiang Mai Station click here >

For information on Bangkok Hua Lamphong Station click here >
For how to get from Hua Lamphong station to popular destination in the city click here >

Other Train Timetables on the Chiang Mai to Bangkok Route
Rapid train number 102 (daytime service) >
Express train number 52 (night sleeper service) >
Special Express train number 14 (night sleeper service) >
Special Express train number 10 (night sleeper service) >
---
---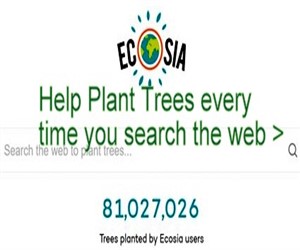 Ecosia - Search the Web - Plant Trees >