KTM Train from Johor Bahru to Butterworth Penang

The one direct train from Johor Bahru to Butterworth Penang, the Intercity Ekspres Rakyat has now been cancelled from the 19th May 2016, along with all the other older Intercity Trains on the North - South Railway Line that travels along the west coast of Malaysia.

Now if you want to travel from JB to Penang by train, you will firstly have to catch one of the new Shuttle Trains to Gemas (where the new dual electrified tracks start), then transfer to a high-speed Electric train Service (ETS).

This is actually quicker than using the old cancelled Intercity Train!

Train Times JB Sentral to Butterworth Penang

****New Schedule from 1st February 2016 :

As from this date, there is no longer a direct ETS service from Gemas to Butterworth.

You will still have to take the Shuttle service to Gemas.

To view the full Shuttle Trains / Intercity northbound timetable from JB Sentral click here >>>

From Gemas you can then take an ETS Train to KL Sentral.
From Kl you can then take an ETS Train to Butterworth.
For time and fares of the ETS Services from Gemas to KL click here >>>
For ETS times and fares from KL to Butterworth click here >>>

Alternatively, you could take an ETS Train from Gemas heading to Padang Besar and get off at Parit Buntar, then catch a Komuter Train from Parit Buntar to Butterworth.
To view the full KTMB ETS Train Timetable northbound from Gemas click here>>>

If you don't want to go through all these train changes, it would currently be a good idea to take a bus from JB to Penang.
To search for bus tickets click here >>>

---
Train from Johor Bahru to Butterworth Ticket Prices

You will have to buy two separate tickets for the train from JB to Butterworth.

Tickets on the train from JB Sentral to Gemas cost :

Superior class (2nd class) :
Adult : 21 MYR - Child : 15 MYR

The ETS Train from Gemas to Butterworth costs :
These fares are no longer valid.
Adults : 83 MYR - Child : 46 MYR

If you are staying in Singapore and want to travel from Singapore to Penang by train, you can now catch one of the Shuttle Trains that operate from Woodlands Station in Singapore to JB Sentral Station in Johor Bahru, or you can catch a local bus across the causeway.
Whichever way you decide to travel from Singapore to JB Sentral Station, allow yourselves plenty of time so you don't miss your train.
The border gets very congested during the morning rush hours.

---
When you arrive at Butterworth railway station, onward travel is easy to reach, with the main Butterworth bus station just next to the station exit or if you a travelling over to George Town on Penang island, the ferry terminal is also just a few minutes walk away.
Ferries run from Butterworth to George Town Penang back and forth constantly throughout the day, starting at around 6 in the morning until about 1am.
From the ferry port in George Town, you can easily walk to most of the accommodation that is located in this old part of the city within 10-15 minutes. You can also connect to the islands local bus network which is right next to the exit of the ferry terminal.

For more about the ferry to Penang island click here>>>
For more about Butterworth Railway Station click here>>>

---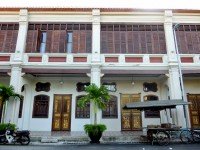 Hotels in Penang
---
Trains from Johor Bahru main page >>>