ETS Train Padang Besar to Ipoh Perak
Schedule (Jadual) and Ticket Prices

From the 1st of September 2015 there is a new ETS Train Padang Besar to Ipoh in the state of Perak, Malaysia.

Now if you want to travel from Thailand to Ipoh by train, these services from the border station make the journey quick and easy.

ETS Train Padang Besar to Ipoh Schedule

---
*****

New ETS Timetable valid from the 1st of December 2019 into 2020.

To see the full new ETS schedule for southbound trains click here >

---
New Padang Besar to Ipoh ETS Schedule from the 11th of October 2019:
To view the timetable in the other direction from Ipoh to Padang Besar click here >

| Train Number | Departs Pdg. Besar | Arrives Ipoh | Operating Days |
| --- | --- | --- | --- |
| EG 9221 | 07:05 | 10:08 | All |
| EP 9201 | 09:40 | 12:36 | All |
| EP 9203 | 13:45 | 16:41 | All |
| *EP 9275 | 15:40 | 18:36 | All |
| EG 9425 | 15:55 | 19:07 | All |
| EP 9205 | 16:50 | 19:47 | All |
| | | | |
*EP 9275 operates with a new Business Class carriage.

For all ETS fares from Padang Besar click here >

EG numbered trains are ETS Gold Services.

EP numbered are ETS Platinum Services.

To view the full timetable for all new ETS Trains click here >

For information on the train station in Ipoh click here >

---
Padang Besar Railway Station lies on the border with Thailand and Malaysia, just inside Malaysia.
If you are travelling from the Thai city of Hat Yai, it is around 55 km to the border crossing where the train station is located, just inside Malaysia.
You can get to the border from Hat Yai by either a bus (from the clock tower in the city centre) or by minibus from the Hat Yai Bus Station.
You will then have to get off at the border and walk for around 10 minutes between border controls or hire a motor bike taxi to take you across the border.
Once inside Malaysia, the railway station is on your right where there is a walkway bridge crossing over the tracks.
For more about Padang Besar Station click here >

New Shuttle Train from Hat Yai to Padang Besar:
From 22nd December 2015, a new shuttle train services started operating from Hat Yai to the Malaysian border station of Padang Besar.
For the timetables and fares for this service click here >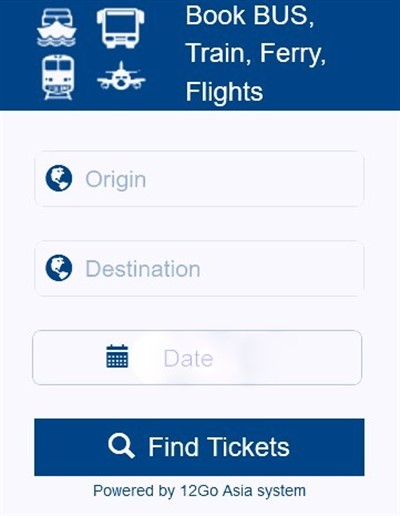 ETS Ticket Prices

ETS Fares from Padang Besar to Ipoh cost:
Gold service:
Adult: 50 MYR - Child 29 MYR
Platinum service:
Adult: 66 MYR - Child 37 MYR
For all other fares on ETS Train Services from PB click here >
Booking Tickets

You can wait and buy your tickets at Padang Besar Station and most of the time you will get a seat.
However, at certain times of the year during major holidays, the trains can often be totally full, so we would recommend you make an advance booking online just to make sure.

To book your ETS Train tickets online click here >

---
If you want to continue your journey onward from Ipoh, you can connect with the Ipoh to KL Sentral (Kuala Lumpur) ETS Trains at Ipoh Railway Station.
Click here for the timetable from Ipoh to KL Sentral >

---
If you plan to stay in Ipoh, check out our where to stay in Ipoh page, where you will find the best hotels, resorts and guest houses to stay while in the city.

Go to ETS Trains in Malaysia main page >