ETS KL to Butterworth Penang Train Timetable (Jadual KTM) and Fare 2020

Travel on the new ETS KL to Butterworth Train is now the fastest way to travel from Kuala Lumpur to Penang Island (Georgetown).

These new high-speed Electric Train Services (ETS), travel at speeds of up to 140 km/h and make the journey from the capital to Butterworth in half the time compared to the now cancelled, old diesel Intercity Express Trains that used to operate this route.

Once you arrive at Butterworth Train Station (Penang Sentral) it is just a 15 minute ferry boat ride from the UNESCO World heritage City of George Town on Penang Island)
ETS from KL Sentral to Butterworth Penang Sentral Train Schedule

(Jadual ETS KL Sentral ke Butterworth Penang Sentral)

---
*****
New ETS Timetable valid from the 1st of December 2019 (2019-12-01) into 2020.
To see the full new ETS schedule for all northbound trains click here >

---
Latest new KL to Butterworth ETS Timetable effective from 1st of December 2019 into 2020:
To view the ETS Train schedule from Butterworth to KL click here >

| Train Number | Departure Time | Arrival Time | Operating Days |
| --- | --- | --- | --- |
| *EP 9172 | 08:05 | 12:29 | All |
| EP 9102 | 11:15 | 15:33 | All |
| EP 9104 | 13:30 | 17:52 | All |
| EG 9322 | 17:36 | 22:03 | All |
| EP 9106 | 20:20 | 00:45 | All |
| EG 9122 | 22:30 | 02:50 | All |
| | | | |
For the latest ticket prices:
See our KL Sentral ETS fares page here >

EP numbered trains are ETS Platinum Services.
EG numbered trains are ETS Gold Services.
*EP 9172 is a new ETS2 service and has a new Business Class carriage.

---
Trains from Kuala Lumpur to Butterworth Penang Sentral travel along the North-South, West Coast railway line taking the branch line to the coast at Butterworth. Depending on which type of train you choose (Gold or Platinum), the number of stops along the route varies.
---
To check the official KTMB.com.my website for ETS KL to Butterworth trains click here >

---
---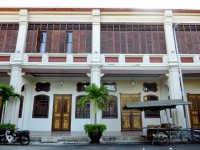 Hotels in Penang
ETS KL Sentral to Butterworth Ticket Prices

(Harga Tiket ETS KL Sentral ke Butterworth)

ETS Fares from KL to Butterworth on the Gold Services cost:
59 MYR for Adults - 34 MYR for Children.
Tickets for ETS Platinum Services cost:
79 MYR for Adults - 44 MYR for Children.
To see the full ETS fares table from KL Sentral to all destinations click here >
Booking ETS KL to Butterworth Tickets

You can purchase your ETS Train tickets directly from KL Sentral Railway Station or any other mainline KTM Train Station ticket counters.
You can also book ETS tickets easily online, either directly from the KTMB website (now the cheapest option), or you can book through an online ticketing agent (booking fees may apply).
Making an advance book is a must for this very popular route, especially if you want to travel at the weekend or holidays when trains can be fully booked well in advance. So if your travel dates are not flexible, book your seats online as far in advance as possible.

Click here to book your KL Butterworth ETS Tickets now >

Where to stay in Penang

If you are planing to stay in George Town on Penang island, you can catch the ferry from Butterworth over to George Town from the ferry terminal that is located close to the train station in Butterworth.
For more information on the ferry to Penang click here >
For more information on Butterworth Railway Station click here >

Once you arrive by ferry on Penang island, there are hundreds of places to stay in George Town to cover all budgets.
For our choice of the best places to stay in George Town click here >

If you want to head out to the popular Batu Ferringhi beach area in the north-west of the island, you can catch the 101 bus from the Rapid Penang Jetty bus terminal, just on your left as you walk down from the ferry terminal.

To find places to stay in Batu Ferringhi click here >

KL to Penang state main page >

Kuala Lumpur Trains main page >