ETS 9420 Schedule / Seating Plan
EG Gold Train on the Route between Gemas and Padang Besar

A Gold Service, the ETS 9420 is a long-distance train service from Gemas to Padang Besar Railway Station located on the border between Thailand and Malaysia.

EG 9420 Schedule
Train Timetable from the 15th of January 2022 (2022-01-15):
This service operates every day.

---
---
If you are taking this train all the way to the Thai border, there are various ways you can continue your journey into Thailand.
There is a Shuttle train service to Hat Yai >
A long-distance overnight train all the way to Bangkok >
Or you can take the covered walkway across the railway tracks and cross over the main road border into Thailand.
From Padang Besar in Thailand, you can then continue by local bus or minibus to Hat Yai.

---
ETS Ticket Prices / Fares

The following pages have the ticket prices for all destinations to and from that station:
Booking Tickets for the EG 9420 Train

If you want to take this train, you will need to reserve a seat.
You may be lucky and get a ticket on the day of travel, however, you really should book your seats in advance as ETS trains can often be full.
Making a reservation for trains in Malaysia is quite easy.
You can either:
Visit any KTM ETS railway station ticket counter and buy your tickets there.
Or, you can book directly from the KTM website or use an online agent >

Seating Plan for ETS 9420
This Gold Electric ETS Class 93 train service operates with 6 coaches / carriages.
Each coach has a luggage rack for larger items, there are three toilets, as well as a "Bistro" where you can get food and drinks and a Musolla (prayer room).
There are two driver's cabs, one at either end of the train.

Northbound ETS services usually lead with coach F as the first carriage and seats are arranged with roughly half the seats facing forward, half backwards.
The seating plan below shows this train leading with coach F.
If the direction in which you travel is important to you, you will have to contact KTM directly to make 100% sure this is the way the train will operate.

---
Coach F:

This should be the first carriage on this service.

Seating in rows 1 to 8 face forward towards the front of the train and the driver's cab.
Seating in rows 9 to 14 face backwards.
Row 15 also faces forward as there is a table between it and row 14, making it a good place to sit if you are in a group of 4.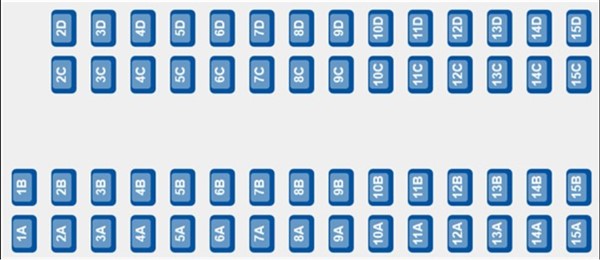 ---
Coach E:

Seating in rows 1 to 8 and 14 face forwards, 9 to 13 face backwards with a table in between rows 13 and 14.
There is also a toilet on this coach, located at the front before row 1.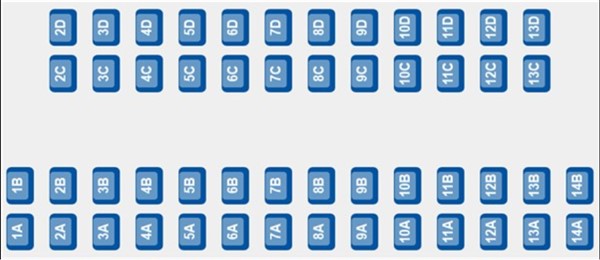 ---
Coach D:

This is where you will find seating for the disabled and elderly, as well as the disabled toilet/washroom located behind row 10.
Seats on this coach are facing forward in rows 2 to 6, backwards in rows 7 to 10 and row 1, with a table between rows 1 and 2.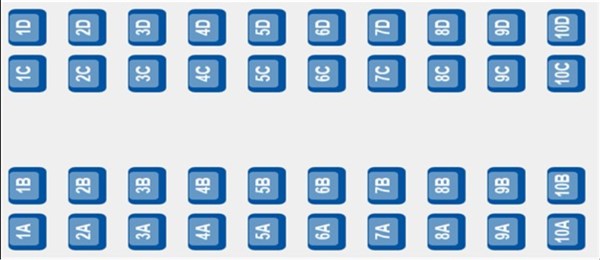 Coach C:

This coach contains the food and beverage counter (Bistro) and the prayer room.
Seats are now reversed on this half of the train and arranged with rows 7 to 10 facing forward, rows 1 to 7 and 11 faces backwards, with a table between rows 10 and 11.
If you book your tickets from the KTM website, you will see seat numbers in Blue and Grey.
Blue means they are still available.
Grey means they are already reserved.

---
Coach B:

Seating in this coach is arranged with rows 9 to 13 facing forward, rows 1 to 8 and 14 facing backwards, with a table between rows 13 and 14.
There is also a toilet on this coach located behind row 1.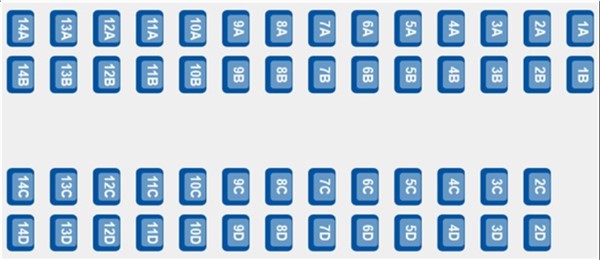 ---
Coach A:

Coach A is the same as coach F but in reverse, with rows 9 to 14 facing forward, rows 1 to 8 and 15 facing backwards, with a table between rows 14 and 15.
---
---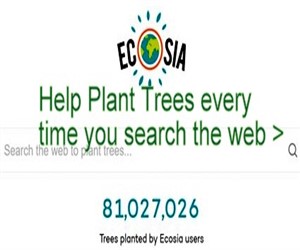 Ecosia - Search the Web - Plant Trees >
Older trains on the Padang Besar route no loner in operation: